The announcement that CVS plans to acquire Aetna for US$69 billion raises hope and concerns.
The transaction would create a new health care giant. Aetna is the third-largest health insurer in the United States, insuring about 46.7 million people.
CVS operates 9,700 pharmacies and 1,000 MinuteClinics. A decade ago, it also purchased Caremark and now operates CVS/Caremark, a pharmacy benefits manager, a type of business that administers drug benefit programs for health plans. CVS/Caremark is one of the three largest pharmacy benefits managers in the United States. Along with ExpressScripts and OptummRXTogether, these three control at least 80 percent of the market.
Should American consumers be happy or concerned about the proposed merger? As a professor of health law and bioethics, I see compelling arguments on both sides.
Good for consumers, or for the companies?
CVS and Aetna assert they are motivated by a desire to improve services for consumers and that the merger will lower health care costs and improve outcomes.
Many industry experts have postulated, however, that financial gain is at the heart of the deal.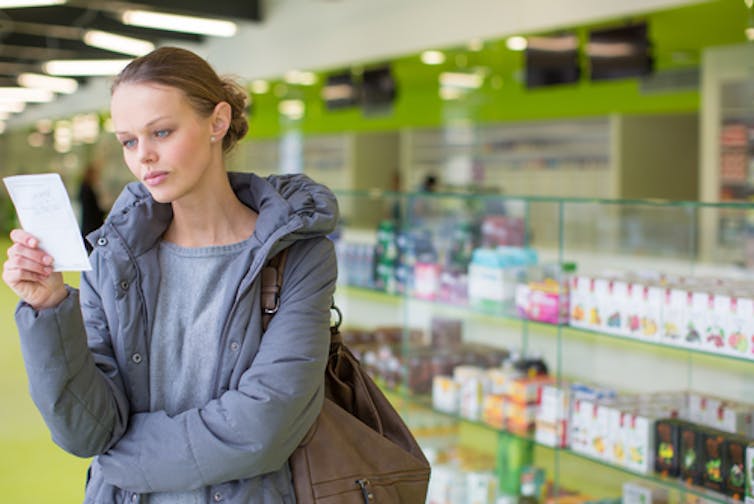 CVS has suffered declining profits as consumers turn to online suppliers for drugs. Reports that Amazon is considering entry into the pharmacy business raise the specter of increasingly fierce competition.
The merger would provide CVS with guaranteed business from Aetna patients and allow Aetna to expand into new health care territory.
The heart of the deal
The merger would eliminate the need for a pharmacy benefits manager because CVS would be part of Aetna.
Pharmacy benefits managers, which sprang up in the early 2000s in response to rising costs of care, administer drug benefit programs for health plans. Most large employers contract with pharmacy benefits managers that are different from their health insurers.
Nevertheless, a consolidation along the lines of a CVS/Caremark and Aetna merger would not be unprecedented. The nation's largest health insurance company, United Healthcare, operates its own pharmacy benefits manager, OptumRx.
Pharmacy benefits managers process and pay prescription drug claims, negotiate with manufacturers for lower drug prices, and can employ other cost-saving mechanisms. They thus act as intermediaries between the insurer and pharmacies.
They also make a lot of money. They have been controversial in recent years for how they do so, allegedly keeping a keener focus on profits than on patients.
The merger has not been finalized and requires approval from government regulators, which isn't always easy to get. In 2016 the U.S. Department of Justice sued to block two health insurer mergers: one between Aetna and Humana and a second between Anthem and Cigna. The government objected on antitrust grounds, arguing that the mergers would unduly restrict competition. Both efforts were abandoned.
CVS and Aetna argue that their proposed merger is different. It is a vertical rather than a horizontal merger, which means that it would combine companies providing different services for patients (insurance and filling prescriptions) rather than two companies doing the same thing.
However, the Trump administration is currently opposing another vertical merger, that between AT&T and Time Warner. It is unclear whether the administration will likewise oppose the CVS/Aetna merger.
Benefits of a merger
There is some evidence that a merger could help consumers.
A merger could result in more negotiating power. Combining the power of a leading pharmacy and a top insurer may allow CVS/Aetna to negotiate more effectively for price discounts from drug and device manufacturers.
It also could cut out the middleman. PBMs themselves have been blamed for raising health care costs. They often do not pass on negotiated drug discounts to consumers, but rather keep the money themselves. In addition, many believe they "make money through opaque rebates that are tied to drug prices (so their profits rise as those prices do)." With the merger, CVS/Aetna would not need CVS/Caremark to function as an intermediary. Eliminating a profit-seeking middleman from the picture could lower consumer prices.
The merger could provide easy access to health care for minor injuries and illnesses. CVS said it plans to expand its MinuteClinics, walk-in clinics that provide treatment by nurse practitioners for minor conditions. Also, CVS said it would offer more services, such as lab work, nutritional advice, vision and hearing care, and more. Thus, CVS promises that its clinics will become "health hubs."
Many patients could turn to these clinics instead of seeking more expensive care from physicians or emergency rooms. Furthermore, health hubs could provide "one-stop shopping" convenience for some patients. This could be particularly beneficial to elderly individuals or those with disabilities.
Another benefit could be improved and expanded data analytics, which could result in better care. Combining information from patients' health insurers with that of their pharmacies, including nonprescription health purchases, may promote better care. CVS pharmacists and health hub providers would be able to monitor and counsel patients regarding chronic disease management, pain management, prenatal care and other matters. Such attention could reduce the risk of complications and hospitalizations and thus also decrease expenditures.
Increase of other risks?
Skeptics argue that the CVS/Aetna merger is unlikely to yield cost savings and improved outcomes. They note that mergers in the health care sector generally lead to higher, not lower, prices and worry about other adverse consequences.
If the market shrinks to fewer pharmacy benefits managers because of consolidation, costs may actually increase. The remaining pharmacy benefits managers may have little incentive to compete with each other by demanding discounts from drug companies. As noted above, they may actually profit from higher pharmaceutical prices and thus welcome increases.
After the merger, Aetna may require those it insures to use only CVS pharmacies. In addition, it may require individuals to turn to CVS MinuteClinics for certain complaints even if patients prefer to visit their own doctors. Such restrictions would mean less choice for consumers, and many may find them to be very distressing.
The merger could also decrease competition and bar other companies from entering the pharmacy market. For example, Aetna may refuse to cover prescription drugs that are not purchased from CVS. In that case, Amazon may find it extremely difficult if not impossible to break into the industry. Less competition, in turn, often means higher prices for consumers.
It is difficult to predict the precise consequences of a CVS/Aetna merger. One way or another, however, its impact will likely be significant.