Music icon, David Bowie has died.
Bowie's life has been under the microscope since he burst on the scene in 1969 with the hit, Space Oddity. But few have examined how the divided city of Berlin saved this extraordinary artist when he was at his lowest ebb.
By the mid-1970s, the struggling rocker Davy Jones, who took the stage name of David Bowie, was at his peak. But as he told music magazine NME in 1980:
that whole period stretching through to '76 was probably the worst year or year and a half of my life.
It's hard to imagine a time when he went unrecognised, but, in 1976, when Bowie arrived in West Berlin and walked into a cabaret bar to sing a Frank Sinatra song during a karaoke night, Bowie was booed off stage as the punters did not know who he was!
"I never felt free as I did in Berlin", Bowie told journalist Charles Sharr Murray from NME.
Berlin: the place to be
Away from the limelight, the boy from Bromley, Brixton (via Los Angeles) arrived in Berlin a "superstar haunted by ghosts", according to German music journalist Tobias Rüther in his book Heroes, David Bowie and Berlin (2015).
He detoxed from his drug habit, painted (like the German neo-expressionists, such as Erich Heckel) and composed some of the most daring music of his career; Low and Heroes in 1977, and Lodger two years later, after he'd left Berlin.
Katya Lucker, head of the Music Board, the contemporary peak music organisation set up in Berlin in 2013 told me, "Bowie was a seminal player in the Berlin music culture."
Bowie told Tobias Rüther American and British rock and roll was a toothless tiger. He was more intrigued by the radical German electronic music of the 1970s by bands such as Tangerine Dream, Kraftwerk and Neu!, with their monotone rhythms, endless repetition and improvisation.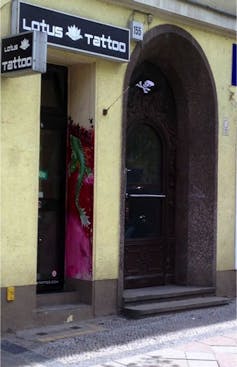 In the divided city, he became good friends with Edgar Froese, the founder of Tangerine Dream, who helped Bowie find an apartment (150 Hauptstrasse, Schoneberg) and (eventually) get off cocaine and heroin.
By the time he left Berlin, he was clean, Froese told me a few months before he died in January 2015. He also recommended the famed Hansa recording studio to Bowie. Located near the Berlin Wall, the studio was once a Nazi ballroom.
Recording at the Hansa studio, the "Big Hall by the Wall" gave Bowie a "sense of being on the edge…I have to put myself in those situations to produce good writing, I need the dangerous level, emotionally, mentally and physically," he told Froese.
The Berlin Trilogy
Inside the Hansa studio, along with his long-time collaborator Tony Visconti (who also worked with Marc Bolan and T Rex), and Brian Eno (formerly of Roxy Music, known as "the music for airport man"), Bowie nutted out his Berlin Trilogy.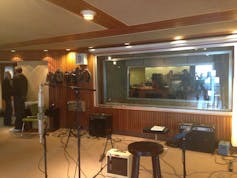 The first album Low, which was recorded in France but completed in Berlin, moved away from pop conventions to simple, electronic ambient sound, with hardly any lyrics.
The hit of the album, Sound and Vision was, according to Slate magazine, a song "about depression and isolation […] that was set to a melody so bright and catchy that it became a No. 3 single in the U.K."
Its spacey effects, created by Eno's AKS synthesizer and Visconti's Harmonizer, kept other music producers guessing for years.
In 2015, Mojo magazine ranked Sound and Vision fourth out its 100 greatest Bowie hits. While Heroes, the titular hit of the next album, described by journalist Neil Stewart as a "howl of outrage and despair," was ranked second. It's the most famed song of the Berlin Trilogy.
In 1978, Bowie began work on Lodger, which was about about a homeless traveller, with no connection to Berlin. Recorded in Switzerland and New York City, Lodger was influential as "world music", but is the least celebrated of the Berlin Trilogy.
"Nothing else sounded like those albums. My complete being is within those three. They are my DNA," Bowie told Rüther.
But who was the greatest influence on Bowie during his time in Berlin? Iggy Pop, who some say Bowie exploited by controlling him sexually and artistically? Or Eno? Visconti?
I'd say it was the city of Berlin, although the name of the city is never mentioned in any of the 32 tracks Bowie wrote there.
Like Berlin, Bowie was in the process of becoming more powerful in everyone's imagination. In Berlin, the once hypnotic and volatile David Bowie healed and grew.