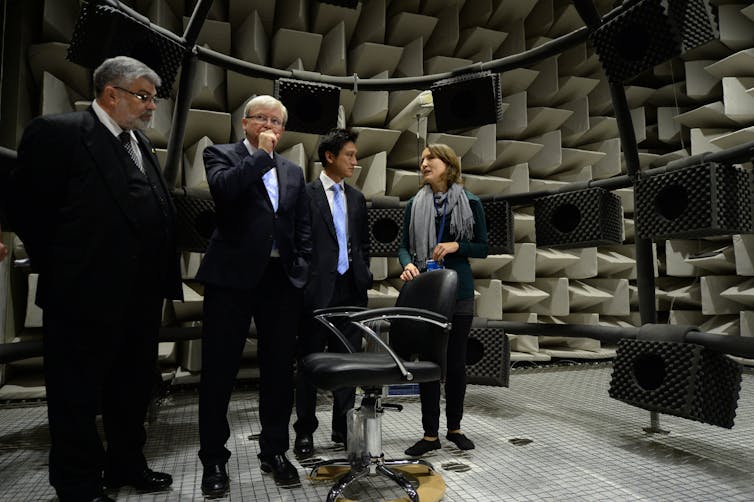 John Howard's old seat of Bennelong as Australia's Silicon Valley? That's the pitch by Labor's candidate Jason Yat-Sen Li.
Labor is mostly in defensive mode in NSW but it is also on the hunt for a couple of Liberal seats. One is Bennelong, which has changed hands in each of the last two elections, most dramatically when Maxine McKew seized it from the then PM in 2007. In 2010 former tennis champ John Alexander won it back for the Liberals. He sits on a 3.1% margin.
Rudd, who was campaigning in Bennelong today, recruited the Chinese Australian Li personally - in typical Kevin fashion. Li, based in Beijing, has a business advising Australian companies on operating in China. When Labor dumped then candidate Jeff Salvestro-Martin because he was called to appear before the Independent Commission against Corruption, Rudd rang Li, who has been an ALP member since 1999, and put his Bennelong proposition - in Mandarin.
Li's wife Lucy is a close friend of Rudd's daughter Jessica; Li says his relationship with Rudd had been "good" but "not really close".
But Li - like Peter Beattie, who instantly jumped on a plane from the US to contest the Queensland marginal Liberal seat of Forde - raced back and moved immediately into the electorate (where his brother-in-law has a chemist shop and his sister is starting a yoghurt shop).
Even if he loses, the 41-year old Li, who stood for the Senate in 1998 to target Pauline Hanson's campaign, is relocating to Australia to pursue a parliamentary seat. "This is a long term project for me".
Standing beside Rudd today, Li said: "We have a vision for Bennelong as the Silicon Valley of Australia, as a hub of innovation, economic growth and local jobs". He plans a conference at Macquarie University on August 28 "where we're bringing the best minds together to come up with a strategy to deliver that vision".
"I went to Silicon Valley last year. From a physical point of view, Bennelong is very similar", Li tells The Conversation. It has Macquarie University, CSIRO, and Macquarie Park with companies including Optus and Foxtel. Microsoft is in the electorate. "It's also a great place to live, with big houses, big backyards."
Silicon Valley has Stanford University, companies including Apple, Google and Facebook, and is pretty nice residentially. Li is hoping to get a speaker from Silicon Valley, an Aussie success story, to address the conference.
One twist in the Bennelong contest is that there is a popular local councillor in Ryde called Justin Li. It's possible that a few voters could think "Jason" on the ballot paper is Justin (who's not a candidate).
Alexander, 62, hasn't had a high profile in Canberra Liberal politics but has been active on the ground and is said to have a good local organisation. Today he had Malcolm Turnbull in the electorate to launch a campaign office in Ryde.
In this very Asianised electorate Alexander started a table tennis program, which put tables in the area's 40 schools. "We could see that kids of Chinese and Korean backgrounds were left off the sports field because they don't play football and cricket", Alexander says.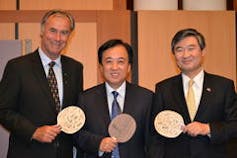 This led to the "Bennelong Cup Table Tennis Test Match", involving the Australian Olympic team and the Korean men's and Chinese women's teams, played in Bennelong. This year the Japanese are being brought into the tournament.
At the first international sporting event ever played in Parliament Great Hall, top Australians, Chinese and Koreans competed; the Korean and Chinese ambassadors, Alexander and then sports minister Kate Lundy has a hit at doubles. "I was at the other end to Kate and we rallied quite nicely".
Asked how the battle for Bennelong is going Alexander says: "We're working very hard". One thing his tennis career taught him was "knowing how to compete" which boils down to concentrating on doing your best and not worrying about other things.
Meanwhile the former member for Bennelong is back on the campaign trail elsewhere, with a very full program for this election.
Howard last week appeared in the marginal Labor seats of Dobell (Craig Thomson country) and Robertson on the NSW central coast - the Liberals should win both, he says (despite some Labor polling showing the ALP doing unexpectedly well in Dobell), He has been with Liberal frontbencher Bruce Billson in Dunkley (Victoria); is booked in to visit Liberal MP Ken Wyatt in Hasluck (WA), and will do quite a bit of campaigning in Queensland. In general he will be concentrating most on marginal Labor seats. And then there are the private fund raisers for sitting members.
Howard says he has had "a mountain of requests from members" and Tony Abbott and Liberal federal director Brian Loughnane have been very keen for him to assist. "I enjoy doing a bit of hand-to-hand combat again", he tells The Conversation.
He is not planning to get involved in Bennelong "because the Liberal party doesn't regard it as a seat at risk". But Alexander says "John is always welcome – we are expecting him to come and help us shortly."