Despite its economic instability, entry to the European Union (EU) still acts as a unifying link to the rest of continent, with non-member states working strategically to meet the EU's strict criteria for membership.
Further expansion of the EU after Croatia's anticipated entry on July 1 this year is a topic of discussion, especially in light of Serbia-Kosovo's diplomatic impasse that is currently facing a prospect of resolution.
On April 19, Serbia and Kosovo signed a 15-point agreement that was hailed by world leaders as a "historical accord to settle relations".
Serbia's European integration has faced various challenges since 2001, such as Serbia's cooperation with the International Criminal Tribunal for the former Yugoslavia. Assassination of Serbia's prime minister, Zoran Djindjic, in March 2003 by rogue elements from the Serbian security services had cost Serbia accession in the EU, according to the SETimes.
A major obstacle to further EU membership negotiations has been Serbia's neighbourhood policy after Kosovo proclaimed independence in February 2008.
Background
During the 20th century, Kosovo (as a multi-ethnic region populated by Albanians, Serbs and other ethnic groups) was part of several state formations, and an autonomous province within the Socialist Federal Republic of Yugoslavia. It was one of most under-developed regions in former Yugoslavia, despite its abundance in largely untapped natural resources.
In 1999, members of the North Atlantic Treaty Organization (NATO) launched their first out-of-area offensive military operation, named "Merciful Angel", against Serbia and Montenegro. It lasted for 78 days and caused unprecedented environmental and economic damage.
The bombing came as a result of violence perpetrated by the Yugoslav state forces against ethnic Albanians during a period of armed insurgency. The conflict resulted in a displacement of hundreds of thousands of people from all ethnic backgrounds. Following the NATO intervention, Kosovo came under United Nations (UN) administration. The UN Security Council Resolution 1244 of June 10, 1999, effectively made Kosovo an international protectorate.
Wounds of war and post-conflict trauma run deeply in historical memory of bitterly divided ethnic groups in Kosovo today, with Serbian enclaves in the north not accepting Kosovo's independence and demanding the continuation of "parallel" institutions that are financially supported by the Serbian government.
Many Serbs from Kosovo's south have been integrated into governing institutions and now occupy important positions. Slobodan Petrovic, an ethnic Serb, is one of five deputy prime ministers of Kosovo.
EU-Kosovo relations
The EU cannot explicitly recognise Kosovo's formal independence, as five of its members (Cyprus, Greece, Romania, Slovakia and Spain) have so far refused to do so, primarily because of domestic political sensitivities.
EU institutions and principal law enforcement mission (Eulex) in Kosovo, however, treat the two as separate entities. On July 8, 2010, the European Parliament called on all member states to recognise Kosovo's independence.
Following the agreement on 19 April 2013, the European Commission recommended to EU member states that negotiations be opened with Serbia on EU accession, and with Kosovo on a Stabilisation and Association Agreement with the EU.
15-point plan: deal or no deal?
The 15-point draft agreement between Serbia and Kosovo came about after a series of intense mediation rounds led by EU foreign policy chief Catherine Ashton in what was described as an exercise in "shuttle diplomacy".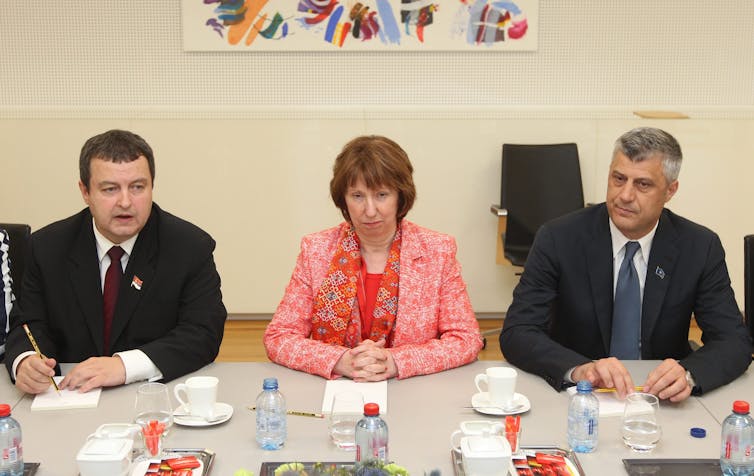 The draft agreement grants special autonomy to a so-called "Association of Serb Municipalities" that would have wide powers in education, health and several other sectors. In return, Serbia would accept Kosovo government's legal authority over Serb-dominated areas in Kosovo' north, but without a formal recognition.
While the Serbian National Assembly and the Kosovo Parliament have overwhelmingly endorsed the agreement, implementation remains a challenging task as Serbs in northern Kosovo have initially rejected the deal and sought help from Russia to protect their interests.
Consultations are currently underway between the Serbian government - which still regards Kosovo as part of Serbian territory - and Serbian councillors from northern Kosovo enclaves over the draft agreement's implementation.
Neither side has published the text of the agreement, which has been reportedly leaked to the media.
The way forward
The EU's mediation role will be equally critical at this stage of Serbia-Kosovo dialogue in order to provide further incentives to all parties involved for a new deal to work.
Convincing Serbs from northern Kosovo to accept the Action Plan has emerged as a more difficult task than striking the first bilateral agreement between Belgrade and Pristina.
Constitutional changes may be required for both parties in order to implement the Action Plan, which paves the way for new rounds of diplomatic bargaining that should tackle other unresolved issues, such as property restitution and land rights for the displaced, as well as controversial law and justice issues.
Accession into the EU by remaining Western Balkan nations still seems like a distant goal, but under the new deal it does appear to be more achievable.