This new concert, or you might say themed performance, opened at the Melbourne Art Centre on Wednesday evening. It gave the big audience lots of pleasure, with occasional puzzlement.
Paul Kelly is well known round here as a serious all-rounder, but especially as a grave song-writer. Now he has turned from Australian topics to those sounded by modern Irish poetry. He is paired with singer Camille O'Sullivan, dubbed "a shape-shifter", who has worked with Paul and with pianist Feargal Murray in setting the melange of chosen poems ebulliently to music. She has an instinct for musical narrative.
The poets range agewise from W.B. Yeats through to the young Enda Wyley. But one has to grant that those who punters would call the favourites – at this racing time of the year – continue to stand out.
Three famous Yeats poems, including a rendition of Easter 1916, that great Rebellion lament, were compelling above all on Wednesday night. But then, so was the quietly plangent ending of Joyce's story The Dead, read here a deux. There is nothing like it in modern fiction.
We tend to think of Ireland as a land continually sprayed by the showers of the Atlantic, or from any nearby waters. "Ancient Rain" is a title as metaphor. Rain like history wears everything down to its present form, that is to say its present fate. The roles of Irish women, soldiers, rebels, parents and of the young dead are all invoked as drenched by that rain.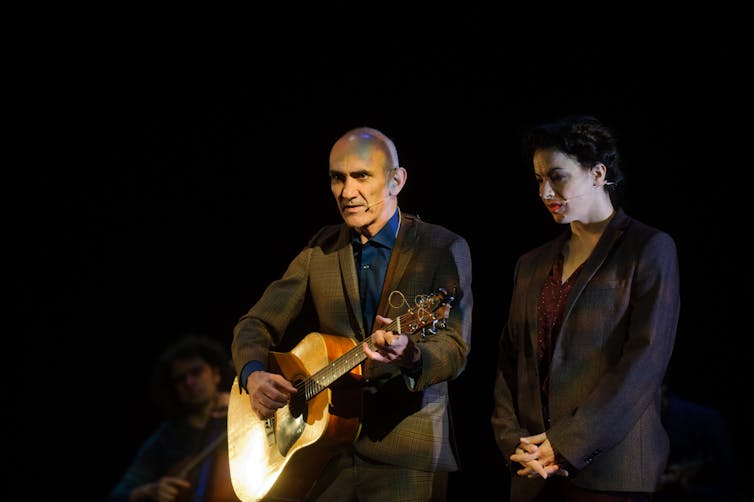 How can you draw a dilly-bag of poems together to make an event, an evening? Well, in Chris Drummond's direction, use was made of the stage's great depth, as well as of lighting as a form of eloquence.
The poems were rendered with spectacular variation, sometimes deeply moving, if at times distracting from the lyrics.
Sequence matters, so that Seamus Heaney's Digging, with its fertile sense of national soil, turned poetry up to our immediate attention. What you dig up with the warmest of energy may well end up chill as falling snow, as this program displayed for us. Mind you, in a number of these musical settings, volume was heartily turned up before the last lines were over. Human predicament as climax?
Musical accompaniment was close, four instruments only. Between them Camille often moved rhythmically, articulating space as though alluding to the four provinces of Ireland. It's a rural land, after all. But city music came frequently to mind as the songs mediated between pub music and concert hall. Yeats's An Irish Airman Foresees his Death, a proleptic elegy for a close friend's son, was of neither genre, only its passionate self.
Camille had a key role in presenting Paula Meehan's piece, turning on a statue of the Virgin. She was oddly compelling, but the Virgin's role is not my cup of tea. This item was surely too long, its form straggly, even if its function was to end the first half of our evening. Across the program, however, Camille interacted subtly with Paul again and again, reality coming back at unexpected angles.
Like history itself, Act Two opened with the theme and cost of wars: in a passionate compulsion from the two stringed instruments. These led in turn into another dated poem by Yeats, September 1913 as hot ballad. And what is that date but the eve of the Great War, a monstrous conflict in which many Irish fought and suffered, although they didn't have to.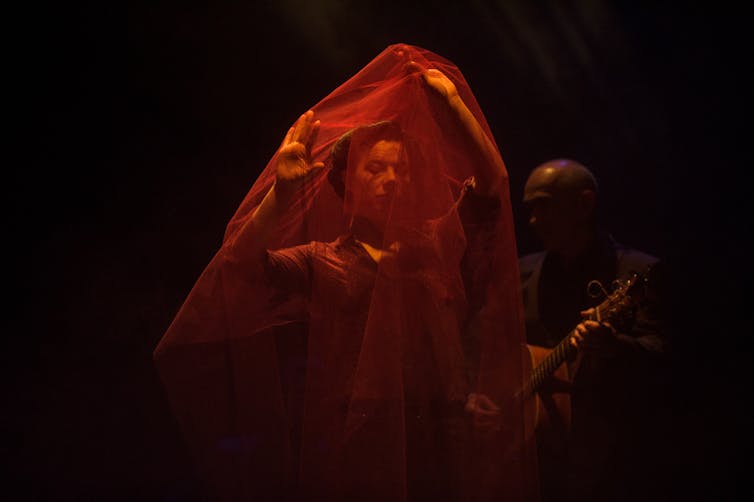 Yet in the heart of 1916 Dublin some patriots died who
Wherever green is worn,
Are changed, changed utterly:
A terrible beauty is born.
There is the human oxymoron for us all.
Perhaps the emerald isle is always paradox. Yes, it long has been, for six or seven decades, at least. But also deeply poetic and musical, rooted in family life, as Patrick Kavanagh's two poems reminded us. They were the very opposites of that warlike thrumming that opened Act Two.
I should note that on the night the diction did not always carry to the back of the hall. Well, it was a large auditorium, while some of the songs had a more intimate feel. At least until the accompanists turned up volume and tempo. Then the rafters were lifted.
And quiet voices could also sway us with soft eloquence. As when Camille and Paul finally evoked the falling snow, which
lay thickly drifted on the crooked crosses and headstones, on the spears of the little gate, on the barren thorns.
Death can indeed be the mother of beauty.
Perhaps there was a strong meaning to all these contrasts of light and movement, piano and fortissimo. The contagious music of Ireland is no single thing. Neither metropolitan nor village square, it is eloquence above all. And was so, on the night.
---
Ancient Rain is showing at the Melbourne Arts Centre from October 12 to October 15.