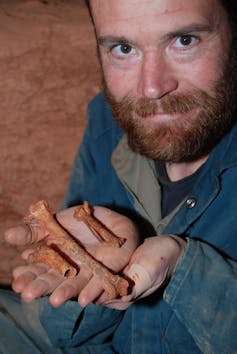 Palaeontologists have discovered a 780,000 year old bird fossil, thought to be a type of ancient wedge-tailed eagle, in a Western Australian cave that has trapped birds for millions of years.
The eagle bones, found in Leaena's Breath Cave on the Nullabor Plain, may be from the same species as the modern wedge-tailed eagle or a completely new species, said Dr Gavin Prideaux, a Flinders University palaeontologist from the team that made the discovery. The team included researchers from the Western Australian Museum.
"It may be, new given that it is at least 780,000 years old and probably much older. Surrounding these larger bones are literally hundreds of songbird bones, a situation mirrored through the rest of the deposit," said Dr Prideaux.
"This cave has been acting as a bird death trap for at least a million years, which is just one thing that makes this one of the most interesting and unique palaeontological sites in Australia."
The research team has produced a video blog of their expedition.