Devastating floods in Nepal have sparked regional tension, with Nepali politicians and media outlets claiming that Indian infrastructure along their shared border has left Nepal vulnerable.
In a visit last week to India, Nepal's prime minister Sher Bahadur Deuba released a joint statement with Indian prime minister Narendra Modi pledging to work together to combat future flood disasters. But relations between the two countries remain strained, and many in Nepal still resent India for a three-month blockade of supplies in the wake of the 2015 earthquakes.
---
Read more: Two years after the earthquake, why has Nepal failed to recover?
---
One source of this tension is simply the geography of the Himalayas, where a dam or road built in one country can cause inundation in its neighbour.
The result is an international blame game, with India, China and Nepal accusing each other of shortsighted and self-interested politics. Without region-wide organisations to effectively share information and coordinate disaster relief, many more people have suffered.
Tangled geography
Floods are almost annual events in the Himalayas. Huge rivers originating in the Himalayas pass through the densely settled Terai flats that span both India and Nepal, and these rivers swell enormously in the monsoon season.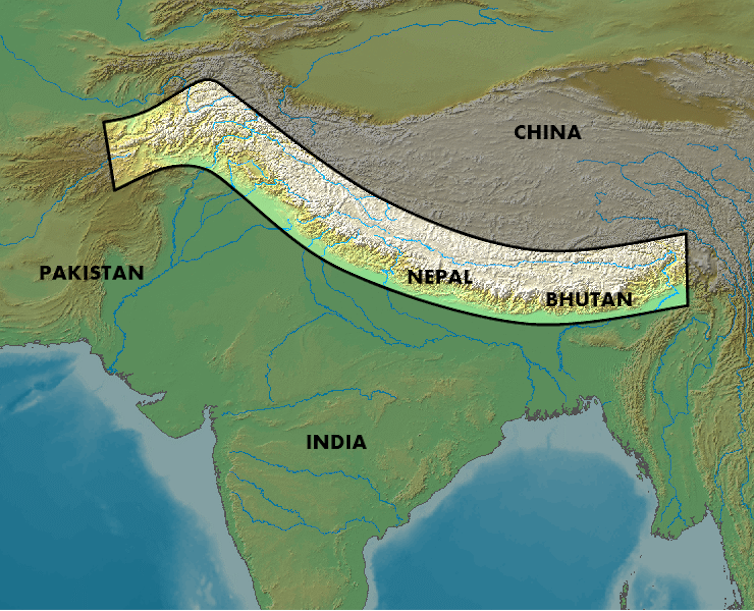 But this year's floods have been particularly devastating. In the past two months more than 1,200 people have been killed and 20 million others affected by floods in Nepal, India and Bangladesh.
These trans-border floods are a political as well as a logistical problem. In the case of the recent floods, Nepal's Ministry of Home Affairs pointed to two large Indian dams in the Kosi and Gandaki rivers, as well as high roads, embankments and dykes built parallel to Nepal's 1,751km border with India, arguing that this infrastructure obstructs the natural flow of water.
India, for its part, has blamed Nepal for creating floods in the past and – although disputed in scientific circles – many believe deforestation in Nepal contributes to water overflow into India.
The problem is that infrastructure in one country can have a serious impact on its neighbours, especially in monsoon season. At least a dozen people were injured last year in clashes over an Indian dam that the Kathmandu Post reported will inundate parts of Nepal when completed.
And the problems aren't just caused by dams. Hydrologists and disaster experts in Nepal claim that recent floods have been worsened by significant illegal mining of the low Churia hills for boulders and sand, for use in the rapidly expanding construction sector in India.
India, China and Nepal
The disputes aren't limited to India and Nepal. India and China signed a deal in 2006 to share hydrological information on the huge rivers that run through both their territories, so as to cope better with annual flooding. But earlier this year India's Ministry of External Affairs accused China of failing to share vital data, exacerbating floods in India's northeast.
This is not an isolated incident. In 2013 a huge flood in northwestern India, called the Himalayan tsunami, killed around 6,000 people and affected millions more.
At that time, India officials claimed that they did not get information from Nepalese officials on heavy rainfall in Nepal's hills, or on glacier conditions. Nepali officials, in turn, responded that China is in a better position to share information about climatic conditions on that part of the Himalayas. Studies conducted later concluded that efficient information sharing and early warnings would have reduced the resulting damage.
This problem becomes more urgent as the Himalayas come under pressure from climate change. Climate scientists have warned that "extreme floods" in the region are becoming more frequent, driven by less frequent but more intense rainfall.
It is now vital to think differently about how institutions handle these disasters. India and Nepal announced last week that they would establish a Joint Committee on Inundation and Flood Management, and a Joint Team of Experts to "enhance bilateral co-operation" in water management, which is a positive sign.
But the Himalayas urgently needs institutions with a region-wide perspective, rather that country-specific remits. These organisations can effeciently share information on weather patterns, take action to reduce overall impact of floods, and consult each other while developing infrastructures that could have trans-boundary consequences.
Human interference and myopic political action have intensified the impact of these floods. We now need every country in the region to accept shared responsibility and commit to helping those affected, regardless of their nationality.