Developers are commonly required to "offset" their impacts on biodiversity. They can do this in two ways.
They can compensate directly for the biodiversity loss their development causes by taking action to improve habitat and biodiversity elsewhere. It is common, though, for developers to make payments in lieu of creating the required biodiversity offsets themselves. It's the same idea as when you pay to offset your flight's carbon emissions.
In Queensland and New South Wales developers settle almost all biodiversity offsets required of them by making payments into an offset fund. These funds are used to create the required biodiversity gains on the developer's behalf. In NSW, for example, the Biodiversity Conservation Trust does this work.
But what are the pros and cons of allowing developers simply to buy their way out of their offset obligations? Research published today shows these so-called "financial settlement offsets" could be highly problematic. They might even worsen the decline of threatened species.
---
Read more: Flying home for Christmas? Carbon offsets are important, but they won't fix plane pollution
---
What did the study find?
Researchers from The University of Queensland and Griffith University analysed the impacts of the Queensland government's environmental offsets policy on koalas in the state's south-east. This policy requires every koala habitat tree removed for development to be offset by planting and protecting three new habitat trees elsewhere. The developers can do this themselves or make a payment into a state-managed offset fund.
Our study assessed the likely impacts of financial settlement offsets on koala habitat and koala numbers under different future urban growth scenarios.
First the good news: these offsets can work in some cases. The payments can be used to invest strategically in planting trees in areas that lead to the greatest increase in koala habitat or koala numbers. For example, this could be done in areas that improve connections between areas of suitable habitat or are close to important koala populations.
Developers could do this offset work themselves. However, their priority is usually to minimise cost. This means they are unlikely to act strategically to deliver the maximum benefits for habitats and species.
As a result, our study shows financial settlement offsets could deliver 50-100% greater gains in habitat area and koala numbers than offsets delivered by developers.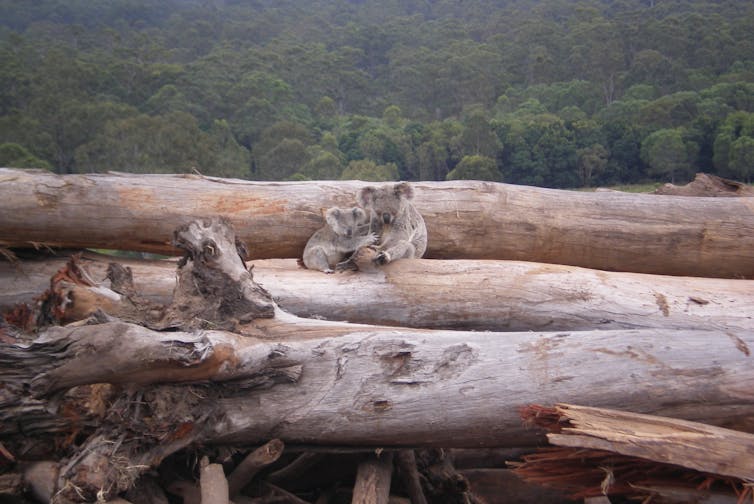 ---
Read more: Labor's biodiversity market scheme needs to be planned well – or it could lead to greenwashing
---
Lack of suitable offset sites is a big problem
Unfortunately, these gains depend on there being enough offset sites available for koala habitat restoration. An offset site must be ecologically suitable and able to be protected, habitat restoration must be feasible and the landholder must agree.
All these factors mean suitable sites are usually hard to find. In such cases, we found payments by developers weren't enough to achieve the amount of restoration needed to offset their impacts.
If less than one in four of all ecologically suitable locations are available for offsets, the performance of financial settlement offsets falls dramatically. But if only one in 100 of all ecologically suitable locations are available, payments from developers are never enough to cover the cost of the required restoration.
According to the Queensland Offsets Register only 5.2% (0.7 hectares of 13.4ha) of all financial settlement offsets for koala habitat since 2018 have been delivered so far through on-ground activities by the state government. This shows how hard it is to find offset sites.
In Queensland, increasing the supply of offset sites has been identified as a priority.
Unfortunately, the shortage is a common problem across Australia.
In NSW, 90% of demand for offsets cannot be met through offset "credits". These tradeable credits are created when biodiversity gains are generated at a site. Their supply to offset developer impacts is very low, indicating few suitable sites are available.
Potential offset sites are also increasingly scarce at the federal level. The shortage is expected to increase the use of financial settlement offsets.
A lack of sites can be due to the availability of ecologically suitable sites, but the offset price, transaction costs, regulatory constraints (such as requiring offset sites to be within a certain distance from impact sites) and social and economic influences on the land market are also key factors.
---
Read more: We asked landholders how they feel about biodiversity offsets — and the NSW government has a lot to learn
---
Developers should pay the full cost of offsets
Our study highlights the importance of ensuring developers pay the true cost of offsetting their impacts. By making payments in lieu of delivering offsets themselves, developers essentially transfer their financial risk to the state.
If there aren't enough funds to deliver the required offset, the state is left with two options. Either it makes up the shortfall (taxpayers essentially subsidise developers' environmental costs), or it falls short of delivering the full offset, leading to increased pressure on species. Both of these are poor outcomes.
The methods for calculating developer financial contributions have increasingly been called into question. It's essential to ensure these calculators properly consider the availability and costs of offset sites.
The alternative jeopardises the delivery of offsets and adds to the pressure on threatened species such as the koala.