When Secretary of Education Betsy DeVos spoke at the American Enterprise Institute on Jan. 16, she began by emphasizing her role as an outsider.
"Outside Washington. Outside the LBJ building," she said of the department's headquarters in the nation's capital. "Outside 'the system.'"
"Some have questioned the presence of an outsider in the Department of Education," DeVos conceded. "But, as it's been said before, maybe what students need is someone who doesn't yet know all the things you 'can't do.'"
She had scarcely a good word to say about previous efforts at the Education Department. Asked what lessons could be learned from the school reforms of the George W. Bush and Barack Obama administrations, DeVos suggested very little.
"We need to be honest with ourselves," DeVos said. "The bottom line is simple: Federal education reform efforts have not worked as hoped."
Finding little to praise, the staunch school-choice proponent instead blamed the department and the politicians who have overseen it for wasting billions of taxpayer dollars while leaving students unprepared.
Whether her analysis is on point or off base is a matter of debate. What is clear is that her anti-Washington rhetoric represents a radical departure from that of previous education secretaries. It also puts her at odds with her own department.
I make this observation as one who has studied the public comments of education secretaries going back to the founding of the education department as it exists today. I have also written extensively about how education is discussed in the public discourse. My writings include a 2016 book titled "Assigning Blame: The Rhetoric of Education Reform."
Embattled from the start
From its founding in 1979, the Department of Education has been the subject of political attacks. For example, Ronald Reagan campaigned on the total elimination of the department when he defeated President Jimmy Carter in the 1980 election.
Subsequently, education secretaries have often embraced the embattled rhetoric leaders use when the odds are long. It is a speaking style meant to rally the troops, so to speak. It is also meant to inspire a skeptical public by stressing the besieged condition of education in general and the Department of Education in particular.
For example, shortly after taking office, the first secretary of education, Shirley Hufstedler, told an assembly of departmental staff: "Not only do we face enormous challenges of policy and organization, we face widespread doubt as to whether a Department of Education is a good idea. Frankly, there are many who expect us to fail."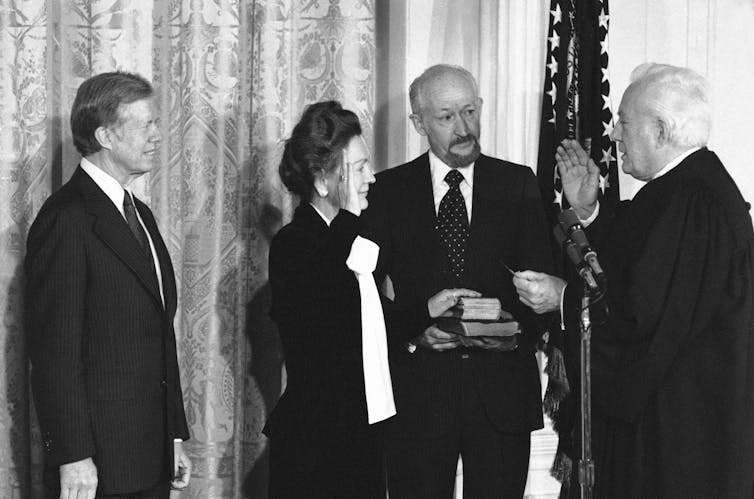 According to Hufstedler, the new department could succeed by "meeting our responsibilities and confounding our critics." Her successor, Terrel Bell, convened the National Commission on Excellence in Education. That commission issued the "A Nation at Risk" report. The report compared the mediocre performance of education in the United States as being similar to an "act of war."
More recently, during the George W. Bush administration, Secretary Margaret Spellings put together the Commission on the Future of Higher Education. That commission positioned the Education Department as the savior of a higher education system that was "threatened by global competitiveness pressures, powerful technological developments, restraints on public finance, and serious structural limitations that cry out for reform."
Scorning 'self-styled experts'
For each of these secretaries, the threat was external. By positioning herself as an outsider, Secretary DeVos has flipped that particular script. Instead of describing a perilous educational landscape that the education experts in her department should seek to reshape, DeVos insists that "those closest to the problem are always better able to solve it" — her way of emphasizing local control of education. To clarify her contempt for solutions from Washington, she added: "Washington bureaucrats and self-styled education 'experts' are about as far removed from students as you can get."
In her critique, she stated that the Bush administration emphasized No Child Left Behind's "sticks" and the Obama administration emphasized its "carrots." However, she said both embraced a "false premise: that Washington knows what's best for educators, parents and students." According to DeVos, this false premise taints the entire history of the department she now leads.
Looking back further, DeVos characterized Bill Clinton's Goals 2000, George H. W. Bush's America 2000, the "A Nation at Risk" report released under Ronald Reagan, and even the founding of the Department of Education by Jimmy Carter, as just "a new coat of paint on the same old wall."
Although DeVos sought to temper her message by insisting that she had not come to "impugn anyone's motives," her descriptions of the educational bureaucracy were derisive. For instance, she called defenders of the federal role in education "chicken littles" and "sycophants."
By positioning herself on the outside — outside of Washington, outside of the education's community of experts, outside of education politics as usual — Secretary DeVos has succeeded in distinguishing herself from her predecessors. However, she has also positioned herself as one of the Department of Education's strongest critics.
The question is: Can she parlay her proud outsider role to successfully run a department that has been besieged from the day it began?