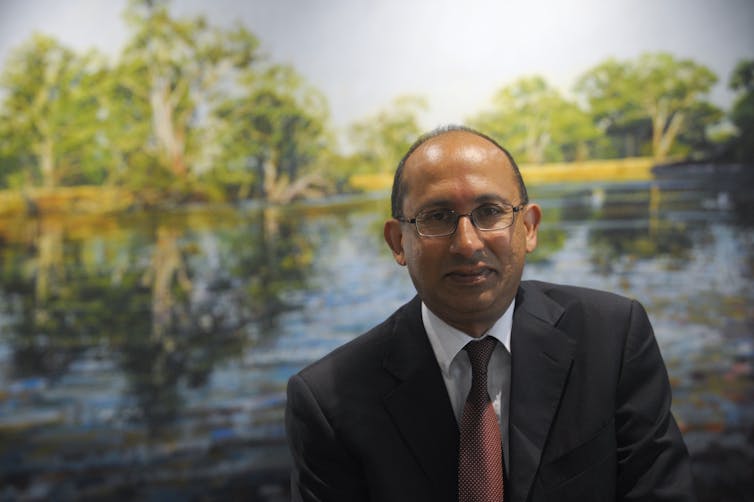 AusAID on Friday formally became part of the Department of Foreign Affairs and Trade, with the road ahead including a drastic shrinking of the planned aid budget, redundancies, jostling for jobs, and cultural re-education.
When he briefed DFAT and AusAID staff recently, departmental secretary Peter Varghese had some unpalatable messages, especially for those from AusAID, and was frank about the challenges.
Varghese said that in the integration, to be finished by July 1, "we are bringing together two moving and shrinking parts, and that's going to be a very, very complicated process".
He warned: "We are operating in a budget environment which is only going to get more difficult".
The department's numbers would be cut under the Abbott government's existing plan to reduce the bureaucracy generally by 12,000. "We don't know what our share of that reduction is going to be, but we know that we will have to deal with a reduction in staff".
As well, the Audit Commission might well make "recommendations which contain further reductions in staff numbers across the public service", he told the October 24 meeting.
DFAT has 2521 Australian staff (of whom 1875 are based in Australia), plus another 1771 locally engaged staff, a total of 4292. AusAID had 1724 Australian staff (1484 of them based here), plus 651 locally engaged people, bringing the total to 2375.
The aim would be to manage job losses through redeployment and voluntary redundancies, with anything else "very much as a last resort".
But he was "not sugarcoating" the situation ahead – which would be "a challenge for all of us".
One issue that had to be addressed was the different conditions enjoyed in the two organisations. AusAID, having been on a growth trajectory, had been able to enjoy better conditions of service. "We will have to narrow the gap in conditions of service and it would be terrific if we could narrow that gap by bringing the lower conditions up to the higher levels, but I suspect it's going to be the other way around".
The Abbott government plans to use the aid budget as one of the major areas for getting savings. It announced before the election that it would cut $4.5 billion over four years from the projected budget.
Varghese pointed out that the current structure of AusAID "reflects the nature of an organisation that's required to get to an $8 billion aid program.
"Now that trajectory today looks very different. We have an aid budget of around $5 billion, and the projected increase isn't to $8 billion – the projected increase is $5 billion plus the consumer price index".
Varghese stressed that: "Our aid program will be designed and implemented to support Australian foreign and trade policy.
"It's very important that we all understand that is where the government is coming from, and that is what the government wants us to do… I don't think we're going to get where we want to get unless everyone signs on to that fundamental principle, and I would urge you all to do so right from the start".
He emphasised the importance of forging a unified culture. In an implied recognition that AusAID has its own culture, he added "I hope that we can do that because we're all professionals in the end and because we are all, in our own way, I think, committed to the same objectives".
Around the government there has been talk of some problems with AusAID's "culture". Fairfax Media has reported bad blood between AusAID and DFAT staff.
Asked about the desirable culture Varghese noted points he had made on becoming secretary of DFAT last year. One of those points was the importance of seeing "ourselves first and foremost as public servants rather than having a more tribal loyalty".
In handling the aid program, the department would have geographic divisions that dealt with foreign, trade and aid policy. There would also be functional specialisation because "you cannot run a $5 billion program with generalists".
"But it will be a model with a bias towards integration rather than running aid policy and aid programs separate but sort of co-located".
Probed on whether the aid program was likely to still have a poverty reduction focus, or would be primarily focused on countries that Australia had trade negotiations with, Varghese said economic growth and poverty reduction went hand in hand.
"It's also important to understand that when the government talks about aid and trade, they're not talking about using the aid program to promote Australian exports".
"Their front-of-mind concern is the role for the aid program in building up the capacity of developing countries better to engage in the international trading system".
Questioned about how a duplication of jobs would be handled when people in DFAT and AusAID have been doing the same job, Varghese said there would not be a spill of positions – it would just cause a "hell of trouble if we started off doing that".
"There has to be a general acceptance that we're going through this integration process but that the spine of our organisational structure is going to rest with the DFAT organisational structure".
He also said there was a broad recognition across government, and certainly well beyond government, that in relative terms Australian had a much smaller footprint than most comparable countries.
"If you look at G20 countries, I think we're either right at the bottom – in terms of the number of people we have posted, and the number of posts we have – or second bottom. It might be a tussle between us and Saudi Arabia perhaps".
There was a recognition that we ought to have a bigger diplomatic footprint but it was a matter of money.
Foreign Minister Julie Bishop's instinct was not to close any posts. "She ideally would like us to be expanding and not contracting".