In the lead-up to Australia's election to the United Nations Security Council in 2012, much of the media focused on the costs and value of the campaign. In particular, it was claimed Australia "bought" the votes of African nations with increased foreign aid.
But as Australia's time on the Security Council draws to a close, how do the aid figures actually add up?
During testimony before a parliamentary inquiry into Australia's relationships with the countries of Africa in 2010, University of Sydney academic Joel Negin criticised the quality of media analysis of Australia's bid by raising the issue of aid to Africa "buying" Security Council votes:
So, if we are providing aid to Africa only to win Security Council seats, we have not done our homework and we are not even giving enough to beat Luxembourg.
Back in 2008, both of Australia's rivals for a Security Council seat – Finland and Luxembourg – were providing more aid to Africa than Australia. However, the issue of how much aid Australia gave to the continent as compared to these two countries has not received much – if any media – attention.
What did receive attention were claims in articles like the Daily Telegraph's arguing that the cost of Australia's Security Council bid was more than A$3 billion, or a report by the ABC examining aid spending and the campaign.
Australian aid compared to its competitors
Even a quick survey of some basic OECD data, displayed in the chart below, illustrates that only in 2011 and 2012 did Australia outspend Finland in giving aid to (Sub-Saharan) Africa.
It could be argued that in the two-year lead-up to the UN General Assembly vote on Security Council membership in October 2012, Australia's up-sized aid to Africa did swing many African votes Australia's way. Department of Foreign Affairs and Trade sources estimate that Australia picked up as many as 50 votes from Africa.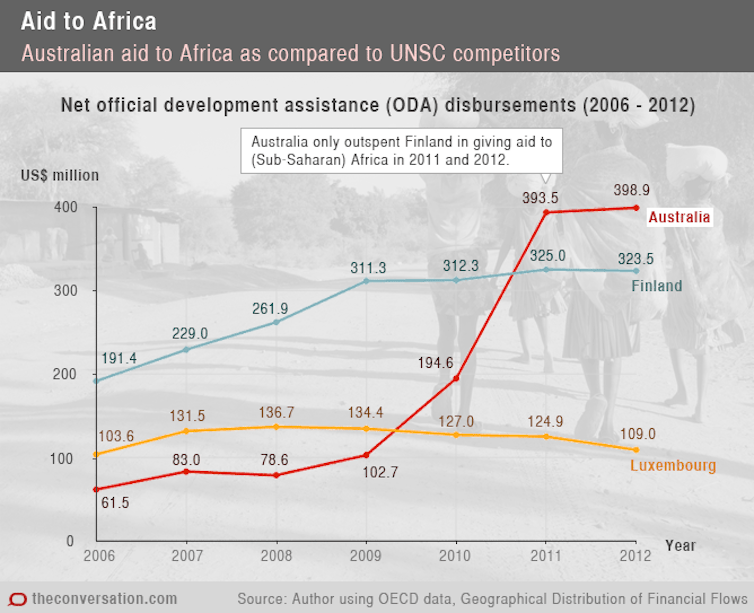 Simplification problems
However, correlation and causality are not the same thing. Several significant issues have been missed in media reporting on the costs of Australia's Security Council bid.
To suggest that throwing a relatively modest amount of money to African governments is enough to swing their votes in such an important multilateral forum is somewhat insulting. It invokes stereotypical images of poor Africans living for whatever scraps are thrown their way.
It could also have been mentioned that African governments have maintained serious aid partnerships with Finland and perhaps even Luxembourg for much longer than with Australia. One could rationally suggest that African governments would be more inclined to support the bid of a long-term and established development partner with a proven track record of operating in Africa, rather than a newcomer with a somewhat unimpressive history of providing aid to the continent.
Also, the substantive issue of African Development Bank (AfDB) membership presents not only a significant investment but also highlights a country's long-term interest in engaging with African development. Finland joined the AfDB when Gough Whitlam was Australia's prime minister; Luxembourg is also a member.
Australia, on the other hand, flirted with the idea during the Rudd and Gillard era, but is currently not interested in joining the organisation. This is despite several reviews of Australian aid in the past 30 years recommending Australia should join.
Finally, there is the then-Labor government's pledge to raise Australia's Overseas Development Assistance budget to 0.5% of Gross National Income by 2015. As Australia's neighbourhood was already fairly saturated with Australian aid, expansion into a region such as Africa – which is the region most off-track to meet the Millennium Development Goals, and also the region where the majority of Australian NGO funds are directed anyway – was a fairly obvious move.
Arguably, the increased aid spending in Africa did not harm Australia's Security Council campaign. Certainly, it may have resulted in more countries from the continent supporting Australia.
But to suggest that it was Australian aid that basically bought votes – whether in Africa or more broadly – crudely oversimplifies the quite complex workings of the global diplomatic system in which governments from around the world compete to secure a seat at the highest echelon of global security. Election is based on much more than just aid funds.
After all, it was a secret ballot. So how will anyone know who voted for who?