Released today, the third annual Australian Digital Inclusion Index report shows that digital inclusion – a measure of digital access, affordability and ability – has improved for Australians over the past 12 months.
While the gains were modest across the country (reflecting the trend since 2014), the digital inclusion score recorded by Tasmania rose substantially. This improvement is partly a result of the rapid and extensive uptake of NBN services across a state where the rollout is now essentially complete.
Overall, the NBN does not seem to have been hugely successful so far in convincing the more than 2.5 million Australians who are not online to connect.
But the ADII, which comprises more than 100 indicators of personal internet access, expenditure, activity and attitudes, shows that the NBN can directly and indirectly enhance a range of aspects of digital inclusion.
---
Read more: Australia's digital divide is not going away
---
The Australian digital inclusion index: ADII
The ADII measures three critical dimensions of digital inclusion: access, affordability, and digital ability.
Each dimension registers a score out of 100, and together these form an overall digital inclusion index score.
An ADII score of 100 represents a hypothetically perfect level of access, affordability, and ability. A score of 70 or over is regarded as high; one below 50 as low.
The ADII is populated with data from around 16,000 respondents to Roy Morgan's Single Source face-to-face interview and product poll survey collected weekly over the course of a year.
The 12 months of data used in ADII reporting is collected April to March – so 2018 data was collected between April 2017 and March 2018.
The NBN and Tasmania's rise in digital inclusion
Tasmania's ADII score for 2018 is 58.1. Although this is the second lowest score of any state or territory in Australia (just above South Australia), it represents a major improvement on Tasmania's 2017 ADII result of 50.1.
The 8.0-point increase in digital inclusion in Tasmania greatly exceeded the 2.2-point rise recorded nationally, reducing the overall digital inclusion gap between Tasmania and the nation from 7.9 points in 2017 to 2.1 points in 2018.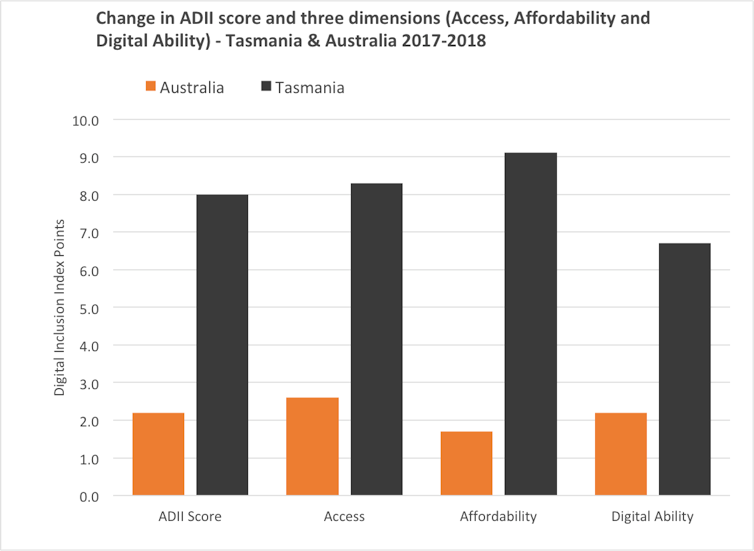 Notably, the gap in the access dimension (which captures if, how, and where people access the internet and the data allowances they have at their disposal) has now all but disappeared.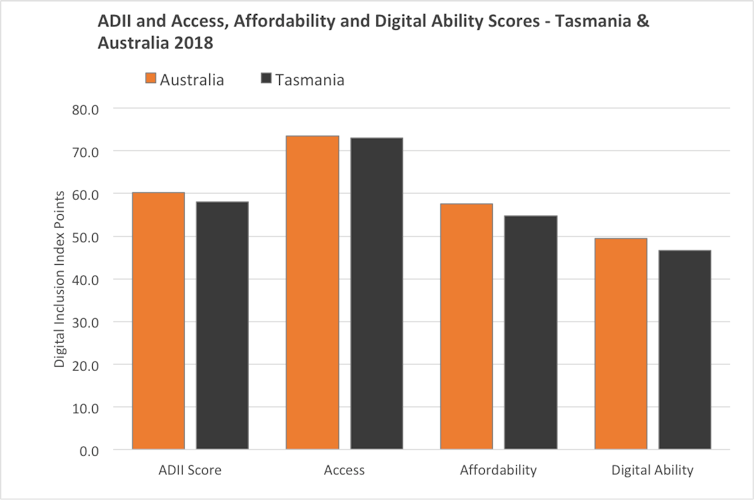 Tasmania's access improvement is underpinned by the uptake of NBN services.
Between 2017 and 2018 the percentage of Tasmanians with NBN connections more than doubled, from 29% to 60%. Over this period the NBN became accessible to almost all Tasmanian households.
Many of these households were required to make NBN decisions in the past year as the shutdown of existing landline and internet networks progressed across NBN-accessible areas.
---
Read more: Councils' help with affordable housing shows how local government can make a difference
---
Why has NBN improved access?
The uptake of the NBN has directly increased the access score for Tasmania because, based on speed and reliability , the NBN is generally a superior fixed broadband technology than ADSL (notwithstanding some consumer experiences).
An analysis of other indicators contributing to access improvements in Tasmania reveal some secondary NBN effects.
1. More people signed up for the NBN
The NBN rollout seems to have encouraged those previously without fixed broadband to establish a connection. Around 11% of Tasmanian NBN subscribers indicate that they did not have fixed broadband a year earlier, while the corresponding "conversion rate" for ADSL connection technology was 6%.
Having fixed broadband of any type fundamentally improves access. So the NBN rollout's impact on pushing up fixed broadband penetration in Tasmanian from 58.6% of the population in 2017 to 73.7% in 2018 is important.
2. People signed up for more data
The NBN rollout has contributed to a large increase in the internet data allowances Tasmanians have at their disposal.
A large number of Tasmanians have moved from ADSL where the average data allowance was 420GB in 2017, to the NBN where the 2018 average data allowance was 545GB.
3. People are getting better value for money
The increase in data allowances had a flow-on impact on affordability. In particular, it has improved value for money based on cost per gigabyte of data since the sharp rise in allowances has not been matched by an equivalent rise in expenditure.
Despite this improvement, Tasmania's affordability score remains lower than the national average. This is largely due to a poor level of relative affordability - Tasmanians spend a larger portion of their household income on internet access than the national average.
It is essential that the speed, capacity, reliability and value for money improvements yielded by NBN connectivity be translated into more productive and rewarding online activity if digital inclusion is to be meaningfully realised.
Tasmania's digital ability score, which measures people's attitudes to technology and their capacity to engage in online tasks, rose substantially in the past year. This is reassuring, but the state still trails the national average by 2.9 points on this dimension of digital inclusion.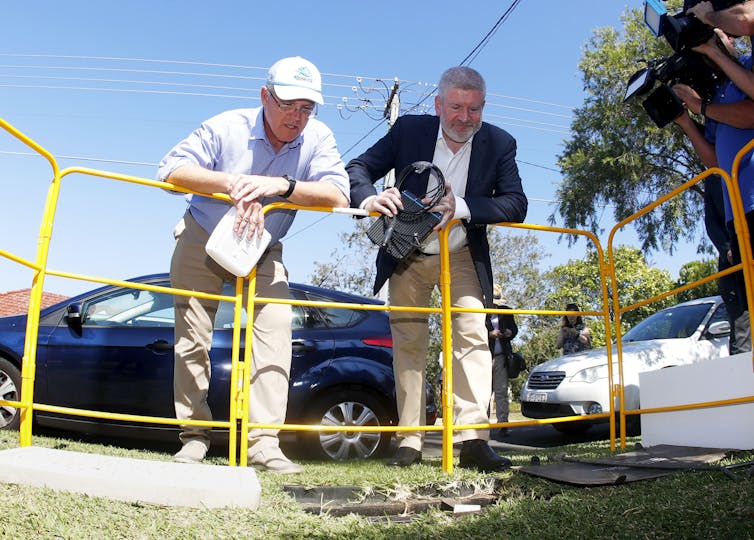 Will the NBN fix digital inclusion nationally?
The direct and secondary effects of the NBN rollout on digital inclusion seen in Tasmania may also be felt in other states as the NBN rollout nears completion.
But the impact will be tempered by local factors. Tasmania registered a substantial improvement in digital inclusion across all three dimensions, but it did so from a very low base. Whether states with higher existing levels of digital inclusion will experience the same NBN step change remains to be seen.
The NBN may have improved the average level of digital inclusion across Tasmania, but deep digital inequalities persist in the state, as they do elsewhere, based on a range of geographic and socio-economic factors.
Low-income earners, those not in the labour force, those who did not complete secondary school, and people aged over 65 continue to record low digital inclusion index scores in 2018, and some of these groups are falling further behind.
---
Read more: Three charts on: the NBN and Australia's digital divide
---
Some recent research also suggests that the NBN may actually exacerbate digital inequality, since the rollout of lower speed and less upgradable NBN technologies is more prevalent in lower socio-economic areas. It will take many years to gauge the long-run social and economic consequences of NBN's complex, evolving mix of technologies in creating a patchwork of new digital inequalities.
The ADII does not currently capture data on specific NBN technologies. This is an aspect of digital inclusion worthy of further investigation.