The long-awaited White Paper on the A$2.55 billion Emissions Reduction Fund answers some questions about how the Abbott government's Direct Action climate plan will work. But it looks like the policy will let the relatively few companies that produce the most pollution off the hook.
Reassuringly, federal Environment Minister Greg Hunt took pains to stress in both his press conference and in the paper's introduction that the government "accepts the science of climate change", and is firmly committed its target of cutting emissions 5% below 2000 levels by 2020.
And there are some important changes in this new policy paper, such as that any projects funded by the government under the Emissions Reduction Fund (ERF) will need to demonstrate "additionality" – essentially meaning projects will only be eligible for funding if they would not have been commercially viable without it.
The "green paper", released just before Christmas last year for public comment to shape this policy, had indicated that additionality would not be a requirement.
However, many other previously identified loopholes in the government's centrepiece climate policy have still not been closed. As a general policy approach, it gives a worrying sense of being like trying to lose weight without changing your diet.
Problems with cost and scale
The fundamental problem with the concept of Direct Action remains: it is very expensive to scale up and make it more ambitious than it currently is.
Some headlines in today's newspapers, such as "A$1 billion climate top-up", have suggested that an extra A$1 billion was announced yesterday. However, as the minister himself said, "there are no surprises there".
The A$2.55 billion funding – split into A$300 million over the next financial year, increasing to A$500 million, A$750 million and A$1 billion by 2017-18 – is in line with long-term Coalition policy.
The government has repeatedly stressed that it won't put more money into the ERF beyond what has already been budgeted. With that in mind, Australia might be able to hit its 5% target by 2020, but it will be difficult to make larger reductions than that.
Hunt said that the government will not move beyond the 5% target until there is "strong, comparable action from the major countries of the world". This is despite the government's Climate Change Authority recently advising that those conditions have already been met and proposing Australia revise its aims to a 19% reduction.
Emissions targets
The minister yesterday outlined how the Emissions Reduction Fund will aim to chop 421 million tonnes of carbon dioxide emissions out of the Australian economy. Hunt predicted that Australia would "easily" meet its 5% target by funding projects such as cleaning up waste coal mine gas, energy efficiency on a significant scale, cleaning up power stations, and capturing carbon through tree-planting and soil carbon storage.
These are all worthwhile approaches and endeavours.
However, if coupled with rising emissions in other areas, they risk being of limited overall consequence, and distracting us from looking at harder issues.
The new white paper says that "specific provision will be made for new projects that will play an integral role in Australia's economic development".
Put simply, projects that have high emissions and high economic value could well be given a carbon-reprieve.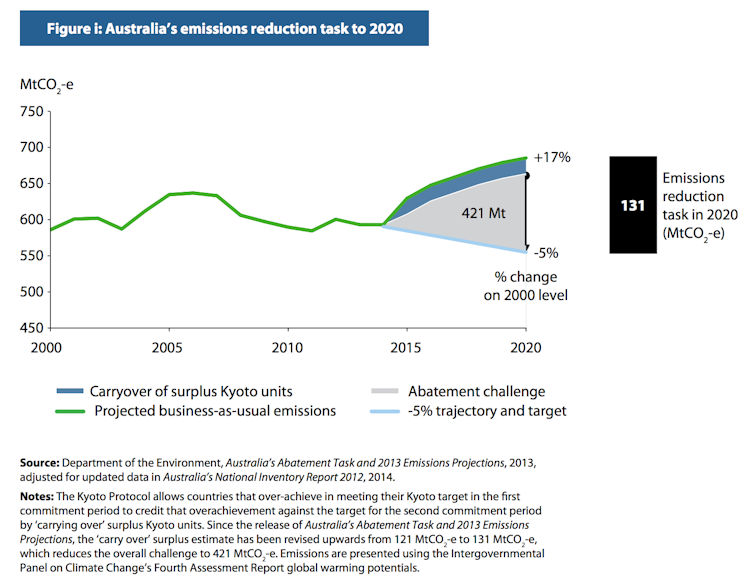 Big polluters can carry on without regret
One of the most significant issues highlighted by the white paper is that non-participation will have limited financial consequence for rogue polluters.
This approach gives businesses who choose not to get involved a big green light to continue emitting as usual. Within a given sector, it allows those who currently pollute more than their peers to continue doing so.
The whole point of carbon policy is that it is some attempt at making a fair playing field of the industry. The lack of financial penalties outlined so far suggests that dealing with emissions is an optional extra for companies, rather than a necessity.
Another aspect of the policy is the introduction, from July 2015, of a "safeguarding" mechanism, which is ostensibly designed to stop other polluters blowing out their emissions and messing up the good work done by others.
The safeguarding mechanism will audit the emissions of around 130 large facilities, although Hunt said there will be no new reporting conditions and that the government is not aiming to make any revenue by fining those whose emissions grow.
There is also a significant loophole in how a company's emissions cuts will be measured. The white paper suggests that "baselines" should be measured relative to the company's highest emissions over the past five years.
So each company will have its own baseline. And if a company has already reduced its emissions since its high point, even if it still pollutes more than its peers, it may not be asked to reduce any further under the ERF.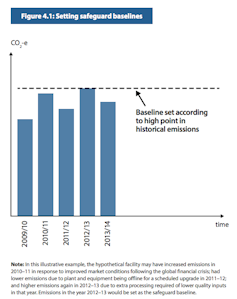 This differs from many other baseline and credit schemes around the world, which look at the emissions delivered by the best available technology in each sector of industry, and then use that standard to determine an appropriate baseline for that sector.
For example, the steel sector has an emissions intensity baseline per unit of steel. This level playing field approach also triggers industry to become more efficient and competitive domestically and internationally.
Can we arrest "fugitive" emissions?
Specific provisions will also be made for new, high-emitting facilities. Increased production of liquefied natural gas (LNG) and coal, in response to strong export demand, is expected to be the single biggest driver of growth in Australia's emissions to 2020.
While reducing the emissions from projects such as energy efficiency in housing is important, these reductions could be quickly dwarfed by rising LNG emissions, as well as other "fugitive emissions" from other sources including waste methane from increasing black coal mining.
Left unaddressed, this is like a dieter who eats a small dinner only to then eat three desserts – and still expects to lose weight.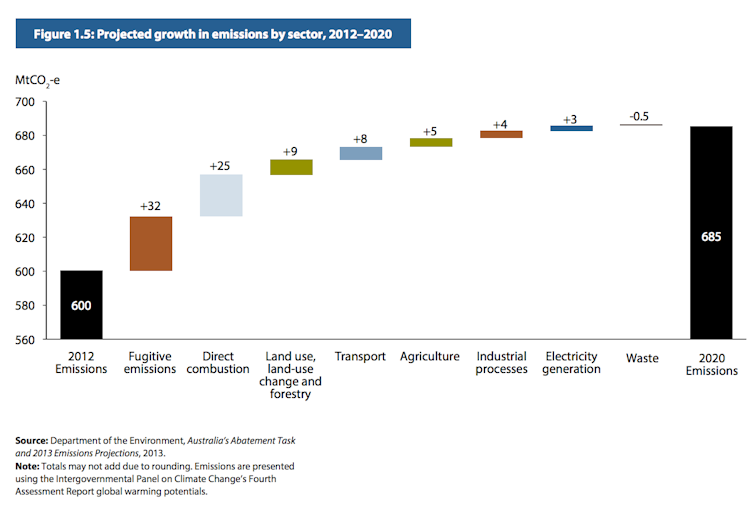 Hunt pointed out that the Direct Action policy is designed in such a way as to let the economy grow. There is a very real risk that taxpayers will end up footing the bill for emissions-reductions projects that ultimately get dwarfed by new sources of greenhouse gas emissions.
The ERF White Paper leaves more questions than answers as to exactly how it will deliver on its good intentions of carbon weight loss.
With the proposed repeal of Australia's current carbon policies back on the Senate table from July, Parliament is once again being asked to do away with a suite of existing measures such as the carbon price and the Clean Energy Finance Corporation.
But the details of Direct Action are yet to provide real assurance that this alternative won't cost more, while doing less.