On June 5 British toy manufacturer Makies announced cochlear implants were available to buy as accessories in their toy store.
Makies uses 3D printing technology to make one-of-a-kind dolls. It was the first company to respond to #ToyLikeMe, a social media campaign to "increase diversity in the toybox" initiated by three UK mothers with disabilities.
When the trio posted a picture of Tinkerbell with a cochlear implant it began an online movement of parents with and without disabilities posting images of their own #toylikeme.
But this is not the first campaign to criticise the absence of disability diversity in the toybox and Makies is not the first company to offer so-called toys with disabilities. In fact a number of other companies such as American Girls and bindependent already offer accessories.
There is even a WWE toy wheelchair for wrestling action figures.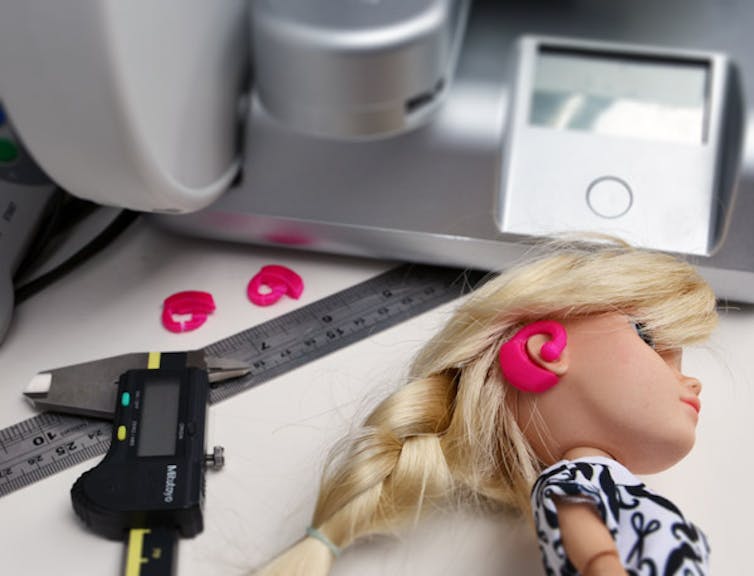 Disability bio-etheticist Rosemary Garland Thomson, on Radio National in April, spoke of disability as a form of human variation and diversity. Thomson argued disability should be understood as a reality to be accommodated, not as a problem to be eliminated. With recent statistics showing one in six school-aged children have a disability, diversity in the toybox is ever more important.
Toys have been used throughout history to communicate cultural ideas and reflect the changing position of disability in society.
Journalist and #toylikeme founder Rebecca Atkinson explained the motivation behind the campaign in mid-May on The Limping Chicken:
When I was growing up, I never saw a doll like me. What does that say to deaf and disabled children? That they aren't worth it? That they're invisible in the toys they play with? That they're invisible in society?
With the exception of medicalised doctors' and nurses' kits, which began to be featured during the 1940s, a content analysis of 1930-1963 Billy and Ruth toy catalogues reveals an absence of disability-themed toys until a Three Blind Mice Talking Toy in 1955. The next to appear was the culturally significant Mr Magoo Toy Car in 1961.
This toy was protested against by people with vision impairment for stereotyping blindness in 1962.
Children's toys mirror the values of the society that produce them. In my book Disability and Popular Culture (2015) I relate the emergence of a number of disability toys to key moments of disability social and cultural change.
It is no coincidence that disabled action figures J. Jay Armes (Ideal Toys, 1976) and Mike Power Atomic Man (G.I. Joe, 1975) were released as returning Vietnam vets with similar disabilities were advocating for a more disability-inclusive society.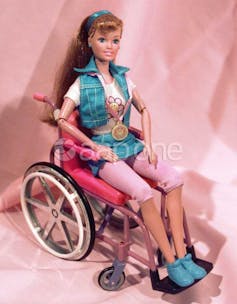 Likewise Mattel Barbie's Share a Smile Becky (1996) and American Sign Language Teacher (1999) followed the Americans with Disabilities Act (1990) during the 90s. These toys are often described as having a positive impact on the sense of selves of children with disabilities.
The #toylikeme campaign is evidence of another key moment in disability social change. Towson University Disability Media Professor Beth Haller has identified this moment as disability's occupation of digital spaces.
It is true that disability has been receiving a lot of attention in social media and pop culture in the last month: from Maddy Stuart's modelling debut to iDiversicons'Disability Pride Emojis released to coincide with the 25th anniversary of the Americans with Disabilities Act to the significant backlash against TEDx's #Stellaschallenge.
The #toylikeme campaign and Makie's 3D printing of disability accessories can be situated within this broader trend. Beth Haller says social media allows disability advocates to use vast global networks of "friends" or "followers" to better promote the issues or events important to them.
Haller concludes social media has reinvigorated disability rights activism and fostered more interaction within the disability community regardless of age, ethnicity, gender, disability, or geography.
While the #ToylikeMe campaign has received positive feedback, historically other disability dolls, such as Mattel's Hal's Pals series of Cabbage Patch style dolls with disabilities in the 1980s, or Helga Parks Down Syndrome Dolls have been heavily criticised by a society unwilling to accept disability.
Opponents to disability dolls often point to the ways they emphasise difference rather than encourage children with disabilities to see themselves as the same as everybody else. This ignores the way environments and discriminatory attitudes disable people, not bodies.
As disability rights activist Lisa Egan explains in an xoJane article shared more than 15 000 times, the lack of wheelchair access at train stations is an example of the ways environments have been constructed to exclude people with disability:
Stairs and escalators are man-made barriers put in the way by a discriminatory society that excludes me because I have impaired mobility..
Makies, #toyslikeme and the broader focus on disability in digital spaces show we are in the midst of a significant shift towards an inclusive world view of disability.
With children with disabilities now more likely to attend mainstream schools, children without disabilities are exposed to the reality of disability in society.
Campaigns such as #toylikeme continue to use their global network of followers to encourage mainstream toy companies such as LEGO, Playmobil and Mattel to incorporate disabled toys into their catalogue.
It's not just children with disabilities who will benefit from inclusive toybox representation.