On Jan. 20, Americans focused their attention on Washington, D.C., as the presidential inauguration ceremony took place on the National Mall, a place that urban scholars, geographers and historians refer to as a "stage for democracy."
As an urban geographer, I study the important role of public space in cities. Perhaps no public space is more important in America than the National Mall. Its monuments, memorials and staged events contribute to a larger national narrative about identity, reflecting the meanings of democracy and citizenship. And, it is a place that enshrines First Amendment rights. I examine these themes in my recent book, "The National Mall: No Ordinary Public Space."
I've witnessed firsthand the power of protests, festivals, celebrations and several presidential inaugurations. Symbolically, inaugurations on the Mall are especially powerful; they're a reminder of the peaceful transition of power and the principles of democracy. But they're also a snapshot of the cultural and political zeitgeist.
Two recent inaugurations – George W. Bush's second and Barack Obama's first – illustrate how inaugurations can mirror the nation's mood and challenges. And as with those examples, Trump's inauguration weekend embodied the current state of the country.
Barricading Bush
On Jan. 20, 2005, at his second inauguration, President George W. Bush took his second oath of office and delivered a speech that forcefully enunciated the principles of extending democracy, freedom and liberty throughout the world.
Ironically, this event took place amidst bollards, barriers, sentry boxes, more than 13,000 soldiers and police officers, and miles of security fences. Even the conservative Fox News commentator George Will observed that the nation's capital resembled a banana republic.
Bush's hyper-secure inauguration was a potent reminder that there had been a geopolitical shift since his first inauguration. The events of Sept. 11, 2001 – and the subsequent global war on terrorism – had expanded the security and fortification of private and public spaces in cities around the country.
Many scholars from the time, including me, predicted a bleak future for urban development and design, with the invocation of "national security" severely limiting and undermining public access and public space. Unfortunately, this has proven true on the National Mall, where permanent security measures have been installed. Some are visible (barricades and bollards), while some are less visible (security cameras). Others are temporary, like the fences that have surrounded the Mall in every inauguration since.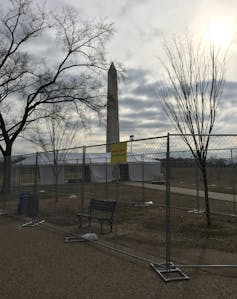 In 2005, security costs were estimated to be around US$17.5 million. The New York Times estimated security costs ran at $100 million for the 2016 inauguration. Fences, guard towers, police panopticons and a 30,000-member security force have become the new normal for presidential inaugurations. But we've allowed this to happen without any debate or discussion. We've let security preempt issues about public access.
The National Mall is where American society expresses its national ideals of democracy, liberty and freedom. Because the Mall represents the fundamental principles of democracy in both form (monuments and memorials) and function (public space), its fortification is at odds with the Mall's symbolism. In a place that symbolizes freedom, the Mall now also symbolizes fear and retrenchment.
A crumbling Mall in a crumbling economy
At the 2009 inauguration, Americans came to the National Mall by the millions. They traveled from around the country and endured frigid weather, security checkpoints and long lines.
They were there to bear witness to history: the inauguration of the country's first black president, Barack Obama.
The entire two-mile stretch of the Mall was a carpet of nearly two million people – an unprecedented crowd of astonishing size and spirit.
But the celebratory atmosphere was tempered by an economy in bad shape. The first Obama inauguration took place amidst a backdrop of an economic recession; his address was measured, as he challenged Americans to "begin again the work of remaking America. For everywhere we look, there is work to be done."
While parts of Obama's message were inspirational, I couldn't help noticing that the grass around me was trampled, the reflecting pool filled with scum. Sagging benches, broken water fountains and crumbling, neglected walls and sidewalks dotted the grounds.
The Mall was a stage that needed some fixing. Eight years later it still hasn't been fixed. Instead, it continues to underscore the long-term economic disinvestment in our public spaces and public infrastructure.
We've allowed our bridges to crumble, our sanitation systems to decay and our public spaces and parks to decline. The Park Service reports that it currently has an $11 billion backlog in maintenance and repair, with the Mall alone accounting for $852 million of that. No wonder the Mall looks shabby: We've failed to give it the respect it deserves, as has Congress. It doesn't reflect the pride of our American spirit, and it's certainly not a shining example of the best we can do for our own front yard.
A stage for two Americas
If past inaugurations reflect the times, what did the 2017 inauguration symbolize about the state of the union?
It took place at a moment of deep division in America, in the wake of an election that exposed divisions over race, class, gender and ideology. Trump's extreme campaign rhetoric included inflammatory statements that were racist, misogynist, and anti-immigrant. His victory appealed to an anti-globalist, anti-establishment sentiment that caught many off guard. The election broadcast two very different versions of America to the world.
To articulate this divide, the Mall was the stage.
It was an unusual inauguration. In contrast to previous inaugurations, the Mall looked empty. Roughly 250,000 tickets were distributed and perhaps several more thousand came without tickets (compared to 1.8 million in 2009 and one million in 2013). In addition, Trumps' inaugural address was notable for its lack of appeals to unify or reconcile the country. Instead he was blunt, defiant and promised he would continue to "fight."
The next day, the Mall became a stage for democracy again – this time to protest the new president and his agenda. While many inaugurations have experienced protests, this was unprecedented in scope and size. In 1913, the day before President Woodrow Wilson's inauguration, some 5,000 suffragettes marched for equality and to demand voting rights. Other protests on the Mall have drawn significant crowds; for example, an estimated 250,000 people attended the 1963 March on Washington for Jobs and Freedom.
The 2017 Women's March on Washington, however, drew upwards of 500,000 people. Millions more marched in hundreds of cities in the U.S. and around the world. Women, men, and children protested the rhetoric of the 2016 election as insulting, demonizing and threatening to women, minorities and immigrants. They marched on the Mall to show that their presence in numbers was too great to ignore. A sign best expressed the day's purpose: "Inaugurate the Resistance."
With an inauguration one day, and a "counter inauguration" on the next, the Mall in 2017 symbolized how, at the moment, we are a nation divided.