It seems to happen every few years: a boxing superfight briefly jolts the fringe sport back into the public consciousness.
But the latest mega match-up – between an undefeated boxer coming out of retirement and a celebrated mixed martial arts fighter who has never entered a professional boxing ring – is without precedent.
It's projected that the August 26 bout between Floyd Mayweather Jr. and Conor McGregor will earn more than US$500 million through pay-per-view buys and just a little under $90 million through ticket sales.
Yet there seems to be a consensus that this superfight will be far from super. It's been derided as a clash pitting "a caveman" against a "defensive genius," a contest in which McGregor "will not land a single punch."
The 29-year-old McGregor is one of the most magnetic figures in the history of mixed martial arts, the only Ultimate Fighting Championship fighter to simultaneous hold titles in two weight classes. On his way to the biggest payday of his career – potentially more than $100 million – he's younger, taller and boasts a longer reach than his opponent.
But McGregor is also a 0-0 boxer going toe to toe with a legend who is 49-0, has won championships in five weight classes and is one of the most elusive boxers to ever slip a punch.
Here's a look at the various factors that weaken McGregor's chances.
An interdisciplinary bout
Interdisciplinary match-ups are not new in the history of combat sports, and several mixed martial arts fighters have stepped into the boxing ring, albeit not against opponents of Mayweather's caliber.
Champion boxer Holly Holm delivered Ronda Rousey's first MMA defeat, but James Toney, who won boxing titles in multiple divisions, didn't land a punch in his only UFC fight, a quick loss to Randy Couture.
As reigning heavyweight boxing champion, Muhammad Ali traveled to Japan to fight a professional wrestler under a modified set of rules that would be a precursor to future mixed martial arts contests. The bout ended in a draw, leaving Ali with blood clots in his legs after enduring a barrage of kicks over 15 rounds.
As a 12-year-old, McGregor got his start a local boxing club and has proven himself to be a skilled puncher in MMA, winning 18 of his 24 fights by knockout.
But Mayweather, 40, was born into boxing. The son and nephew of professional fighters, he won a bronze medal at the 1996 Olympics and his first major professional title in 1998. He fought his last fight in 2015 before coming out of retirement in June for the McGregor showdown.
Defense first
Mayweather's defensive-minded approach has contributed to his longevity, drastically cutting back the amount of punishment he's endured in the ring.
But it's rarely made for exciting bouts. Many boxing fans felt burned by Mayweather's cautious victory in 2015 over Manny Pacquiao that delivered little action despite the $100 pay-per-view price tag.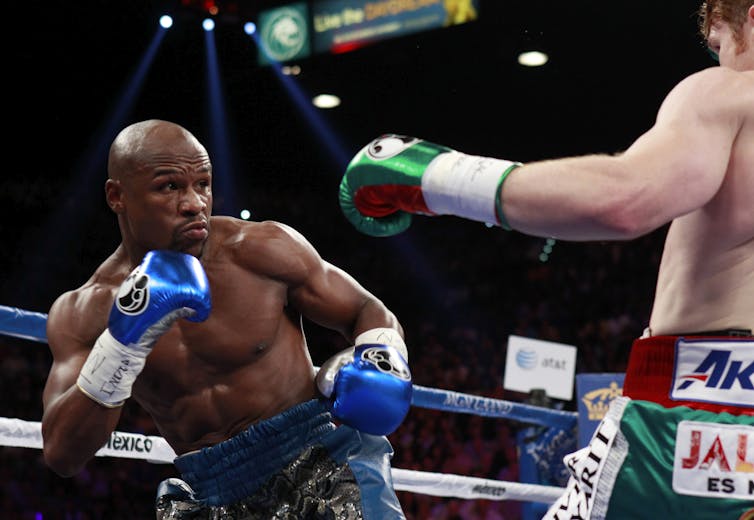 McGregor will be attempting to hit a target that has confounded even champion boxers. Over his career, Mayweather has landed more than 43 percent of his punches; his opponents, meanwhile, have managed to connect a little less than 19 percent of the time.
Nonetheless, the Mayweather camp is now talking knockout.
"August 26, after the fight is over, everyone's going to be happy," Mayweather told the Los Angeles Times.
If that happens, it'd be the boxer's first since 2011.
A test of endurance
For his part, McGregor predicts that he'll defeat Mayweather inside of four rounds. It's a sound goal for a competitor about to enter what could be the longest fight of his career.
Whereas the UFC uses five five-minute rounds in championship fights, this bout will be 12 three-minute rounds. Mayweather has won by judges' decisions after 12 rounds in his last seven fights. McGregor has gone more than three rounds just once.
McGregor's attack will be limited by a set of boxing rules vastly different from those of mixed martial arts, and he's even added a veteran boxing referee to his camp to assist with the transition.
He'll be wearing 8-ounce gloves instead of the 4-ounce fingerless variety found in UFC. In boxing, a mixed martial artist's elbows, chokes and submission holds are all barred. Taking the fight to the ground is not an option.
McGregor's long odds haven't dampened enthusiasm for the 154-pound fighter, which has been buoyed by four raucous press conferences, a Showtime series and countless updates, think pieces and predictions in the media.
Will it be a disgraceful mismatch? An improbable underdog story? A dull impasse?
We'll finally get an answer once the bell rings Saturday.