Last year when, The Australian Ballet announced their 2023 season and I saw a "new" Swan Lake on the list, I asked myself: did we really need another Swan Lake?
I love Swan Lake.
First staged by the Bolshoi Ballet in Moscow in 1877 – but most known for its 1895 version staged by the Imperial Ballet in St. Petersburg – it is the ballet which makes most sense as a pure classical ballet with its castles of parading royalty, its princes and princesses performing in crowded ballrooms and its lake of gliding swans.
Indeed, had classical pointe shoes not existed prior, they would have been a great invention for this ballet alone, enabling the fast tippy-toe footwork (bourrées) which transform the dancers into swans gracefully skimming across the surface of a lake. And tutus, sometimes strange in other contexts, in this ballet look like the white swans they aim to evoke.
Tchaikovsky's score is powerful, narrative and broadly familiar. Petipa's 1895 choreography is held in such esteem that it has been largely unchanged for 128 years.
But there are two questions here: do we really need to continue performing Swan Lake? And, if so, how often do we need a new one?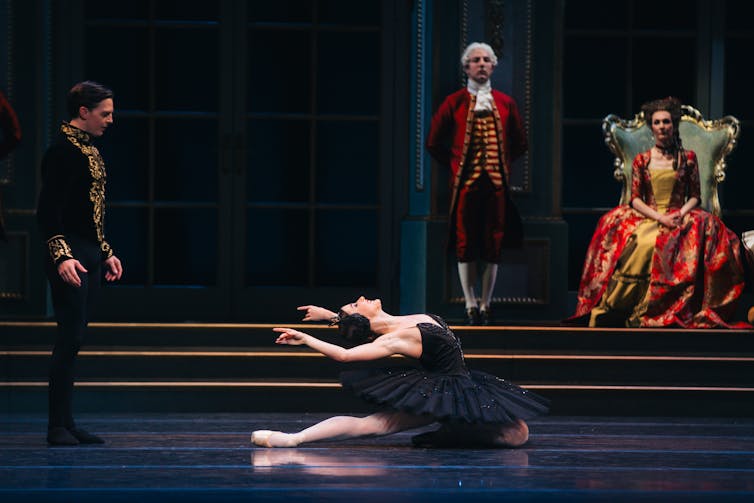 In their 60-year history, this will be The Australian Ballet's fifth take on Swan Lake and each new iteration takes more rehearsal time, more new sets and new costumes, and much more budget.
And when we see Swan Lake again, it takes the budget and programming from another possible production, perhaps an Australian ballet by an Australian choreographer.
So, how does David Hallberg's 2023 Swan Lake stack up?
---
Read more: The West Australian Ballet's Swan Lake brings the story to Perth – but the Noongar elements never feel completely integrated
---
Reborn from the archive
Well, firstly, it is clearly stated on the company's website that the production was entirely funded through philanthropy, so it hasn't directly cost the public purse.
Secondly, it is not being called a "new" Swan Lake, but rather a revival of former artistic director Anne Woolliams' 1977 version, which draws heavily on the Petipa 1895 choreography, with a few tweaks to bring it into the 21st century.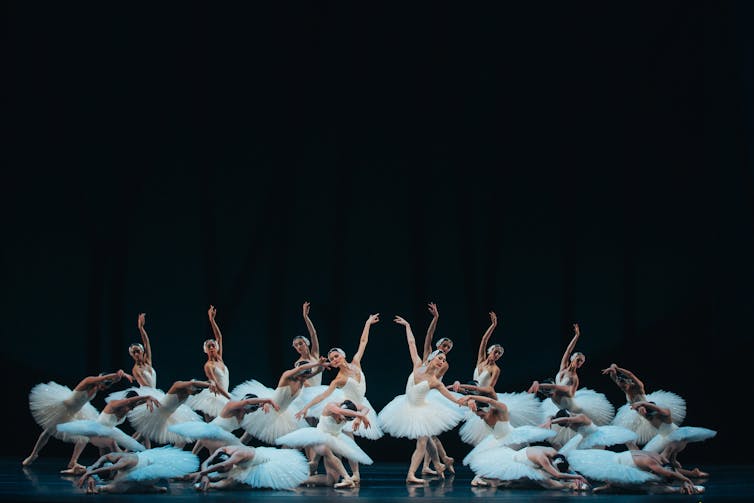 As such, it is an engagement with the company's history and a cultural remembering of an important figure from the past – indeed an important and controversial woman choreographer from the company's past. Woolliams didn't see out her contract as artistic director stating publicly that she refused to have repertoire dictated to her by the company's administration.
She believed in creating new and exciting work.
The changes Hallberg has made to Woolliams' choreography are laid out in detail in the program and apart from new sets and costumes (designed in 2023 by Daniel Ostling and Mara Blumenfeld), there are few.
We really are seeing an authentic and distinct Swan Lake reborn from the archive of The Australian Ballet, and that feels good.
Joyous movement
In the first act, dancing groups form out of the gathered crowd in the square and then blend back in with a dynamism more like a flash mob than a ballet. This accentuates the joyous spontaneous nature of the atmosphere and movement. The costumes are lavish with rich greens, golds, blues and purples.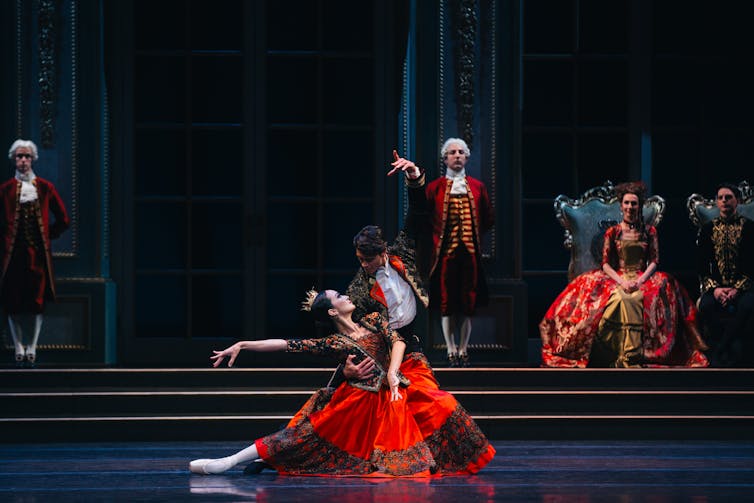 In Act II, 24 swans (up from 18 in Woolliams version) move seamlessly through flock formations both familiar and unique with a striking V formation being repeated to powerful effect throughout.
Woolliams' insistence on the corps de ballet swans becoming birds is also evident with a rippling of feathers that passes through the flock of dancers bringing them to life as animals. The set is abstract with black branches back lit with moonlight blue.
Act III is a more intimate ballroom than we might usually see. The same emerging and re-merging with the group is evident from Act I as the princesses and their entourages step up to showcase their national spirit.
Crowd favourites
But the real power throughout this Swan Lake is its leads, Benedicte Bemet and Joseph Caley on opening night.
Bemet is both formidable and vulnerable, capturing a natural animalism as Odette. She displays impeccable technique through her gruelling set of solos and pas de deux. Caley partners strongly and sensitively. His Act III solos are exacting and commanding.
The cygnets don't disappoint. They are always a crowd favourite.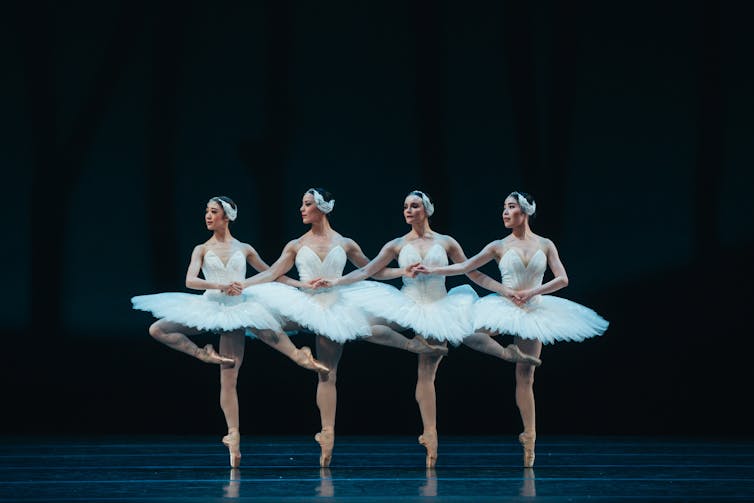 In fact, on opening night everything seemed to be a crowd favourite. Ecstatic applause followed almost every variation.
With the entire season of the company's Swan Lake in four different cities across Australia already close to a sell-out, it would seem the people have spoken. They, at least, needed another Swan Lake.
And a sell-out season brings in a lot of money which can fund other projects, other ballets with living choreographers – maybe even Australian, women or First Nations.
While this will not be the last Swan Lake we see from The Australian Ballet, Hallberg says it will be the one we see for the next couple of decades. I don't think the fans will be disappointed.
Swan Lake is at Arts Centre Melbourne until September 30, then touring to Adelaide, Brisbane and Sydney.
---
Read more: 60 years of The Australian Ballet and 90 years of 'Australian' ballet: Identity asks us to reflect on Australian dance today
---