Walk down the high streets of Britain, through the shopping malls of the United States or around the retail complexes of East Asia, and you will inevitably be confronted with a McDonald's food outlet.
We've long become accustomed to global fast food franchises, but what if football was also heading that way? Manchester City's recent acquisition of a US team may be just the start of the era of the global football franchise.
The McModel
Franchised across the world, the McDonald's business model ensures the company can secure mass-market coverage in international territories, leveraging best possible (financial) value for the business. It assists the company in targeting customers in established markets, but also facilitates new market entry by prompting consumer purchase based on familiarity. This familiarity helps ease consumption of products by evoking a sense of security in the minds of consumers, leading them to engage and transact based on a feeling of trust.
In sport, such franchising exists in some places; in the United States, for instance, cities are allocated franchises in sports like basketball, baseball and ice hockey. Franchises are generally awarded to sports entrepreneurs based upon the extent to which they and the cities in which they are located can deliver a sustainable financial return. In other words, it is about using sport to make a profit. No profit, no franchise, and the team moves elsewhere to play in a city where it can make a profit.
This approach to sport has led to the emergence of a sports entrepreneurial class, consisting of individuals like Malcolm Glazer (owner of the Tampa Bay Buccaneers and current owner of Manchester United), John W. Henry (Boston Red Sox and Liverpool FC) and Tom Hicks (former owner of both the Texas Rangers and Liverpool FC). However, in spite of the experience, power and wealth that such individuals bring to sport, their ability to bring a franchise approach to other sports, most notably football, has been very limited.
Roots and culture
Unlike North American sport, which developed on an overtly commercial and strategic basis, European football has emerged on a more socio-cultural basis. In England, for example, football clubs were often established in towns where industry grew in the 19th century. Hence, the development of football in Europe has become inextricably linked with history, heritage, community and identity, rather than with business, commerce and least of all franchising.
A stark illustration of the role that history and heritage plays in football occurred when the new owner of Wimbledon FC announced in 2001 that he would move the underperforming team from its home in the suburbs of south London to Milton Keynes, 50 miles away. There was outcry among fans across the country, with people labelling it "franchise football". Fans vociferously complained that they would not countenance this and, indeed, some refused to support the newly branded "MK Dons" and set up a new club, AFC Wimbledon.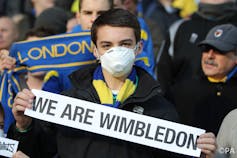 There were fewer complaints when, in the 1990s, Cape Town Seven Stars became Ajax Cape Town following the acquisition of a controlling interest in the club by Ajax of Amsterdam. At the time, this was labelled as being a "franchise arrangement", a way for the Dutch club to tap in to the same scouting networks that had spotted South African players like one-time Ajax signing, Steven Pienaar.
In spite of the Wimbledon and Ajax cases however, franchising has thus far failed to take hold in Europe. It is anathema to fans, clubs and governing bodies – it simply has not been the way things are in football.
World domination
Yet as football has become more commercial, the world has globalised and the international balance of economic power has shifted, the prospect of franchising taking hold appears to be emerging.
The Italian Football Association has already effectively franchised out its annual Super Cup competition (a match between the league winners and the cup winners), which is now played in Beijing. Also in China, Chengdu Wuniu is now Chengdu Blades, following acquisition of the club by Sheffield United. In the former case, playing a season-opening game in Asia builds existing customer engagement and extends presence in a strategically important market. In the latter case, a relatively modest English club is able to build business, access player scouting networks, and diversify the club owner's investment portfolio.
Adding further intensity to the debate, FC Barcelona has in recent years referred to the "Walt Disney model" being used as a basis for the club's business, whereby symbols of the brand are used to sell everything from football to theme parks to cartoon characters.
Within the last couple of weeks Manchester City, now run by former Barcelona man Ferran Soriano, has taken this logic further by buying a New York based Major League Soccer franchise.
A franchised future?
With the prospect ahead of City playing in both Manchester and New York, franchising in the McDonald's sense is looming large on the horizon. So much so, that one has to ask how long before we see Beijing City or Mumbai United joining leagues in their respective countries.
Just as franchising makes sense for fast food businesses, so too it makes sense for some football clubs: the same commercial logic, the same business and managerial benefits. In football, where clubs are often little more than small or medium enterprises at best, this is especially important. Playing the franchise game will enable clubs to capitalise on their history, heritage, profile, and brand strength as a basis for building business in new markets.
The football fans of America, China and India may be excited by the prospect of being able to engage with their favourite European football clubs on a more immediate basis. However, many football fans in Europe are likely to be in uproar as their lifetime loves become even more overtly commercial entities. This implies that there are some important management challenges ahead for clubs, notably reconciling the need to preserve heritage in some parts of the world while operating like a burger business or global entertainment corporation in other parts of the world.
It will make for interesting times, not least if one considers in the meantime that by 2030 we could well have a World Club Championship contested by franchised clubs owned solely by one organisation – look out for City versus City in the final.