A challenge to racism and hatred in the US – and to Donald Trump himself – has come from an unlikely source: a timelord. In the third episode of the latest series of Doctor Who, the timelord travels back in time to ensure Rosa Parks' famous bus protest takes place, tackling the issue of racism head on and lauding those who challenge it. Meanwhile, the fourth episode, Arachnids in the UK, features a Trump-like character – a self-obsessed and ruthless tycoon with presidential aspirations.
The new series, which premiered to rave reviews, stands in stark contrast to Trump's self-confessed nationalism and contempt for multiculturalism, and it embraces diversity more than ever before. It stars the first female Doctor (Jodie Whittaker), and her working-class companions include Yaz (Mandip Gill), a young British Asian woman who may be falling in love with the Doctor; Ryan (Tosin Cole), a young British black man; and his white British step-grandfather, Graham (Bradley Walsh).
In a reference to the considerable skills of the scriptwriters, Malorie Blackman and Chris Chibnall, journalist Caroline Siede writes that episode three could have robbed Rosa Parks of "her real-life agency by presenting the Doctor as some kind of inspirational influence on her actions". But it is not about the new Doctor and her companions riding to the rescue to change history, but instead their guarding of the timeline against a racist fellow time-traveller who is trying to stop the civil rights movement from ever happening in the first place.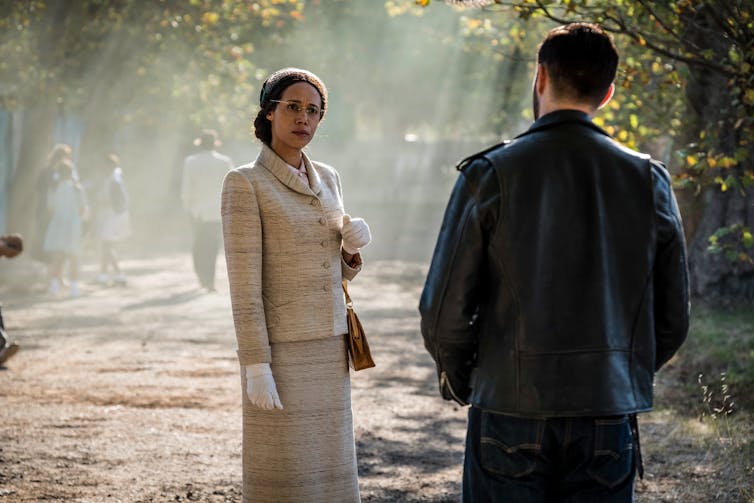 To press home the point of the nature of racism in 1950s Montgomery, Alabama, Ryan is slapped in the face by a husband after he picks up a white woman's glove in order to return it to her. "Get your filthy black hands off my wife," the man says, before threatening him with hanging. Yaz, in that era, is presumed to be a Mexican.
---
Read more: How to challenge racism in British schools
---
But the series doesn't just consider the racism that was prevalent in times past. Later, hiding by the bins outside a motel while a police officer searches their "whites only" room, Ryan and Yaz, herself a police officer, discuss the racism they face in 21st-century England – and how there's still a long way to go.
"It's not like Rosa Parks wipes out racism from the world forever," says Ryan. "Otherwise, how come I get stopped way more by the police than my white mates?"
"Oi, not this police," Yaz replies. "I get called a 'Paki' when I'm sorting out a domestic, or a 'terrorist' on the way home from the mosque."
---
Read more: Eight ways that Islamophobia operates in everyday life
---
Both comments resonate today, and are a reminder that the work started by Parks and countless others is far from done. Racism is again on the rise, exacerbated by Trump's well-documented racist discourse and policies, the Brexit process and the election of Jair Bolsonaro in Brazil's presidential elections.
Big business
Journalist Mandi Bierly might be stretching it a bit when she asserts that the Arachnids in the UK episode, isn't "really about arachnophobia – it was about the world's fear of president Donald Trump". But it does focus on ruthless business bigwig Jack Robertson (Chris North) whose main concern is that one of his companies has been cutting corners while disposing of corporate waste in the coalmine-turned-landfill beneath his next luxury hotel – he has 15 hotels around the world on repurposed industrial sites. There are also jokes about Robertson being targeted by the Russians.
Robertson also can't understand why the Doctor doesn't want to shoot the marauding spiders. "Why don't you do what normal people do?" he asks. "Get a gun, shoot things like a civilised person." The script even manages to slip in a subtle reference to journalist Michael Wolff's Trump expose, Fire and Fury. When Robertson decides to shoot a spider anyway, he says: "How's this for fire and fury?"
---
Read more: Fire and Fury aside, what can you read to understand Trump?
---
This is clearly a ruthless individual. Indeed, when the Doctor says that she doesn't see any mercy in Robertson, he retorts: "I don't need your approval, Doctor. This is what the world needs right now. This is what's going to get me into the White House." As Bierly goes on:
As an American viewer, especially this week with another mass shooting [in a synagogue] and another round of people (like Trump) calling for armed guards in locations where we shouldn't need them, it was painful to watch.
In my new book, one of many on Trumpism, I discuss at length the racism of Trump, as well as the calls for a new fascism from the alt-right. I also address anti-racist, anti-fascist and pro-socialist discourses in the US.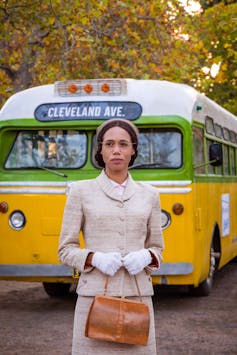 With its huge viewing figures in the US, UK and globally, the new Doctor Who series provides an unexpected boost for pro-diversity politics and the battle against racism around the world.
Better still, it does so from within people's homes. Families watch it together and discuss the issues it raises. Children can ask questions and learn about the injustices of past and current times. There are many ways to tackle racism. But by normalising diversity and multiculturalism and calling out racists, the latest series of Doctor Who reveals how shows like it can educate as well as entertain. Perhaps they can even help, in some small way, to change the world.