We don't know the exact details of why Abbas Khan, the British surgeon who died while in custody, was arrested last November at a regime checkpoint in Syria and imprisoned and tortured, or the manner of his death. We might never know the truth.
However, his death comes against the backdrop of the systematic and sustained war on doctors who serve civilians in Syrian opposition-held areas.
Doing one's job – let alone responding to the humanitarian imperative – is effectively criminalised in Syria through an anti-terrorism law introduced in July last year. And it contravenes the international laws of war designed to protect doctors.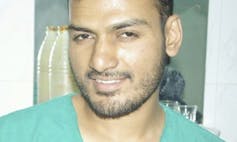 Khan's own reports in his letters, which describe the degrading treatment he received and hideous torture, are consistent with the accounts of other doctors, paramedics, and relief workers detained and tortured at that particular detention centre.
More than a one-off, Khan's experience is pretty much indicative of the way the Syrian government has been fighting the civil war in the country. Of the more than 160 doctors killed that I've counted since the conflict began, more than 90 have been assassinated for doing their jobs; others have been placed on "wanted" lists and at least 36 paramedics have also been killed by Syrian military snipers or shot dead at checkpoints. In some contested or rebel-held areas, like Homs and Aleppo, the Syrian Arab Red Crescent have been shelled.
Over the last few months, I have conducted more than 200 interviews with Syrians, Palestinians, Alawites, Sunnis, Kurds, Christians, Shias and Ismaelis in the border regions of Lebanon and Turkey. And among them rebel fighters and regime militiamen, as well as doctors, nurses pharmacists, relief workers, children and civilians.
And the experience of doctors can be summed up by the orthopaedic surgeon from the north-eastern Syrian town of Aleppo. He described to me treating a man who had been wounded by a government sniper when a military intelligence officer interrupted him, violently wrenched him away, and accused him of terrorism.
He had said to the officer: "How am I a terrorist? I am a doctor. This is my job," to which the officer replied: "We are shooting at them to kill them, don't you understand?… if you treat them, you are the enemy."
The repercussions for him included having his clinic was destroyed, his wife's clinic was shut down and they were forced to leave Aleppo. Now in Turkey, he isn't able to practice, despite the urgent need of his skills in his homeland.
Climate of fear
Many doctors, fearing detention or worse, described being forced to deny treatment to people in need. Since the very beginning of the violent response to peaceful uprisings that began in March 2011, doctors have been threatened. Some said they had resorted to practicing medicine covertly. For Dr Jandali, a director of the Medical Hospital in western city of Homs, this meant working in the middle of the night in order to treat the same patients he had been forced to turn away earlier in the day.
Punishment followed a few months later in July 2011 when regime forces made a house call on the pretext of needing his services, and brutally beat his wife in front of him.
As a result of the Syrian government's serial assaults on doctors across the country, the situation on the ground today in November last year when Khan entered Aleppo was already very serious. In the preceding months, not only doctors but three medical students had been kidnapped and tortured to death in Aleppo.
A year later, as a result of this strategy of war and the wholesale destruction of the healthcare system, we are seeing polio because children have been denied vaccination as part of this strategy.
The Death Path
Aleppo is divided into opposition and regime-held areas, separated by the "Death Path", 300 metres of highly hostile territory.
I interviewed a paediatric resident who has not been able to complete his residency training because the Children's hospital in Aleppo was destroyed last year. Of the 5000-odd doctors, that used to practice in this densely populated city, there are now less than three hundred doctors left working on the frontline, in incredibly difficult conditions – operating without electricity or anaesthesia, for example – in Aleppo's opposition-held area.
Since Aleppo's blood bank supplying the entire northern region was bombed last July, surgeons have often donated blood themselves.
On December 15, government gunships shelled the contested area in Aleppo heavily, killing up to 150 civilians – including tens of children – according to the Britain-based Syrian Observatory for Human Rights. I was in Kilis, on the border in south-eastern Turkey, where children had to come for treatment for war wounds.
The massive amount of war trauma due to the continued shelling, snipering, missiles and barrel bombs mean that the demand for the skills of orthopaedic surgeons such as Khan is escalating, even as more doctors are forced to flee, ambulances are deliberately targeted by missiles (another five destroyed in October), civilians are targeted and hospitals are under aerial and ground assault. Out of 91 public hospitals, five are occupied and almost 50 destroyed. Dar Al-Shifa Hospital in Aleppo was attacked at least six times last year.
Last June I spoke to Madir, a 14-year-old girl, who described what had happened to her:
I was alone when it happened, on my way to visit my uncle outside of Aleppo. It was Monday afternoon, at two o'clock. Two rockets came, but I was on the street, there was nowhere to hide.

When I tried to stand up I fell over – and I saw my foot coming apart from my leg. Some people picked me up and put me in a car. They didn't even try to call an ambulance, there aren't any left here. The first two hospitals refused me, saying there was no doctor. The third one, there was a surgeon. By this time it was seven o'clock, but I couldn't even pass out, I wanted my mom. I don't have a dad.

Later, I found out she had to go to every single hospital to find me. I lost consciousness. When I woke up, my foot was gone. Later, the surgeon told me that he had tried very hard, and he gave me as much blood as he could – three times – but that over the next 15 days since the injury I had lost too much blood, that my heart had stopped for a while, and so he had to take away my leg.
Whether doctors work in emergency rooms or war zones, the humanitarian principles of impartiality and neutrality – the professional obligation to treat those who need it most, irrespective of personal or political preference – are the same. The difference is that in war zones, doctors rely on the international legal protection afforded by medical neutrality. The humanitarian space has been not only closed but criminalised in Syria. And Khan's death is just one part of the result.
The scale of the attacks against doctors in Syria is unprecedented and are not only a part of president Assad's war plan, but a deterrent. The only reason Syria is in any shape at all today reflects the courage and dedication of doctors, paramedics, medical students, residents and support staff who are willing to continue to risk their lives in order to bring relief to those who are besieged.