As Woody Allen celebrated winning the Golden Globe lifetime achievement award in a New York restaurant on January 14, his son Ronan Farrow responded with disgust, taking to Twitter to repeat the allegation that Allen had abused his adopted daughter, Dylan, in the early 1990s.
In an open letter published on February 1, Dylan Farrow, adopted daughter of Mia Farrow and Woody Allen, wrote that Allen led her into the attic of their home in 1992, when she was 7 years old, and sexually assaulted her:
Woody Allen is a living testament to the way our society fails the survivors of sexual assault and abuse.
She writes that those who admire Woody Allen's movies – and the actors who have worked with him – should think of what he did to her.
[…] others are still scared, vulnerable, and struggling for the courage to tell the truth. The message that Hollywood sends matters for them.

What if it had been your child, Cate Blanchett? Louis CK? Alec Baldwin? What if it had been you, Emma Stone? Or you, Scarlett Johansson? You knew me when I was a little girl, Diane Keaton. Have you forgotten me?
Allen has always strenuously denied that he abused Dylan Farrow. Responding on his behalf to the latest allegations, his rep released a statement that said:
Mr. Allen has read the article and found it untrue and disgraceful. He will be responding very soon.
The case against him has never been brought to court. In 1993, the prosecutor decided that it would not be in Dylan's interest to have him tried, announcing that while he found "probable cause" to prosecute Allen, he was dropping the case because Dylan was too "fragile" to deal with a trial.
In the current open letter, Farrow counters:
[…] sexual abuse claims against the powerful stall more easily. There were experts willing to attack my credibility. There were doctors willing to gaslight an abused child.
The original abuse allegation was made not long after Mia Farrow broke off her relationship with Allen over his affair with her 21-year-old adopted daughter, Soon-Yi Previn.
Dylan Farrow rightly says that our society has often failed abused children. But we also know that some people have been unjustly accused of child abuse.
And so what are we supposed to do?
Child abuse is a terrible crime, with devastating consequences; and we know those who are suspected of it can be stigmatised for life. For this reason we ought to hold fast to a basic principle of our legal system. We should presume that a person is innocent until he or she has been proven guilty.
Woody Allen should not be denigrated or stigmatised because of allegations that have not been proved.
Dylan Farrow's open letter raises another question.
If Allen had been found guilty of child abuse would this mean that we should not enjoy his movies or celebrate his achievements?
Farrow writes:
So imagine your seven-year-old daughter being led into an attic by Woody Allen. Imagine she spends a lifetime stricken with nausea at the mention of his name. Imagine a world that celebrates her tormenter. Are you imagining that? Now, what's your favorite Woody Allen movie?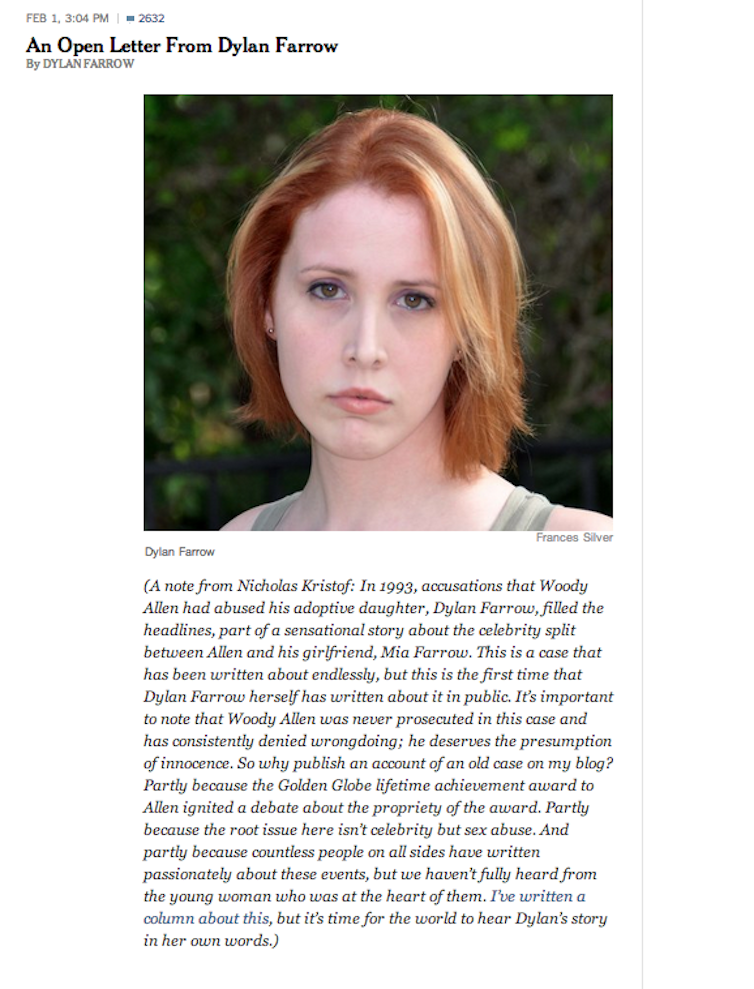 Whether we should or shouldn't continue to enjoy someone's work following alleged or actual abuse or some other failing is not a a hypothetical question. The film director Roman Polanski pleaded guilty to unlawful sex with a minor – 13-year-old Samantha Geimer – in 1977.
Gertrude Stein collaborated with the Vichy regime; Richard Wagner wrote a vicious anti-Semitic tract.
Should our judgement about an artist's or writer's works be affected by their crimes or misdemeanours?
There is no reason to think Polanski's movies are polluted by his crime or that anti-Semitism is rampant in Wagner's Ring Cycle. We can appreciate their works while deploring their moral faults.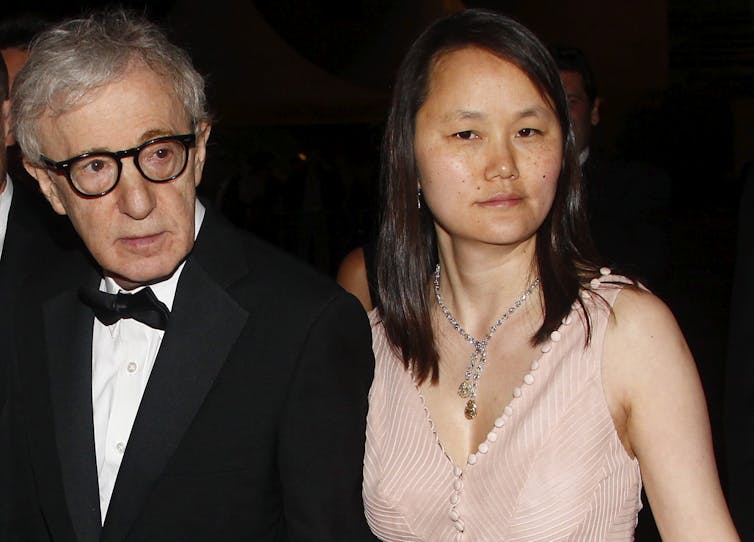 This is justified by the commonsense recognition that individuals are psychologically complex. They can be thoughtful, sensitive and insightful in some contexts and yet abuse their partners, exploit their friends – or do worse things.
When artists or writers win awards or prizes for their accomplishments they are not being lauded for being morally good people.
Unfortunately, the distinction between artists and their works is difficult to maintain in an environment where celebrities are regarded as role models.
If Dylan Farrow was abused by Woody Allen, or believes that she was, then it is understandable that she should be upset by the adulation that he receives.
But our legal principles and the moral reasoning that lies behind them require that we give him the benefit of any doubt.