On average 21 people drown each year in rip currents on Australian surf beaches.
This value exceeds the long-term annual average of fatalities caused by bush fires, floods, cyclones and sharks combined. So how can beachgoers keep safe this summer?
Rip currents are strong, narrow, often channelised seaward flows that transport water brought onshore by breaking waves back offshore. They are ubiquitous features on Australian beaches with an estimated 17,000 present at any given time.
Many unsuspecting bathers quickly find themselves out of their depth, considerable distances offshore, where their initial reaction is often to swim back to the safety of the beach, against the rip current flow.
The strength of the current, combined with a sense of being out of control and fear of the unknown can quickly lead to the onset of panic and, in far too many instances, drowning.
Rips: a silent killer
Only 4% of Australia's 11,000 beaches are patrolled by lifeguards and lifesavers and virtually all rip current drownings occur on unpatrolled beaches or outside of patrol times.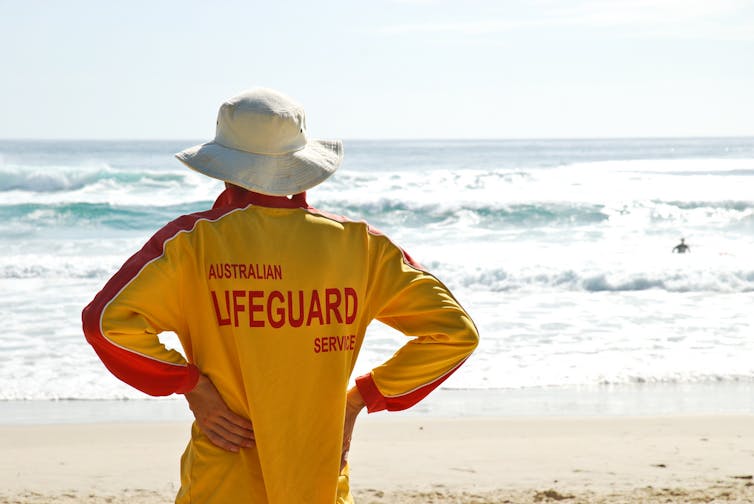 In these areas and at these times, whether or not a person makes a safe and correct choice of swimming location is based solely on knowledge or luck. Unfortunately, recent research has shown that beachgoers have a poor knowledge of rip currents.
There is also an element of complacency of the severity of the rip hazard by the general public and media. Unlike low frequency, high magnitude hazards such as bush fires, which can claim large numbers of lives in a single event, rip currents are almost always present and rarely result in more than one fatality at a time.
As such, they are a semi-continuous background hazard that rarely receive significant media coverage when a drowning occurs.
In contrast, shark fatalities are front page news, tugging at primal fears. An unusual spate of five shark fatalities since 2011 triggered the Western Australian government to commit $21 million on shark prevention interventions and to a radical new shark plan that will see large sharks removed.
Despite rip current fatalities being higher than fatal shark attacks during this time, no such funding or attention has been dedicated to the rip current hazard.
Considering human geography
Our fundamental scientific understanding of rip current formation and flow behaviour is sound. However, our collective efforts have largely ignored the human geography of the rip current problem.
We know very little about who is getting caught in rips, what they know about them, what their experience of being caught in a rip was actually like, and what information about rips people are likely to understand and remember.
This information is essential for developing appropriate and effective rip current interventions across a varied beach going population.
How to escape a rip
Traditional advice to escape a rip has been to "swim parallel to the beach" whereas recent research suggests that staying afloat may be the better option as many rip currents tend to re-circulate, theoretically bringing bathers back into shallower water.
Ongoing collaborative research between The University of New South Wales and Surf Life Saving Australia has measured rip current flow behaviour and escape strategies using GPS attached to drogues and swimmers as well as conducting surveys and interviews of "rip current survivors".
Not surprisingly, results have shown that rip currents and people's experiences in them are complex and varied. No single message is suitable for advising people how to react or to escape when caught in a rip current.
Instead, a combination of advice incorporating elements of floating, swimming and staying calm may be the best way forward to cover all scenarios, but communicating complex advice comes with its own challenges.
Prevention is the key
Efforts should instead be focused on prevention by improving awareness and understanding.
Rip current drownings are largely avoidable. If a person doesn't get in a rip, they won't drown in one. People need to somehow acquire knowledge that will motivate them to swim between the flags on patrolled beaches and avoid rips on unpatrolled beaches.
In this regard, the use of visuals through the release of harmless purple dye into rips (to show the movement of the current) has proven to be an effective technique.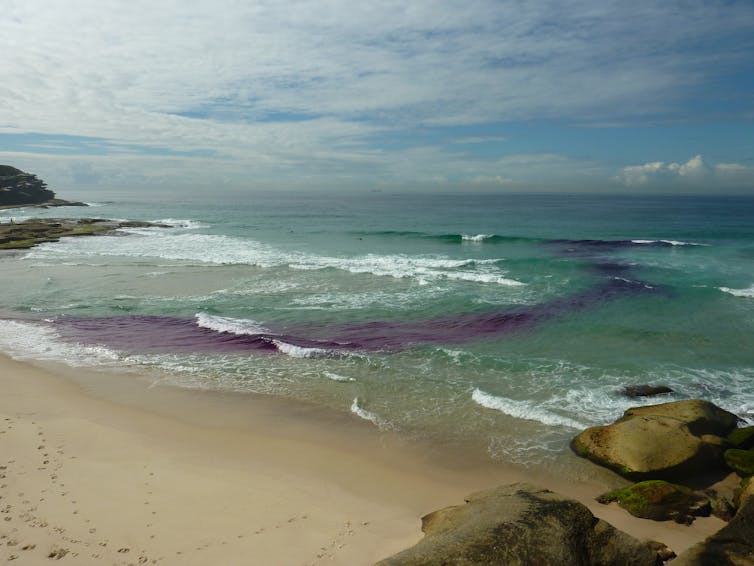 For years I have been doing dye releases, or showing images and video of dye releases, as part of surf safety talks to the general public, primary and high school students. The media in particular has embraced this imagery giving it significant exposure.
The use of dye is dramatic, eye-catching and engaging and people seem to remember it. This recollection might be the difference between life and death when people decide whether to swim in an unpatrolled beach location.
All Australians and incoming tourists should be shown purple dye imagery in some format, as it brings the rip hazard to life. It's not hard to do and is certainly cheaper than the present costs committed to shark interventions.