There is a new fear on the block. Not just ISIS, home invasions, wind turbines and the budget deficit, but now we must fear … traffic congestion.
The Infrastructure Australia report on the future needs of our cities emphasises the growing problem of urban traffic congestion all over the country. It is echoed by the State of Australian Cities report.
Congestion, it warns, will overwhelm our futures, making them unlivable, uneconomic and ungovernable as we fight for every piece of road space.
But do we have to accept that congestion trends will overwhelm us? Is it really right to fear congestion?
The fear
According to the IA report travel times are going to increase by at least 20%. The total cost of such congestion will increase from A$13.7 billion a year to A$53.3 billion by 2031, an increase of nearly three times. The loss of time will apparently cripple us.
The public policy reaction to fear is to jettison economic analysis and throw money at it. No benefit-cost ratio is needed as we need to act now or it will overwhelm us. Kneejerk reactions like this are usually regretted in hindsight but at the time we have no choice, it must be done.
In this climate of congestion-fear big roads are not being assessed, just announced. The congestion peril is coming. We must honour the Abbott government's election commitments to around A$40 billion of high-capacity roads such as the East-West Link in Melbourne (now discredited and dropped by the Victorian Government), the Connex West system in Sydney (causing similar pain with communities subject to its impact) and most recently the Perth Freight Link (which looms as the biggest election issue facing the Barnett government that never actually wanted it). All of these roads have benefit cost ratios that make them very questionable.
Long-term plans are being drawn out of old cupboards for road projects dreamed up in the 1960s – like a plan to build a 10-km tunnel under Perth's Swan river to link the city's leafy western suburbs with the similarly well-heeled area around Applecross. Good luck with that one.
Peak car
The congestion trends being used to scare us are not based on actual data but on projections. They come from a model that is now discredited. In reality Australian cities peaked in car use per person in 2004, like all developed cities across the globe.
The chart below shows that peak car occurred in all Australian cities, regardless of their level of congestion as Canberra, Hobart and Darwin also peaked.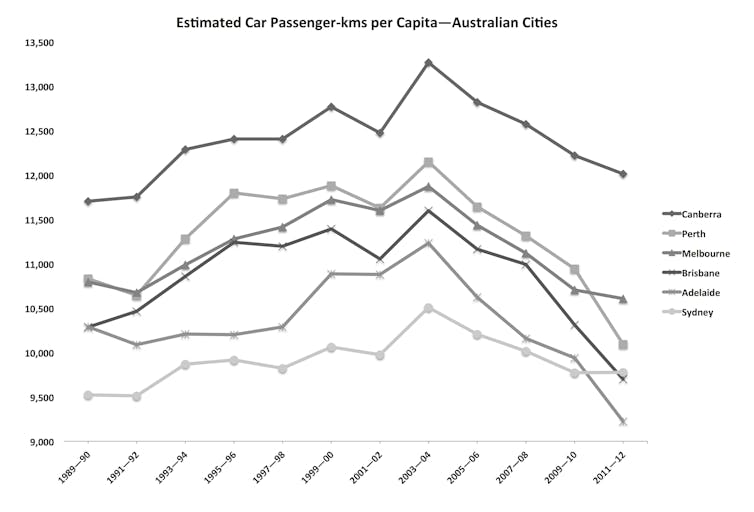 Around the world there is a new dynamic in our cities as the young and wealthy are moving back into cities where they do not need to use a car and they are preferring fast trains and buses over traffic wherever they can.
Rail patronage is booming way beyond predictions as the speed of rail leaves traffic behind. The table below shows the relative speed of public transport (bus and rail) which is gaining but still loses to traffic, and rail to traffic which is now beating the traffic in all cities in our global sample.
Predicting the traffic
For decades the transport planning profession has used what is known as the Four Step model to predict traffic and hence provide road capacity. It does not suggest any other options than increasing road capacity such as public transport or land use changes that reduce the need to travel.
It has been put aside by most European cities who quickly saw what it did to rip the heart out of American cities. Despite its obvious simplicity it remains one of the modernist tools that are used to explain the future of cities. Most of all it is a tool to create congestion-fear.
But the Four Step model now has revealed one major failing: it assumes that as wealth rises then car ownership and car use will also rise. As the data above suggest if we look to the future we can confidently predict that wealth will rise but we cannot predict that this will automatically mean more car use. They are now decoupling.
The young and the wealthy are buying locations where car dependence is minimised and where sustainable transport options are easily available. Freedom and connection is now based on smart phones and social media and these are easier to use where you can walk, cycle or use a bus and train.
In the US the cities that are decoupling GDP from car use the most are the cities which have invested in rail, such as Washington DC and Portland, as you can see in the chart below. In cities that are emphasising sustainable transport modes the economic benefits are increasingly being demonstrated (see also the book and this article by urban theorist and professor at University of Toronto Richard Florida) as the knowledge economy requires dense centres and spatially efficient modes - walking, cycling and rail transit.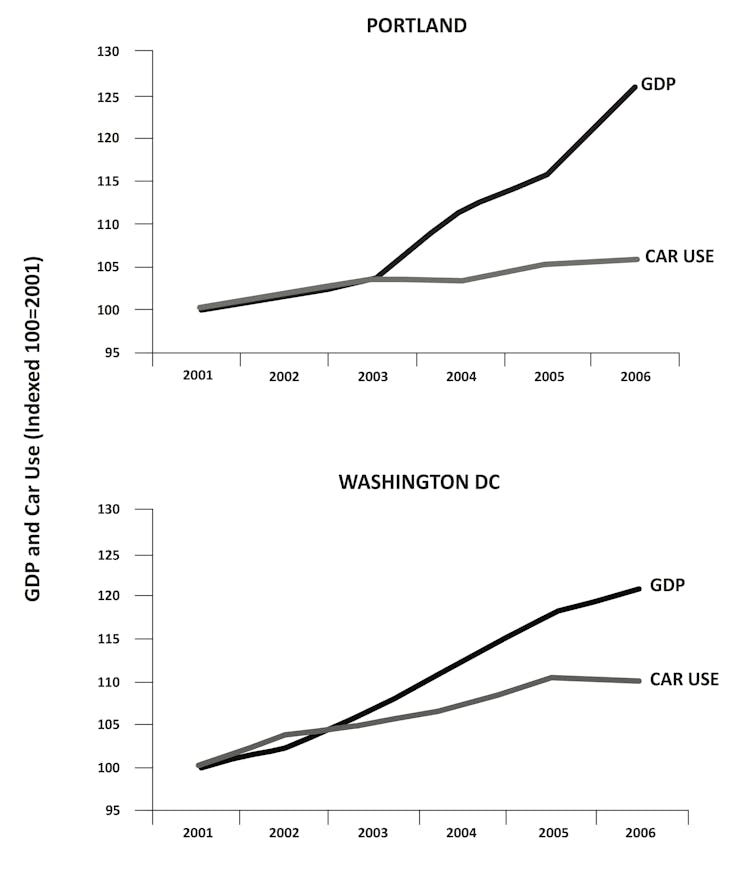 This global trend is also not just a phenomenon of wealthy cities. Rail projects are dominating the transport agenda of Chinese cities (building metros in 82 cities) and Indian cities (51 cities are building metros now since Prime Minister Modi declared any city over a million needs quality transit).
Even if we were faced with a mountain of traffic congestion we should not be building high capacity roads as they are no longer working to deliver the transport outcomes once expected. The Texas Transportation Institute has compared miles of freeway against delay in the top 20 American cities and found no correlation, as you can see in the chart below.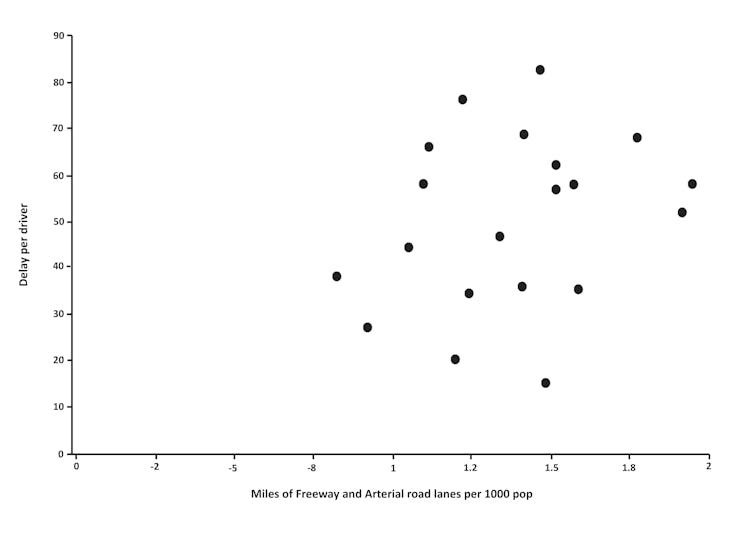 The latest data on American cities shows that the top six most walkable cities have 38% higher walkability. Australian cities have been showing this in their city centres as well (Gehl, 2011). This is now the real competitive edge attracting capital for the knowledge economy and to retain the young talent. This is how we should be facing the future not quivering in fear about congestion.
It's time to change our traffic prediction models.
It's time to support global trends towards transit, walkability and urban regeneration.
It's time to drop the big road fetish.
It's time to stop fear of congestion as the core issue facing the future of our cities.