When Australia hosts the G20 Leaders' Summit in November, a top agenda item for its "Brisbane Action Plan" will be "practical actions to improve productivity and competitiveness". So here's a good place to start: tapping the billions of dollars of savings available to Australian businesses and consumers, with a goal to double our energy productivity.
Australia's abundant supply of low-cost energy, particularly coal, has underpinned our economic growth for decades. Unfortunately, it has also encouraged us to develop some very wasteful habits. As a nation, we use more energy but produce less economic output with it than many of our overseas competitors.
With electricity prices doubling since 2007 and wholesale gas prices following suit, Australia's future prosperity depends on using energy more efficiently.
Other G20 members – notably China, Europe and the United States – are now recognising that improved energy productivity is vital to their competitiveness. Will Australia be left behind?
Australia versus the world
Australia's low energy productivity is often attributed to our energy-intensive industries and a dispersed population. Even if this were true, it does not explain our relatively poor rate of improvement.
Despite growth in mining, the industrial structure of our economy has become significantly less energy-intensive over the past two decades, as the services sector has grown and manufacturing has declined. This shift is illustrated below (the blue bars in Figure 1).
If we remove the effect of our changing industry structure, the rate of improvement in energy efficiency in Australia (the orange circle) is only about half the average of other developed countries (the red circle).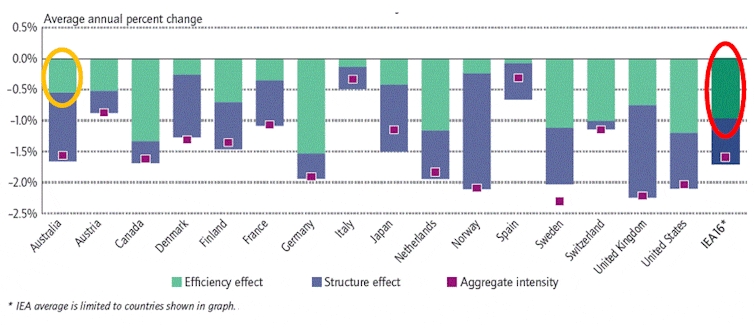 Between 1971 and 2009, Australia's energy productivity increased by a meagre 23%, to $5.30 of GDP per kilogram of oil equivalent (shortened to $/kgoe) as shown in Figure 2 below. In comparison, average energy productivity for OECD nations almost doubled from $3.40 to $6.30/kgoe.
Based on 1990 to 2009 trends, Australia would need to increase its energy productivity by 56% to catch up with the OECD average by 2030. However, with the global push for greater energy productivity now accelerating, an even faster rate of Australian improvement is likely be required.
Progress in China, Europe and the US
Between 1990 and 2009, China increased its energy productivity by an astonishing 153% to draw level with Australia on $5.30/kgoe. China is currently targeting a further improvement in energy productivity of 19% between 2011 and 2015.
The European Union has committed to reduce energy consumption by 20% below business as usual levels by 2020. This would return total European energy consumption to 1990 levels.
But perhaps the most significant shift in energy productivity is occurring in the United States.
For decades, US energy policy has been dominated by developing domestic resources and protecting supplies from abroad. But now the US is also prioritising energy productivity and energy efficiency as keys to delivering energy security, economic competitiveness and carbon emission reduction.
Following his 2012 re-election, President Barack Obama adopted a climate action plan with a target of "doubling energy productivity by 2030 relative to 2010 levels."
His steps to pursue this goal include:
Strengthening energy efficiency standards for appliances and federal government buildings;
Billions of dollars invested in energy efficiency in businesses homes and government agencies across America;
Tougher fuel economy standards for cars and trucks.
Even within the notoriously fractious US Congress, energy productivity has now become a rare area of bipartisanship. Earlier this month, the Republican-dominated House of Representatives passed the Energy Efficiency Improvement Bill by 375 votes to 36. The bill would, among other things, promote energy efficiency for commercial building tenants and set efficiency benchmarks for government-leased buildings and data centres.
In a show of unity, Democrat Congressman Peter Welch co-sponsored the bill with Republican David McKinley. After the bill passed, Welch said:
We have disagreements on the causes of climate change and the best fuel mix to meet America's energy demands, but we can all agree that using less is more.
This success has raised hopes that the more ambitious Energy Savings and Industrial Competitiveness Act, moved by Democratic Senator Jeanne Shaheen and Republican Senator Rob Portman, may also soon pass Congress. Among other measures, this bill aims to strengthen home and commercial building efficiency standards, promote financing of energy efficiency upgrades and accelerate technology change in motors, transformers and industry.
Why not Australia?
Unlike Australia, the US has well-coordinated advocacy for energy efficiency. For example, several months before Obama made his improved energy productivity pledge, an independent group of businesses, non-government organisations and researchers released a detailed study on American Energy Productivity: The Economic, Environmental and Security Benefits of Unlocking Energy Efficiency.
The US Alliance to Save Energy report estimated that doubling energy productivity in the US could save a staggering US$327 billion per year by 2030. That could save households more US$1000 per year, boost GDP by up to 2%, create 1.3 million jobs and reduce the energy imports bill by US$100 billion per year. Doubling energy productivity was also estimated to cut carbon dioxide emission to 33% below 2005 levels.
Policy to deliver comparable energy productivity benefits in Australia have been canvassed for years – but with limited effect. Examples include the 2004 National Framework on Energy Efficiency and the 2010 Prime Minister's Task Group on Energy Efficiency.
If improving energy productivity can bring together Democrats and Republicans, surely Australians politicians from across the political divide can also find common ground on such an important area of economic reform.
Just as in the US, business and researchers need to work together to pave the way for stronger political action. To this end, a new campaign to double energy productivity in Australia will be launched at a forum in Sydney next month.
Britain's wartime prime minister Winston Churchill once quipped: "You can always count on Americans to do the right thing – after they've tried everything else." When it comes to energy productivity, we are yet to discover if Australians are quite as reliable.
The Australian Alliance to Save Energy and the University of Technology Sydney is hosting a Forum on Doubling Energy Productivity on 3-4 April, featuring political, industry and research leaders, including former lead White House adviser on Energy and Climate Change (2009-13) Heather Zichal, the US Alliance to Save Energy's president Kateri Callahan, and Australian Environment Minister Greg Hunt.