The title of this show is taken from the theme song of Australian television soapie Home and Away, which has been screening for 30 years. Julia Hales, who has been watching the TV show since it first aired, is the star of this play, which is about her dreams of finding love, and acting on Home and Away.
Its world premiere in Perth in the Underground Studio on March 1 was part of the Perth Festival. Indeed, the festival commissioned the show in a pioneering initiative in partnership with Black Swan State Theatre Company and DADAA, the local disability arts organisation that has a reputation for continuously innovative programs and opportunities for people with disabilities. Did I mention Julia Hales has an extra chromosome? Yes, she has lived with Down Syndrome for her 37 years of life, as has the rest of the cast bar one.
The stage is empty as the show begins; Hales enters alone. She soon invites a sign language interpreter to join her, and the show gains momentum as more cast members gather on stage and join her in conversation at café tables and chairs in an imaginary reproduction of Home and Away's diner at Summer Bay. It works beautifully, with a waitress adding furniture as more friends are brought on stage. The show is skilfully structured, interspersing Hales's direct-address monologues with still photographs projected against a backscreen as well as artwork and screened interviews, a continuous accumulation of guests, and even some audience participation.
Hales's research for the show involved interviewing 11 people with Down syndrome about their dreams and experiences of love. These edited interviews were projected prior to them joining Hales on stage. In a manner typical of people with Down's, they are emotionally open, sensitive, raw and funny.
Hales warns us at the beginning that she is an emotional woman, and also exclaims in wonder how beautiful she is in photographs ("and did I tell you I am single?"). While this is a marvellously professional performance, it's the personalities on stage that cross the boundaries between life and artistry that really make it stand out.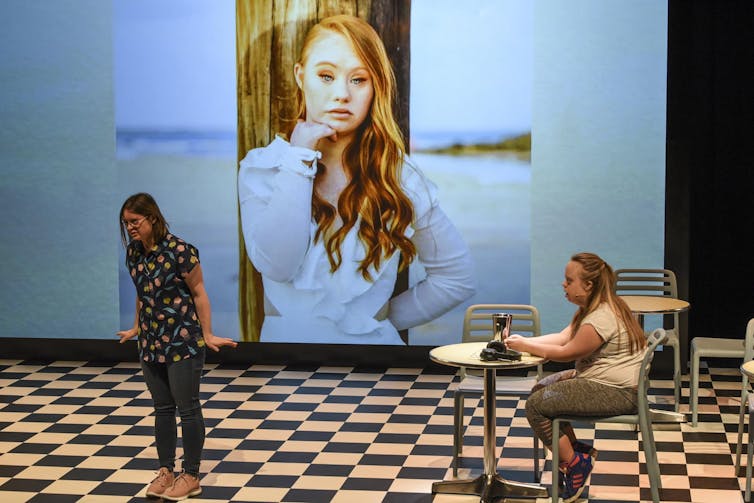 The other research Hales draws on in her monologues is about the local institutions in Claremont and Fremantle where people with Down's were imprisoned in the not-so-distant past (until the 1980s) in appalling and inhumane conditions. She also delves into art history to find a 16th-century painting of The Adoration of the Christ Child featuring an angel with Down Syndrome. She uses statistics, medical explanations and comparisons ("How many chromosomes does a horse have?") to contextualise disability in general and Down Syndrome specifically.
There was a lot of goodwill in the audience for this show, and a lot of wheelchairs and Down Syndrome kin as people came out for a show that reflects some of their lives and dreams. This is the most important part of the show: that people with Down's are "playing" people with Down's and putting their life narratives on stage and screen.
It is also part of Hales's monologue – that it's time for Home and Away to have a character with Down's; indeed, for all shows to incorporate the lives of disabled people, as one in five people in Australia live with disability. Part of the script is Hales performing an imagined scene in Home and Away as an imaginary character – alongside two members of the audience who were invited on stage to read the scripts for the character's mum and dad.
The audience participation sections worked brilliantly on the night I was there, even unintentionally tearing down the fourth wall, which was always precarious anyway with direct audience address. This Summer Bay dramatic scene was woven through the rest of the show, and sometimes became entangled with Hales's monologues so that her dream of performing seamlessly moved into its actualisation. The finale is a clip of a specially manufactured scene in Summer Bay with veteran actor Ray Meagher and Hales on the set of Home and Away.
While I'm not usually a fan of family-and-friends love-and-dreams sentiments, this show was disarming and charming, political and professional, entertaining and educative — and, most of all, moving. Supported by excellence in stagecraft and production personnel, the festival could not have hoped for a better result of their commission. Hopefully it will be the start of many more. And Home and Away are mad if they miss this chance to scoop up Hales!
---
You Know We Belong Together was staged as part of the Perth Festival.