Pharmaceuticals from wastewater are making their way into aquatic invertebrates and spiders living in and next to Melbourne's creeks, according to our study published today in Nature Communications.
We found pharmaceuticals in every bug we sampled - over 190 invertebrates - from six different streams. These included caddisfly larvae, midge larvae, snails and dragonfly larvae. We also found pharmaceuticals in spiders living in stream-side vegetation.
We found 69 different drugs in the bugs, including fluoxetine and mianserin (anti-depressants), fluconazole (an anti-fungal), and non-steroidal anti-inflamatories (NSAIDs), often used to treat arthritis.
While we don't know how these drugs are affecting these invertebrates, we know from other studies pharmaceuticals do affect the lifecycles of other organisms.
We also calculated that animals that eat these aquatic invertebrates, such as platypus, would be receiving half the daily recommended dose of anti-depressants for humans.
---
Read more: How antibiotic pollution of waterways creates superbugs
---
Drugs everywhere
We know wastewater is a contributing factor to pharmaceutical contamination in aquatic organisms, so we sampled from a range of streams with different wastewater inputs. These included a site just downstream of large-scale wastewater treatment facility, and areas with ageing septic systems.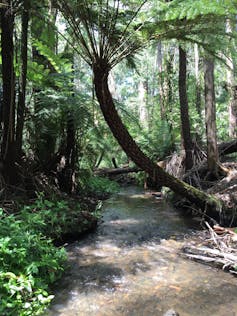 We also included a stream within a national park to attempt to obtain samples we thought would be free of pharmaceuticals. We sampled aquatic invertebrates and stream-side spiders and tested them for 98 pharmaceutical compounds.
To our surprise, we found up to 69 different pharmaceuticals in aquatic invertebrates and up to 66 in riparian (streamside) spiders. Contamination was greatest downstream of the high capacity waste water treatment plant.
Moreover, every insect we sampled contained pharmaceuticals, including at the site in a national park, possibly due to septic systems in the drainage area of the stream that contribute small amounts of waste water.
The fact we detected drugs, admittedly in very low concentrations, in this seemingly pristine site suggests finding places "free" from pharmaceutical contamination may be difficult. Recent studies by other researchers detected pharmaceutical contamination in surface water in Antarctica and in national parks in the US.
We also found spiders living on the stream edge (the "riparian zone"), also contain a wide variety of pharmaceuticals in their tissues. These animals primarily consume adult insects and are an indication other animals that eat adult aquatic insects, such as birds, reptiles and bats, may also be exposed.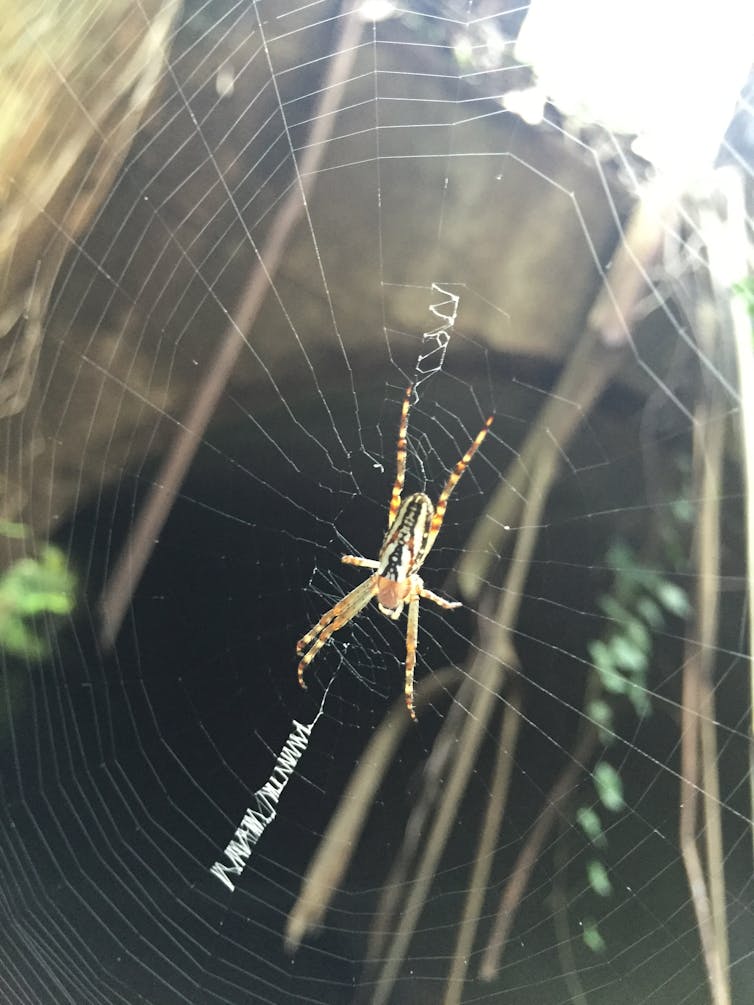 The dark side of our pharmaceutical use
We take and are prescribed pharmaceuticals to improve our quality of life. These medications are designed to be biologically active – they are meant to treat us; for example, we take paracetamol to alleviate a headache. For all the benefits drugs afford us, there is an often overlooked dark side to our extensive use of them.
---
Read more: Environmentally friendly pollutants - what your detergent does to waterways
---
When we take a pharmaceutical, our bodies do not always use all of the drug and we excrete drug residues into our waste water and the drugs then move into our sewage system. Unfortunately, waste water treatment facilities are not always designed to, or are capable of, removing pharmaceuticals. So they're often discharged into our streams, rivers and coastal waters.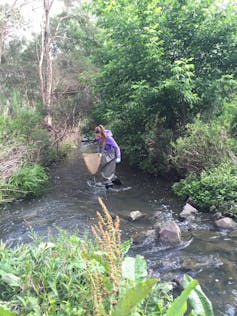 We have known from many studies over almost two decades that the drugs we take are found in waterways around the world. There are thousands of drugs available, but very little is known about their occurrence and movement through aquatic food webs.
Our research team has previously studied the effects these pharmaceuticals have on organisms living in streams. For example, we found fluoxetine, a common anti-depressant, increased stream insect emergence (the important phase of an insects' life where it metamorphoses from a stream dwelling larvae to an aerial adult).
We also found this antidepressant, and other drugs, alter the rates of photosynthesis in algae, the important base of stream food webs.
Happy platypus?
Platypus and trout live in or nearby the streams we studied. These animals feed almost exclusively on aquatic invertebrates. Although we did not directly sample trout or platypus, we were able to use previous studies on the feeding rates of these animals to estimate what proportion of a human daily dose of drugs they may be exposed just by eating the aquatic invertebrates we did measure in the streams we studied.
Based on these calculations, a platypus living in a creek receiving waste water could be exposed to over half of a human daily dose (per kg body weight) of antidepressants, just by eating aquatic invertebrates. Trout, too, would be exposed to these drugs, but would be exposed to a lower dose.
Studies have shown single drugs can alter the behaviour of fish, but just what consuming 69 different pharmaceutical compounds might do to a fish or platypus remains unknown and worthy of future research.
Global pharmaceutical use is increasing, with many benefits to humankind. However, our recent publication makes it clear pharmaceuticals are accumulating and moving through stream food webs and expose spiders, and likely birds, bats, fish, and platypus to a wide array of drugs. We are yet to fully understand the broader ecological consequences of this type of pharmaceutical contamination.
We know in humans, there are health risks associated with taking multiple drugs because of drug interactions. Is the same true for animals? Like so many studies, our research leaves us with many unanswered questions.
The one thing that is abundantly clear is the drugs we so frequently use are ending up in nature and are moving through food webs.
This article was co-authored by Emma Rosi, an aquatic ecologist at the Cary Institute of Ecosystem Studies.