Mount Mabu in north central Mozambique supports the largest continuous block of rainforest in southern Africa.
The Mabu Forest was originally inhabited by hunters of the Manhawa ethnic group. Its name refers to "beekeeping" in the eManhawa language.
The area contains exceptional levels of biodiversity. But its extremely diverse wildlife was unknown to scientists until 2005. Since then biodiversity surveys have recorded more than 20 species new to science. These include several species of plants, a new species of bat, a new species of forest viper and two species of chameleons, as well as several new species of butterflies.
In a recent paper we set out our findings from the first dung beetle survey on Mount Mabu. Within 15 days of exploration, we collected over 4,000 specimens of dung beetles, classified into 30 species. Of these species, half are new to science, and several are new country records.
Our findings are exciting because we live in a world where the danger of losing species is more imminent than the chances of describing them. New discoveries provide vital ammunition in the battle against biodiversity loss.
The discovery of new dung beetle species should be seen as a call to national and international authorities to protect Mount Mabu and its rare and distinctive biodiversity, as it remains unprotected by law.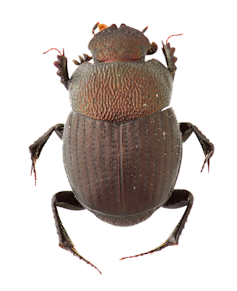 Why dung beetles matter
There are over 7,000 dung beetle species worldwide. They are among the most dominant invertebrates in tropical forests and are essential to a well-functioning ecosystem.
Dung beetles feed mainly on the faeces of mammals. During the feeding process, they perform a series of ecological processes and environmental services. These include:
dung removal and nutrient recycling in ecosystems, which increases soil fertility

secondary seed dispersal

reduction of survival rates of nematodes and flies.
For example, manure is the breeding ground and incubator for horn flies and face flies, two economically important pests of cattle.
We surveyed dung beetles using pitfall traps. These consisted of a two-litre plastic bucket baited with mammal faeces. The traps were left in the field for 48 hours, and then the catch of each individual trap was labelled and stored separately in alcohol. The collected specimens were processed and identified in the laboratory at the National Museum in Bloemfontein, South Africa.
Dung beetles must be protected from extinction
Our research results increase the number of currently valid dung beetle species recorded from Mozambique to 326. We believe this is still way below the country's actual diversity.
The research uncovered an unknown community of dung beetles; previous dung beetle surveys in the country were centred in southern Mozambique (especially its coastal areas) and Gorongosa National Park. In contrast, other areas of the country are poorly studied.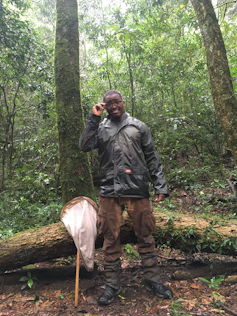 Interestingly, the species composition of dung beetles from Mabu Forest suggests ancient linkages and evidence of a significant influence of dung beetle fauna from mountains to the north (Tanzania) and to the west (Malawi), the Eastern Arc Mountains, and Moreau's Tanganyika–Nyasa Montane Chain, respectively.
Several dung beetle species collected in our expedition seem to be endemic (restricted to a certain location) to the region of Mabu. Endemic dung beetle species are key to their ecosystems and become a thermometer when it comes to measuring the state of a territory's health. For that reason, their protection from extinction threats is critical.
Next steps
We are living in an era where land use, habitat fragmentation, global climate change, direct over-exploitation and co-extinction of species dependent on other species are all threats to biodiversity. Insects – including dung beetles – are declining globally. Thus, it is critical that biodiversity surveys are expanded to remote and unsampled areas, especially unprotected "sky-island forests", such as Mount Mabu and others in northern Mozambique.
Our findings and others from previous surveys should be translated into biodiversity conservation policies to change people's uncaring attitude to biodiversity loss and to avert a sixth mass extinction.