The recent U.S. election exposed two major intersecting fault lines in America that, if left unchecked, could soon produce an era of social and economic upheaval unlike any in our history.
First, it revealed deep divisions across racial, ethnic and gender lines that led to a surge in hate crimes last year, particularly against Muslims. Addressing this will require a sustained effort to heal these growing divisions and will be very difficult to resolve without strong leadership and a renewed willingness to listen to each other's concerns.
Second, it gave voice to the deep-seated frustrations and anger of those who feel left behind by economic forces and fear their children will experience a lower standard of living than they did.
The key to resolving this fault line – and the focus of this article – lies in mobilizing all sectors of society to work together to create good-quality jobs and get wages rising again for all. In short, America needs to build a new social contract based on mutual respect and attuned to the needs of today's workforce and economy.
What do I mean by that? A social contract is what ties together the main stakeholders of an economy, its workers, business leaders, educators and government, and ensures each group meets it obligations to each other while also pursuing its own goals. Workers, for example, want good wages and careers and have an obligation to work productively and contribute to the success of their enterprise. Employers have to balance the expectations of investors, employees and customers.
Unfortunately, America's social contract broke down in the 1980s when the gap between wage growth and productivity growth first started to appear, creating the conditions that spawned the frustrations we saw on the campaign trail this year. With the election of Donald Trump and a Republican majority in Congress, we should suffer no illusions that the process of building a new one will be led from Washington.
But as history teaches us, most social and economic shifts that improve lives don't actually begin with a national policy anyway.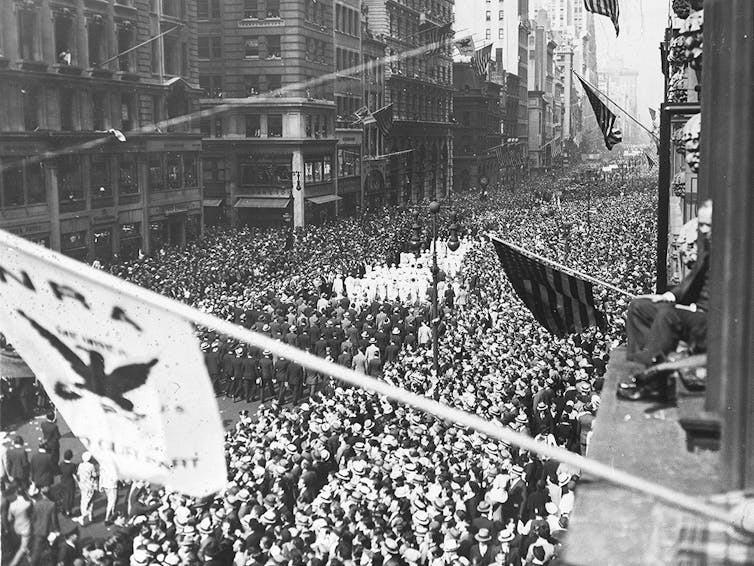 'Laboratories for democracy'
Supreme Court Justice Louis Brandeis famously called states our "laboratories for democracy," places where innovations and social movements are born and tested for their ability to address emerging tensions and show how to turn them into national policies.
That was how America's last social contract, which grew out of the New Deal, began. The policies that composed it didn't start with President Franklin Delano Roosevelt's signature legislation establishing unemployment insurance, social security, disability pay, collective bargaining and minimum wages.
Rather, workers themselves laid the groundwork in the first few decades of the 20th century, when Sidney Hillman, then the leader of the Amalgamated Clothing Workers Union, organized immigrants and developed the basic principles of collective bargaining.
States like Wisconsin, Massachusetts and New York, pressed by labor activists, enacted unemployment insurance, minimum wages and overtime protections. John R. Commons, who taught at the University of Wisconsin, has been called the intellectual father of the New Deal because he and his students helped shape and study these state-level innovations. They then went to Washington to help President Roosevelt write them into the laws that helped end the Great Depression and laid the foundation for an expanding middle class.
Changes like this rarely if ever begin in the corridors of power. They begin with just a few people, such as Susan B. Anthony and Carrie Chapman Catt, who led the suffragettes movement to get women the right to vote.
Unfortunately, the social contract broke down in the 1980s amid deregulation, attacks on unions, growing globalization and a deep recession that decimated Rust Belt manufacturing industries. The failure to replace it is a root cause, I would argue, of the wage stagnation, anger and political divisions the election brought to the fore.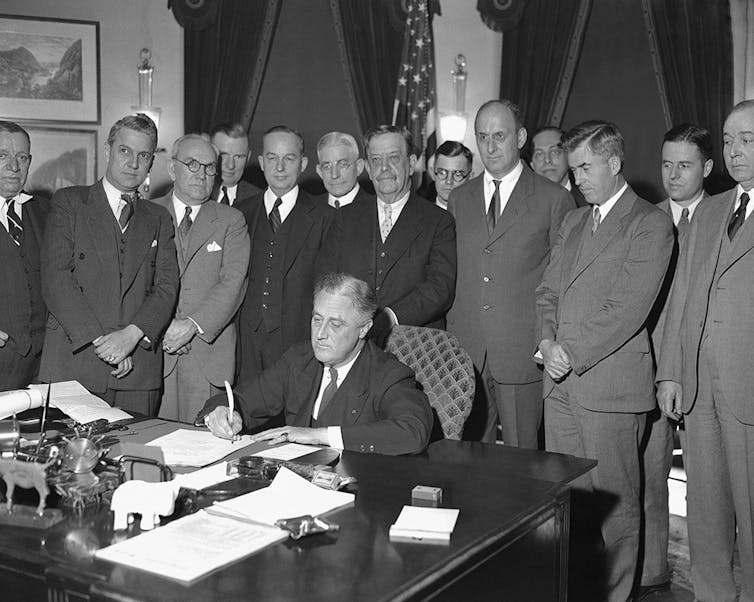 Workers at the forefront
With the election in the rear-view mirror, it is now time to begin the long process of building a new social contract that fits today's economy, workforce and society, one that gives a genuine voice to the frustrated and channels their anger into action.
The good news is we are already well on our way, with many grassroots innovations across society that, if accelerated and expanded, could identify and shape its key features. The workforce itself is leading the way, with the help of labor organizations, community coalitions and what we might call "worker-centered entrepreneurs."
Consider the Fight for 15, referring to efforts to secure a US$15 minimum wage. Its first visible victory was achieved in 2015 in Seattle. The strong public support there sent shock waves around the country, leading another 18 states to increase their minimum wages, including four in last week's election.
These developments also pressured traditionally low-wage companies like Wal-Mart, McDonald's and the Gap to increase entry-level pay above the required federal or state minimums. IKEA has gone a step further in committing to pay a "living wage" (as calculated by a MIT research tool) in all its U.S. locations.
Other new advocacy groups like Coworkers.org are using information campaigns and social media and other technology-aided apps to induce companies like Starbucks to reform scheduling practices to provide more advance notice and certainty over work schedules.
Unions and worker centers around the country are battling wage theft (failure to pay minimum wages or overtime), expanding training programs to more women, minorities and immigrants and supporting efforts to promote "common sense" economic strategies that provide good entry-level jobs, wages and career ladders.
Finally, a number of entrepreneurial ventures are emerging around the country such as the Workers' Lab, an incubator that supports start-up nonprofits that are specifically designed to build new sources of bargaining power for worker and contractors. For example, Uber drivers in New York City and Seattle are beginning to organize into unions and guilds to gain a voice in the terms governing their compensation.
Out of these and still yet-to-be-invented strategies may emerge a techno-savvy, grassroots labor movement for the next generation.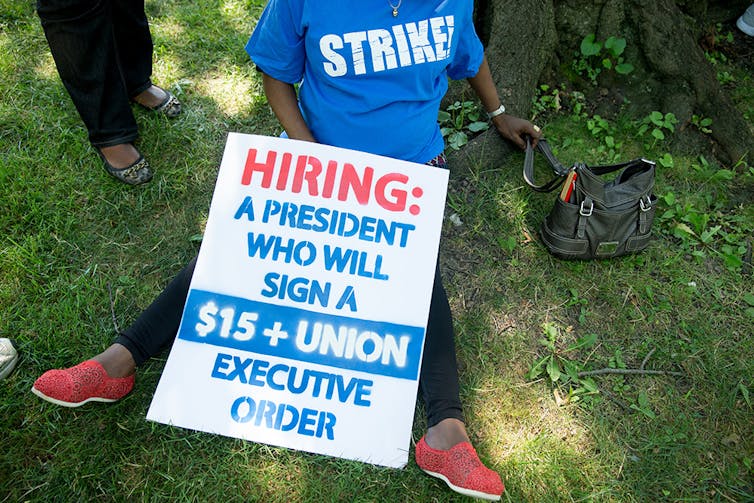 How business can help
Business leaders, for their part, are beginning to get the message that the era of prioritizing shareholders over all else needs to end. None other than JPMorgan Chase CEO Jamie Dimon, one of Wall Street's most respected titans, said last summer that he would raise his employees' wages because doing so is a good long-term investment.
He and his peers should use the same logic when they advise clients. By emphasizing long-term investing, they could help end the short-termism that has held back corporations from investing in workforce training and research and development – so essential to job creation.
Wall Street could also help lead the way and perhaps in concert with labor by creating infrastructure funds to help rebuild our roads and bridges, generating a good rate of return for their investors and the economy. Leaders from many groups – including President-elect Trump – recognize the need and value of repairing the nation's infrastructure. This is a perfect opportunity to demonstrate the power of bipartisanship, public-private partnerships and business-labor cooperation.
Some main street business leaders are already doing their part by competing on the basis of high-productivity, high-wage strategies that research shows achieve both strong profits and create and sustain good jobs for American workers.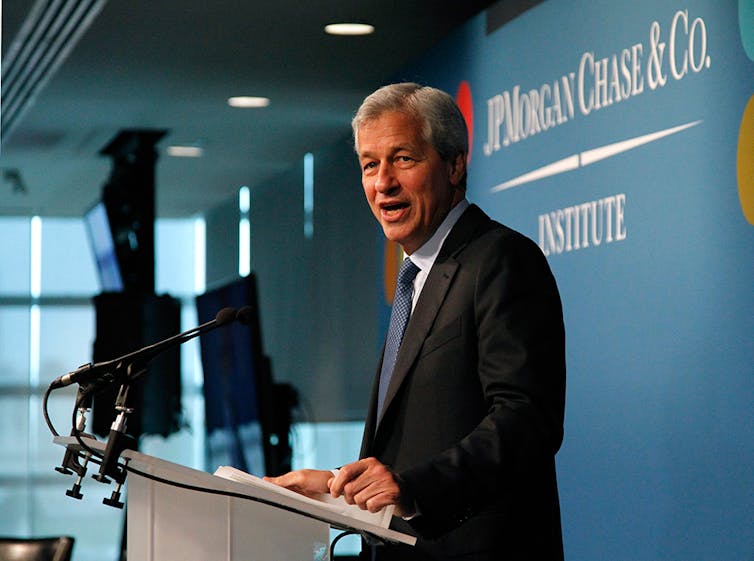 The role of education
In today's knowledge-based economy, education leaders need to be counted as among the key stakeholders critical to building and sustaining a new social contract.
They and some philanthropic leaders active in funding education innovations are embracing what evidence tells us: There is nothing more important to educational attainment than a good teacher. And in states as diverse as Massachusetts, New Jersey and Illinois, teacher unions and education leaders are working together to expand learning time, support teacher development and encourage online courses aimed at helping workers refresh their skills in a world of fast-paced change. These efforts should be extended across the country.
If knowledge is power, then these educational innovations will equip today's and tomorrow's workforce with the tools they need to meet the challenges they are bound to experience over the course of their careers.
Seeds of a new social contract
So these are some of the seeds I see growing into a new social contract that restores hope among the marginalized.
What's needed next is to bring these different stakeholders together to learn about what works and how to inform national policymakers so that successes can be spread.
We are doing just that in an effort to make MIT a place where leaders of these innovations come together to share experiences, stimulate research needed to document their successes, failures and lessons, and figure out ways to diffuse those that work to broader settings.
We started a "Good Companies-Good Jobs Initiative" with the Hitachi Foundation and are supporting efforts to improve relations and better manage and resolve workplace conflicts, such as through meetings, workshops and online courses. Our aim, as we expand these efforts, is to serve as a catalyst for further innovation to show our leaders what a new social contract might look like.
More than anything else, we all should continue to encourage local activism, protest and innovation. If history is a guide, that's what it will take to eventually get leaders in Washington to listen and do their part to address these problems.