The jewels in many an urban school district's crown are their exam schools, competitive public schools that base enrollment on test scores. With a school like New York's Stuyvesant, Boston Latin or Walter Payton (in Chicago) on their transcript, students are grouped with other, high-achieving peers, receive rigorous instruction and complete several Advanced Placement courses – all helping to clear a straight path to college and career success.
Hailed as promoting meritocracy, exam schools in fact promote inequity, especially for black and Latino students.
Working for over 25 years at the K-12 and higher education levels (as both a faculty member and administrator), I've seen this skewed enrollment pattern play out over and over again. However, several elite U.S. colleges and universities are embracing new admissions policies – policies that, if also implemented by top-tier exam schools, could promote greater access for all students.
The minority enrollment gap
When it comes to student diversity, elite high schools leave much to be desired.
Take New York City, for example. This past spring, the city's eight exam schools (among them Stuyvesant, Brooklyn Tech and Bronx Science) accepted 5,078 rising ninth grade students solely based on test scores. This, despite New York City Mayor Bill de Blasio's campaign promise to base admissions to all schools on more "holistic" factors.
Black and Latino students will make up only 10 percent of this year's incoming class – though they account for 70 percent of public school students in New York City. At Stuyvesant this fall, only 13 students out of almost 1,000 incoming freshmen will be black.
Even with recent efforts to improve racial and ethnic diversity among its exam schools, Boston has also faced enrollment equity challenges. At Boston's flagship public exam high school, Boston Latin School, the student body remains significantly white and Asian. The school's incoming seventh grade class, for example, is only eight percent black and 14 percent Latino, in contrast to district-wide rates of approximately 32 percent black and 42 percent Latino.
Rethinking admissions policies
As long as admission to exam schools is based solely on test scores or grades, this pattern may very well continue indefinitely.
Black and Latino students are just as capable and deserving of exam classroom seats as other students. However, they must contend with a range of factors that often don't impact their nonminority counterparts, including poor-quality instruction at lower grades; unequal access to tutoring, test prep and enrichment; low placement of elementary students into advanced classes; and unconscious bias. Minority students also can contend with stereotype threat, a phenomenon where they conform – often unintentionally – to negative stereotypes about their race's ability to perform well within academic settings.
These factors can all negatively affect success on the standardized tests and grades that exam schools use for admissions.
A solution to breaking this pattern may come from several elite colleges and universities that are rethinking their admissions policies. Led by Making Caring Common, a project of the Harvard Graduate School of Education, these institutions are piloting new admissions policies that focus less on numbers and more on "ethical engagement."
In a report released in January 2016, Making Caring Common argued for elite colleges and universities to include opportunities for candidates to submit authentic demonstrations of empathy, service to others and commitment to the common good as part of their application. They contend that these important values are worth promoting to students and families. In fact, research suggests that strength of character and "grit" are key determinants of future academic and career success.
Importantly, these new metrics could weigh social and emotional attributes that students across all backgrounds could exemplify in some way.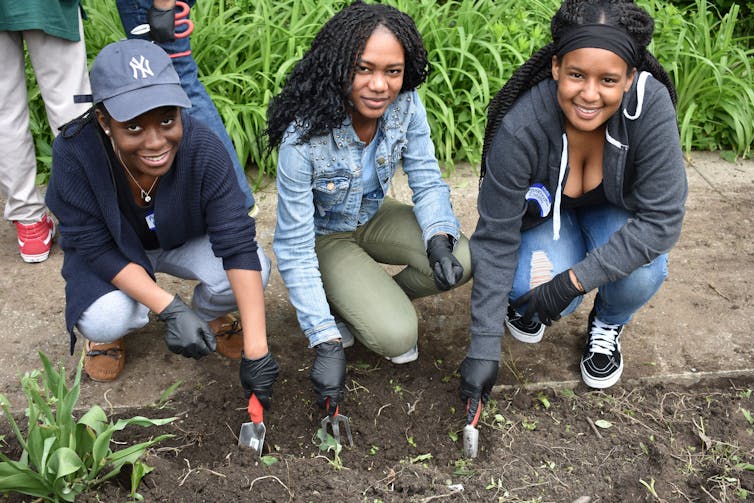 A movement gaining traction
Since the report's release, over 175 colleges and universities – including Harvard, Yale, Boston College, MIT, Michigan State and the University of Chicago – have endorsed this admissions framework, with the goal of increasing student diversity. Boston public schools and several Boston-area private schools have endorsed the report as well.
Yet Boston, New York and other cities with exam schools must now "walk the walk" by implementing concrete approaches, such as asking for examples of ethical engagement or empathy as part of the application process. A school might give special consideration, for example, to candidates who worked to support their families at an early age, served as caregivers to younger siblings, organized efforts to support a needy classmate or led a food drive to help a local shelter.
Exam schools across the country could team with Making Caring Common and its growing list of higher education partners to determine how best to validly and reliably collect, evaluate and weight these types of student experiences.
If this new strategy to promote enrollment equity is gaining traction at Harvard and Yale, it should be considered by exam high schools as well. Otherwise, future incoming classes at Stuyvesant and Boston Latin will continue to look much the same.