Just hours after Shakespeare's Globe announced that current artistic director, Emma Rice, would be stepping down in 2018, a parody Twitter account appeared. Using the hashtag #MakeShakespeareGreatAgain it mercilessly mocked the Globe board's apparent pursuit of "authenticity" in stagings at the venue. One of its most popular tweets states: "Gender blind casting is nonsense. I prefer my female characters underwritten and ideally played by young boys."
The tweet alludes to Rice's commitment to increase the proportion of female performers in plays staged at the venue. As such, it is somewhat unfair on the Globe's board, whose dispute with Rice was about artificial lighting and amplified sound at the reconstructed theatre. Yet the popularity of this particular tweet reflects the fact that for many, on Twitter at least, it is Rice's advocacy for gender equality and diversity, not her experiments with lighting and sound, that define her short tenure at the Globe.
Rice argues that gender fluidity is at the heart of Shakespeare's plays. She defines her cross-gender casting as a form of "original practice", such as that promoted by the Globe, in that it engages with the spirit of gender play found in Shakespeare's works.
Gender play
Asserting that woman playing men is in tune with the original plays may seem a little odd: it is well-known that Shakespeare wrote for an all-male company. But the playful way in which Shakespeare engaged with his all-male performance context, using disguised heroine plots and metatheatrical references to female impersonation, would support Rice's assertion. Mark Rylance said something very similar when introducing the Globe's first all-female companies in 2003.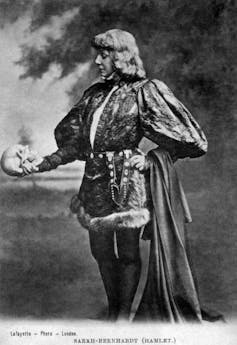 It is arguably Shakespeare's playful approach to gender that has nurtured a long, but often overlooked, history of women playing Shakespeare's male roles. According to Shakespeare professor Michael Dobson, the first recorded all-female staging of Shakespeare was of The Winter's Tale in 1774. And Marjorie Garber, another Shakespeare professor, has found that in the 19th century more than 50 professional actresses played the title role in Hamlet.
But the influence of cinematic realism on the staging of Shakespeare led cross-gender casting to fall out of favour for much of the 20th century, and the practice of women playing male roles was relegated to fringe theatre and amateur contexts. When it re-emerged in mainstream theatres in the mid 1990s, it was often greeted as a feminist gimmick. Centuries of performance history were overlooked.
Margins to mainstream
Casting women in male roles addresses an enduring inequality. Research undertaken for The Guardian in 2012 found a persistent 2:1 ratio favouring men in contemporary theatre employment contexts. Looking specifically at productions of Shakespeare since the millennium, my own (yet to be published) research suggests the ratio is closer to 3:1 in casting at major professional venues. Women are persistently underrepresented in Shakespearean drama.
It is not only the quantity, but also the quality of roles for women that creative cross-gender casting can address. Actor and director Janet Suzman has expressed her frustration that there is nothing "like the Everest of Hamlet" for women in the Shakespeare canon. Cross-gender casting can open up these dynamic and challenging roles to female performers.
An often-neglected fact is that cross-gender casting can also open up these 400-year-old roles to new and exciting readings. Fiona Shaw's Richard II at the National Theatre in 1995 was ground-breaking because her androgynous performance highlighted Richard's uncomfortable relationship with masculinity. And Phyllida Lloyd's all-female Taming of the Shrew, first staged at the Globe in 2003 and revived in New York last summer, managed to make a problematic play comic by parodying masculinity.
Cross-gender casting in Shakespeare is very much in vogue. This autumn, in London alone, you can see Glenda Jackson play King Lear at the Old Vic, Gillian Bevan play Cymbeline for the RSC at the Barbican, and an all-female company perform The Tempest, Henry IV, and Julius Caesar at the Donmar's residency at the King's Cross Theatre. In each case, the cross-gender casting provides an opportunity for Shakespeare's plays to explore women's contemporary relationship with power and politics.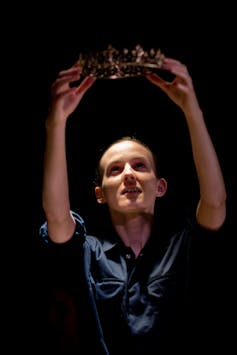 In my own practice, cross-gender casting has helped me to explore Shakespeare from a new perspective. I'm working with fringe theatre company By Jove on an all-female production of Margaret of Anjou, an adaptation of Shakespeare's first tetralogy. The all-female casting adds a new dimension to the male-dominated world of Shakespeare's history plays. And in my work with Lazarus Theatre Company, we often ask ourselves how cross-gender casting might illuminate a particular play. It can be a rich and rewarding area to explore.
In Emma Rice's inaugural season at the Globe, women made up 45% of her casts. Some critics have dismissed Rice as one of "a crowd of self-satisfied gender–bending social engineers", but others have found her experimentations with gender, including turning Helena into Helenus in A Midsummer Night's Dream, revelatory.
In her creative approach to casting, Emma Rice continues a long tradition of gender experimentation in Shakespearean performance. Let's hope that her successor builds on this legacy and that gender-bending continues to shed new light on these old plays for many years to come.