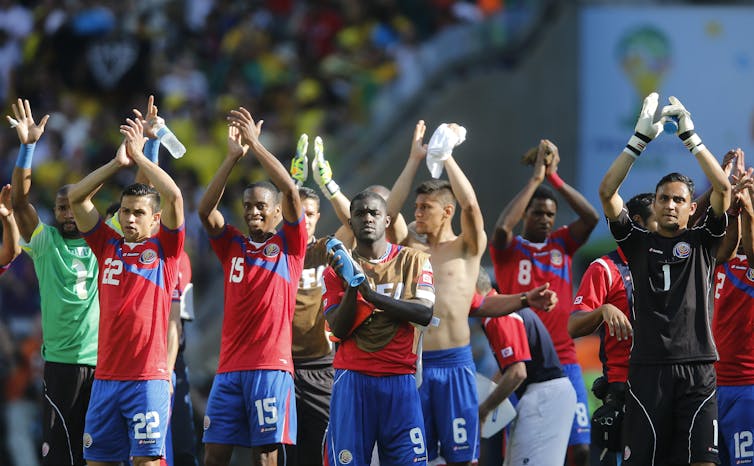 The 48 group games have been completed at the 2014 World Cup. The last game of the group stage ended in a 1-1 draw between Russia and Algeria. The result of this game meant that Algeria qualified for the knockout stage of the competition at the expense of Russia.
Five teams have outperformed their Elo Ratings to qualify for the knockout stages.
Chile (Group B)

Costa Rica (Group D)

Nigeria (Group F)

USA (Group G)

Algeria (Group H)
Costa Rica and Algeria came into the tournament ranked as the lowest Elo Ratings team in their group. Costa Rica won two games and drew one game in Group D and qualified in first place. Algeria finished second in Group H with one win, one draw and one defeat.
Eight of the teams who qualified for the knockout stages are from the Americas, six are from Europe and two are from Africa.
The Asian qualifiers (Australia, Japan, Iran, Korea Republic) finished fourth in their groups. No Asian qualifying team won a game at the 2014 World Cup but they were involved in three drawn games.
136 goals were scored in the 48 Group games. The Netherlands was the leading goal scoring team (10 goals). Mueller (Germany), Messi (Argentina) and Neymar (Brazil) have each scored four goals in the tournament.
The group games ended with a player suspension too. Uruguayan striker Luis Suarez:
… is regarded as having breached art. 48 par. 1 lit. d of the FIFA Disciplinary Code (FDC) (assault), and art. 57 of the FDC (an act of unsporting behaviour towards another player.
There is no mention of a bite in the official decision, but I hope they did take into the account a wonderful New Statesman headline:
You are more likely to be bitten by Luis Suarez (1 in 2,000) than a shark (1 in 3,700,000).