Western Europe has looked on with mounting bewilderment and exasperation over the past few years at the political trajectory of Hungary, Poland and several other former communist states. Countries that, since 1989, were committed to common European values, including liberal democracy, respect for human rights and the rule of law, are now implementing an altogether different political model. The perceived interests of the "nation" are taking centre stage and governments are subject to far fewer checks and balances.
Hungary's prime minister, Viktor Orbán, was once a fiery student leader and champion of liberalism. Now he preaches the virtues of "illiberal democracy". Orbán routinely portrays himself as the defender of "Christian values" that, in his view, are threatened by globalisation, mass immigration and the supposedly sinister machinations of international business leaders. George Soros, the Hungarian-born financier and philanthropist has become a particular target of baseless attacks.
In Poland, the ruling Law and Justice Party has assumed political control over state-funded radio and television. By July 2016, 164 journalists and news anchors had either resigned or been dismissed. In December 2017, the government's continuing efforts to curb the independence of the judiciary prompted the EU Commission to formally declare that there is "a clear risk of a serious breach of the rule of law in Poland".
In the same month, the EU launched infringement proceedings against the Czech Republic, Poland and Hungary for failing to take appropriate steps to resettle limited numbers of asylum seekers, in accordance with decisions previously taken by member states.
Some months earlier, the European Court of Justice dismissed cases brought by Slovakia and Hungary in which the latter had sought to argue that the EU's scheme for the mandatory relocation of asylum seekers was unlawful. In characteristically robust language, Hungary's serially undiplomatic foreign minister, Péter Szijjártó, described the judgement as "outrageous and irresponsible".
A number of ex-communist states, particularly Hungary and Poland, have rejected an ideology founded on individualism, human rights, economic transparency and multiculturalism. They are turning instead towards an alternative social, political and economic model in which the cultivation of "traditional values" and distinct national identities is of paramount ideological importance. The new model is also frequently characterised by widespread, often systematic corruption and an increasingly authoritarian political culture.
Winners and losers
The reasons for this shift lie both in the communist and pre-communist past. Following the collapse of communist governments in 1989, little thought seems to have been given to the troublesome historical baggage that these societies would have to contend with in effecting a successful transition to liberal democracy. There seems to have been an unspoken assumption that the removal of the communist apparatus of repression would be largely sufficient to allow western values, such as liberal democracy and respect for human rights, to flourish.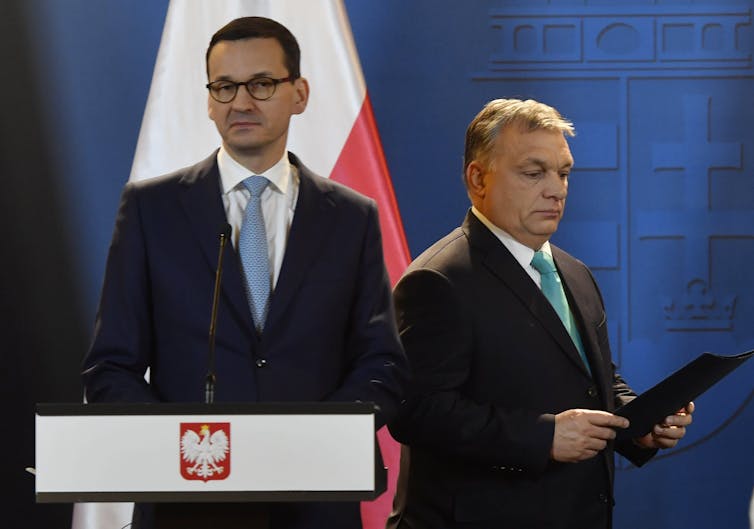 Yet, with the exception of the former Czechoslovakia, there had been little sustained experience of genuine democracy in the region prior to the establishment of communist regimes following World War II. Even before the imposition of communism, Poland, Hungary and Romania, along with most other countries in Central and Eastern Europe, were heirs to a repressive and overwhelmingly authoritarian political culture.
This may go some way towards explaining the relative ease with which Hungary's Fidesz government, for example, has been able to undermine democratic checks and balances without eliciting more vigorous or sustained opposition from the general public. As the powers of Hungary's constitutional court were drastically curtailed and public broadcasting increasingly treated as a government mouthpiece, there was little real sense among ordinary voters of anything important having been lost.
Central and Eastern Europe's predominant historical experience as victims, rather than beneficiaries, of colonialism may help to explain the region's resistance to admitting non-European asylum seekers. As identified by István Bibó in The Misery of the Small States of Eastern Europe, published shortly after World War II, there is an enduring sense among the peoples of the region of having had to fight for independence and even for the preservation of national identities during a succession of alien occupations, whether Ottoman, Hapsburg, Russian or Prussian.
This overwhelmingly traumatic historical experience has been compounded by almost a half century of Soviet domination as well as subjection to Nazi German tyranny during the Second World War. None of this has helped to foster openness to other cultures, let alone a willingness to embrace multiculturalism as experienced in many countries in Western Europe.
Economic factors, particularly the plight of many pensioners and of other economically vulnerable sections of central and eastern European societies, have also contributed to the current political climate. The establishment of market economies in the region created clear winners and losers in countries such as Poland.
These societies are now far less egalitarian than under communism. While a new class of businessmen, lawyers and media personalities can indulge their taste for expensive foreign holidays and luxurious German automobiles, there is widespread poverty. In particular, residents of many rural areas and of towns and cities that have been ravaged by deindustrialisation are struggling.
As Jacques Rupnik, a former adviser to Czech president Vaclav Havel, recently observed: "the 'decoupling' of liberalism and democracy in Central and Eastern Europe has a lot to do with the post-1989 confusion, and indeed collusion, between political and economic liberalism". Rupnik poses the question: "Does this explain why Central Europe travelled from (economic) neo-liberalism to (political) illiberalism?"
The answer, at least in part, must be "yes".