The dramatic, temperamental sound of the organ joined with the lush visuals of contemporary video is not an obvious combination. They are brought together in Darkness and Light, a work by two collaborators, composer and organist Bernard Foccroulle and artist Lynette Wallworth, performed at the Town Hall for the Sydney Festival.
Through a selection of music written for the organ and visuals designed to suggest contrast in the living world, the piece aims to explore relationships between light and its opposite.
Developed in Europe and touring Australia, Darkness and Light has been performed in churches, cathedrals and concert halls. The organ itself has been used to enhance sacred and civic architecture for hundreds of years, making a sound big enough to imitate an orchestra. This collaboration seeks to connect contemporary audiences with both the physical spaces and music that have been used for centuries to evoke the numinous and transcendent.
The pipe organ is central to European musical and cultural heritage. The instrument is also an engineering marvel, altered through history in tandem with technological change. Generating sound through an organ is a complex science and the physicality and mastery of Fouccroulle's playing brought some of this history alive in the performance.
With its title taken from a piece of music written by the Russian composer Sofia Gubaidulina and performed by Foccroulle, the selection of music combines familiar sounds of the Baroque with experimental modern interpretations of the instrument. This decision reflects Foccroulle's ambitious desire for the organ to gain greater relevance in the 21st century.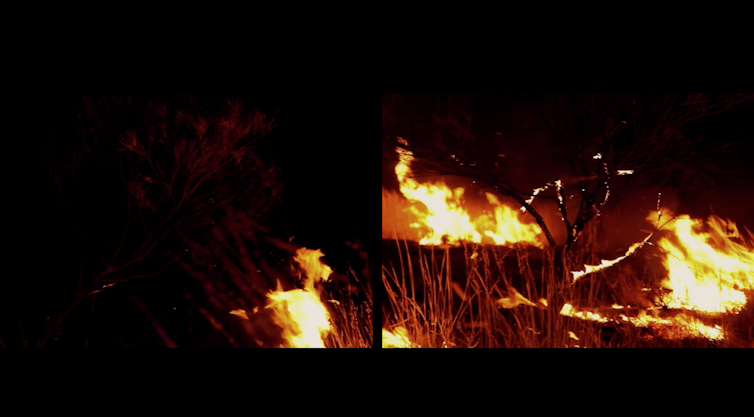 In Darkness and Light, the long tradition of organ music is combined with a visual world created by Australian artist Lynette Wallworth, who is well known internationally for a slate of immersive installations, interactive technologies and documentary film and video works. Living between Australia and Europe, Wallworth has collaborated with many remarkable musicians including Anthony Hegarty, Nick Cave and Warren Ellis in a career that defies easy description.
Wallworth is skilled in bringing together simple, elegant ideas and sophisticated technology by working across several disciplines. Interplay between the complementary force of darkness and light is a recurring theme of Wallworth's art, as is the interplay between human and non-human worlds.
For example, the 2012 project CORAL Rekindling Venus, a large film project using underwater footage of coral reefs, blended contemporary and historical science, environmental concern and leading-edge technology. The work screened in 23 cities internationally during the week of the Transit of Venus, a film experience designed to be viewed in a digital full-dome planetarium.
Other projects by the artist engage more directly with human suffering, resilience and the subtle qualities of particular individuals and of communities. The first project by Wallworth that I encountered has stayed with me. Evolution of Fearlessness, is a series of life-sized portraits of 11 women, many of them political refugees, and an immersive video work activated by touch-sensor technology. The work is responsive to human touch and is built around the importance of gesture, where each individual viewer is invited into intimate contact with the lives of others.
The scaled-up visuals of Darkness and Light within the civic space of the Sydney Town Hall were reminiscent of American video artist Bill Viola. Like his work, this multi-screen undertaking offers a version of video art with high-end production values, and explores themes of the human condition.
Wallworth's images are a selection of lingering, locked-off shots of landscapes, some ominous, others understated and poetic. While the imagery suggested the raw elements of the Australian landscape, I struggled to find connections between the choice of visuals and the accompanying music.
Despite the artists' claims to engage with a kind of secular sacred within the Australian landscape, the contemporary imagery combined with the musical range of the organ made it difficult to find a point of focus. As an admirer of Wallworth's work and someone enthusiastic to see this collaboration, I was left strangely unmoved and somewhat frustrated by this performance.
Darkness and Light played at the Sydney Festival on January 9 & 10. Details here.