There are 72 medal events at the Sochi Paralympic Games. Athletes from 45 nations are competing in Alpine Skiing, Biathlon, Cross Country Skiing, Ice Sledge Hockey, and Wheelchair Curling. Para-snowboard is included in Alpine Skiing for the first time at these Games.
You might hear reference to an athlete's classification during televised events or read about them in media reports. You might be wondering too how the Alpine, Biathlon and Cross Country Skiing results are determined (factored) when athletes with different levels of impairment compete in the same event.
Why have a Winter Paralympic classification system?
As with the classification of Summer Paralympians, the purpose of the Winter Paralympic classification is "to minimise the impact of impairment on the outcome of competition".
Each Paralympic athlete is classified when they start to compete against other athletes with an impairment. They are classified at international level by a panel of international classifiers. In the Winter Paralympics only athletes with a vision impairment or physical impairment compete.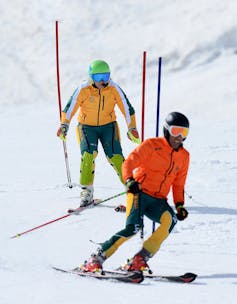 In Alpine Skiing, Biathlon and Cross Country, Paralympic athletes compete in a group for each event depending on their classification. The three groups are
standing
sitting
visually impaired.
Skiers with a physical impairment who compete standing are classified from LW1 to LW9 (LW is an abbreviation for "Locomotor Winter"):
athletes in the LW1 to LW4 classifications have lower limb impairment
the LW5 to LW8 classifications are for upper limb impairments
the LW9 classification is for athletes with combined arm and leg impairments.
There are three classifications (LW10, LW11 and LW12) for skiers with a physical impairment affecting their legs. They compete using a sit ski and are allocated different classes depending on their sitting balance.
A skier with a vision impairment skis with a guide. The guide skis in front of the athlete and gives verbal directions to the athlete. These directions are transmitted by microphone to the athlete's helmet. There are three classifications B1, B2 and B3 (B is an abbreviation for "Blind"). B1 skiers are either blind or have limited visual acuity and/or visual field in both eyes.
Para-snowboard athletes at Sochi are all classified as SB-LL (LL is an abbreviation for "Lower Limb"). They have leg impairments, such as amputations above the ankle, stiffness of ankle or knee joint or muscle weakness. Athletes with amputations use prostheses during the races.
There are minimum eligibility criteria for Ice Sledge Hockey. Athletes have a physical impairment in the lower part of the body.
Wheelchair Curling has minimal eligibility criteria too. Athletes are unable to walk at all or can only walk short distances. This includes athletes with significant impairments in lower leg/gait function, such as spinal injury, cerebral palsy, multiple sclerosis or double leg amputation, who use a wheelchair for daily mobility. Wheelchair curling teams must also comprise male and female players.
What is 'factoring'?
Until the 2006 Winter Paralympics in Torino, medals were awarded for every classification in the three general impairment types. At Torino, there was a significant reduction in the number of medals available.
The challenge faced by the IPC has been to ensure that all athletes, regardless of the severity of their impairment, have an equal opportunity to win a medal.
The 14 different functional classifications are combined within the three groups (visually impaired, standing, sitting) using a "factor system" to create one result list for each group in Alpine Skiing, Biathlon and Cross-Country Skiing events. The system has been developed by the International Paralympic Committee's (IPC) Factor Expert Group which assigns a percentage to all classes based on the extent of the athlete's impairment.
During competition, the racing time of an athlete is multiplied by the factor of her/his respective classification. This produces a "scoring time" for each athlete within their class.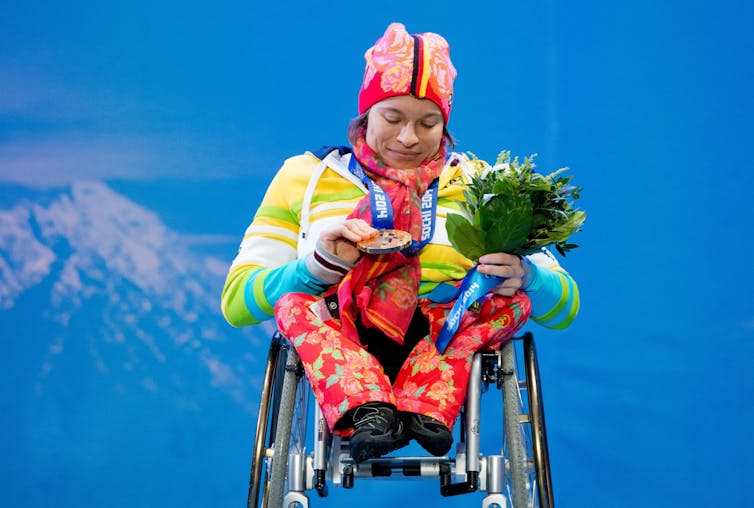 In races with two runs the scoring times of both races are added. Whenever a finish time of an athlete's run appears on a scoreboard, it is a factored time. The factor process uses median real-time results from 400 elite races from the preceding four years, and the factored time is used to award medals.
For instance, the standing class includes athletes from the impairment classifications LW1-LW9. With a wide range of impairment levels included in one class and competing for one set of medals, times are factored in order to ensure final placings are based on an athlete's technical ability, not the functional advantages or disadvantages they may have due to their physical impairment.
Another example of how this system works can be found in the result of the Women's 15km Classic Standing Cross-Country Skiing event at Sochi.
Sweden's Helene Ripa, an LW2 athlete with lower limb impairment, using one ski defeated an athlete from the LW6 class (upper limb impairment) and an LW8 athlete (upper limb impairment) both of whom used two skis and a single pole.
Helene's factored time transformed an actual time of 54 minutes 9.1 seconds into a time of 49 minutes 49.2 seconds to defeat the LW6 athlete by 3.9 seconds.

For more on the Winter Paralympic Games, check out our Sochi Paralympics coverage.