Every year, Australia provides protection to thousands of refugees under its humanitarian program. In 2015-16, the government issued 15,552 visas to people in need of humanitarian assistance overseas. These included people determined to be refugees by the United Nations High Commissioner for Refugees (UNHCR) in camps outside Australia.
A further 2,003 people received "onshore" permanent protection visas after being found to be refugees by the Australian government.
The term "genuine refugee" is thrown around often, yet many take for granted the complicated process of how someone is deemed to be one. So, what is a refugee? And how does the Australian government make the decision?
Who is a refugee?
Australia has signed and ratified the United Nations Convention Relating to the Status of Refugees and several other human rights treaties. These set the definition of a refugee and create a legal obligation not to return a person to a country where they will face persecution or serious harm.
Australia resettles refugees from camps outside the country as part of the government's humanitarian program, not out of legal obligation. In choosing these refugees, Australia works with the UNHCR to resettle those considered most vulnerable.
We do have a legal obligation to determine whether those who seek asylum when already in Australia need protection. This is regardless of whether they arrive by boat or plane.
A refugee is defined as someone who does not want to return to their country of origin owing to a "well-founded fear of persecution" on the grounds of race, religion, nationality, membership of a particular social group or political opinion.
The person can also receive complementary protection if there are "substantial grounds for believing that there is a real risk he or she will suffer significant harm".
What is the refugee determination process?
The Refugee Convention does not set out the procedures that must be followed to determine whether a person is a refugee. But, to comply with its international obligations, Australia must have a procedure to identify accurately the people to whom it owes protection.
The onshore refugee determination process begins when a person applies for a protection visa. The Department of Immigration and Border Protection assesses their claim. The purpose of this assessment is to decide whether the person engages Australia's protection obligations as set out in the Migration Act.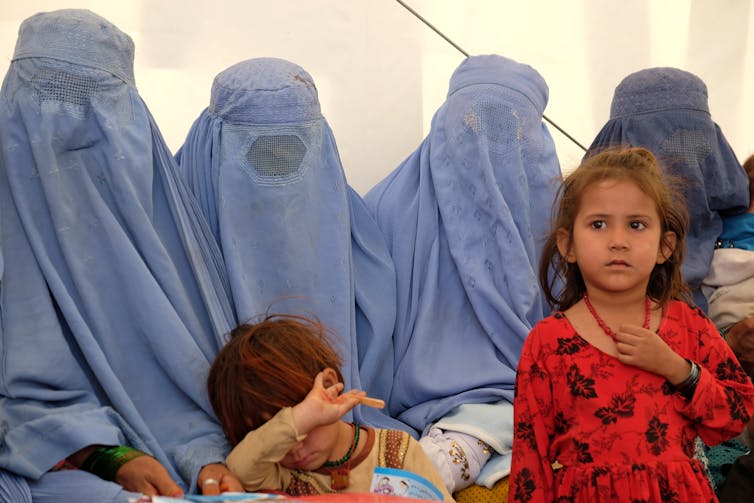 Essentially, the decision-maker must decide whether the person faces a "real chance" or "real risk" of serious harm if they return home. The ultimate objective of refugee determination is humanitarian, so the refugee status isn't based on a standard of "beyond reasonable doubt" or "balance of probablities" as it would be in other areas of law.
In Australian law, "real chance" means the fear of persecution is "likely" and not remote or far-fetched.
How is 'real chance' determined?
The Immigration Department considers the applicant's personal account along with independent information about their country of origin. The department will interview the person about their claim. Interpreters are present if needed, and the person may have a migration agent in the interview.
For example, a woman may claim she cannot return to Afghanistan because she fears violent attacks from other community members due to her work as a human rights activist. The department would need to assess if her fear is well-founded by considering evidence that may corroborate her story. This may be independent information from government sources, NGOs and the UNCHR about the treatment of female human rights defenders in Afghanistan.
If the department decides she fits the definition of refugee, they will grant a permanent protection visa. The applicant will have to satisfy other health, character and security requirements.
People who have their initial application for protection refused can apply for an independent merits review. A tribunal member will have a hearing with the asylum seeker and consider the case again. They will take into account any new or additional evidence, such as country information that might have changed since the original decision was made.
The member may find the person to be a refugee and return the case to the Immigration Department for reconsideration. Or the original decision may be upheld.
What about those who come by boat?
In 2014, the government introduced a different determination process for those who arrived in Australia by boat after August 2012. Under the fast-track assessment process, timeframes for the provision and assessment of claims are truncated.
If the department rejects the claim, it may be referred to the Independent Assessment Authority. Reviews by the authority are on the basis of the original information provided by the asylum seeker. Only in "exceptional circumstances" will the authority accept new information or interview the applicant.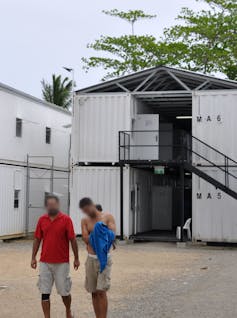 If found to be owed protection, boat arrivals will be eligible only for a three-year Temporary Protection Visa or a five-year Safe Haven Enterprise Visa.
People who arrived in Australia by boat after July 2013, and who have been transferred to Manus Island or Nauru, undergo refugee status determination in those countries. Papua New Guinea and Nauru are both signatories to the Refugee Convention and have their own refugee determination procedures.
Is the process fair?
Asylum seekers rarely have documentary evidence that strongly supports their claim for protection. They may also have difficulty presenting a comprehensive account of their claims due to literacy, language, culture, shame, problems with memory and difficulty in recounting traumatic experiences.
Determinations may also vary depending on the decision-maker. Some studies have identified a "culture of disbelief" in certain areas of decision-making, including claims based on sexual orientation. Some decision-makers who hear many cases may consciously or unconsciously form predetermined views on certain types of claims.
In 2014, the government made cuts that severely limited access to vital legal assistance for asylum seekers. Research conducted in the UK and Ireland shows legal assistance increases the confidence of asylum seekers and improves the quality of decisions.
The UNHCR and other human rights organisations have raised concerns that accelerated assessments of protection claims may lead to vulnerable people being returned to places where they are at risk of serious harm.
It is unclear whether Australia's fast-tracking process allows the possibility to arrive at a fair and true decision.