The Conservatives' convincing victory in the general election has simplified the post-election arithmetic in parliament. There will be no coalitions or minority administrations and so the Conservatives' principal opponents are no longer relevant to the government-formation process.
Their defeats in the election call into question their strategies and as is usually the case these days, when that happens, the person at the top pays the price. The Labour leader Ed Miliband, Liberal Democrat leader Nick Clegg, and Nigel Farage, the UKIP leader, have all announced their resignations.
Leadership elections in these three parties raise the question of how they choose their leaders. All now use a form of all-member postal ballots, although there are differences between them.
New rules for the Labour Party
Labour previously used an electoral college of MPs/MEPs, party members and trade unionists to choose its leaders, including Ed Miliband in 2010. However, it switched to a form of all-member ballots in 2014, although the system has not yet been used and questions remain about its operation. Individual party members will be entitled to vote, but so will two new categories of participant.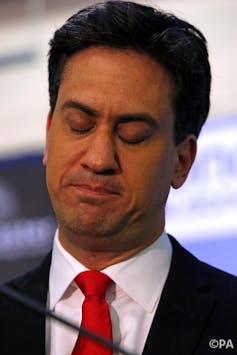 The first is affiliated supporters, which consist of individual trade unionists who have indicated that they wish their party affiliation fees (funded from the political levy, a small sum of money in addition to normal union dues and used for political campaigning) to be paid directly to the Labour Party rather than via their trade unions as they have historically been. This requirement for positive consent is a change: trade unionists were previously automatically entitled to vote in Labour leadership elections.
The second is registered supporters, who are not members of the party but support its principles. On the payment of a small registration fee (the level of which has not yet been decided), they too could vote in leadership elections. They would need to sign a statement affirming their support for Labour's values. There would be no separate sections in the ballot: the votes of party members, affiliated supporters and registered supporters would all count for exactly the same in a single national ballot. MPs would not have weighted votes but would participate in their capacity as individual party members.
Labour candidates must be MPs and each would need to be nominated by 15% of Labour MPs (approximately 35 on current forecasts). The alternative vote (AV) electoral system would be used, where voters rank the candidates in order. To win, a candidate must secure 50% + 1 votes. If no-one achieves that after counting first preferences, the lowest-ranked candidate drops out and his/her votes are reallocated to their stated second preferences. The process continues until someone passes the winning threshold.
Great uncertainty surrounds Labour's system because it has never been used. How many trade unionists have thus far signed up as affiliated supporters? Less than 10% of trade unionists participated in the 2010 contest – and that was despite not having to take any further action than completing the ballot papers they received in the post.
The unions might run campaigns to convert members into affiliated supporters but it is not clear how many would be interested. And how many registered supporters would sign up? This category creates the possibility of a primary election for the party leadership, but there is no indication of how appealing that would be to non-party members. It is possible, though not certain, that the selectorate could consist mainly of existing party members.
Lib Dems – a sense of proportion
The Liberal Democrats have used all-member ballots to choose their leaders since the party was formed from the merger of the Liberals and the Social Democratic Party in 1988. Candidates for the leadership must be MPs and they must be proposed by 10% of Liberal Democrat MPs – not including themselves.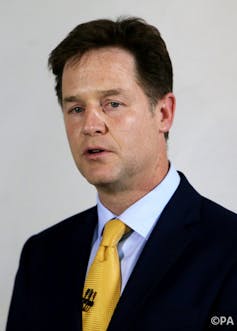 Since the Lib Dems are predicted to win just eight seats, that means each candidate will require one other nomination. Candidates must also be nominated by at least 200 individual party members from at least 20 local constituency parties. If only one nominee emerges, he or she will become the leader without a ballot.
If more than one candidate comes forward, a ballot of party members will take place, lasting up to two months. MPs can vote in their capacity as individual members, but their votes are not worth any more than those of ordinary activists. Hustings take place across the country and a postal ballot is held. The AV electoral system is used, with the winning candidate needing to secure 50% + 1 votes on first- or lower preferences.
UKIP – need not be an MP
UKIP's leader is chosen in a similar way but with a different electoral system. Candidates need not be MPs but must be proposed and assented to by 50 party members of good standing, drawn from at least 10 local associations. If only one candidate is nominated, he or she will become leader. If two or more candidates emerge, they will go through to an all-member postal ballot conducted under first-past-the-post. That means there is no need to win 50% + 1 votes, but only the largest single share of votes.
In each of the three parties, an interim leader is possible, to hold the fort until a leadership election has taken place.
The Labour leadership election will almost certainly be contested by two or more candidates. It is not clear whether the same will happen in the Liberal Democrat party, where a coronation, perhaps of Tim Farron, could be more likely. Meanwhile, Farage has already hinted he would consider standing as a candidate in the UKIP contest later in the summer. The general election may be over, but politics as usual continues.