Incredulousness is these days a fairly common state of being – it seems that everyone, many times a day, is lol whut, omfg, and truly, madly, deeply outraged.
I'm a part of this body politic – multiple and continual drip feeds of news mean I only need to absentmindedly change tabs in order to be confronted with several things about which I can be dumbfounded, upset, furious, or a wicked combo of these and more.
But never has such a feeling of incredulity absorbed me than when news broke that, due to the severe cuts the federal government has forced upon the Australia Council, Express Media - the only youth focused writing and literary organisation in the country – has been defunded.
These culturally destructive cuts to the Australia Council budget, and the pork-barrelling that has occurred since, demonstrate a distinct lack of thought, care, and empathy - not just towards artists and arts workers but to all Australians, who benefit directly and indirectly from the arts.
Don't get me wrong: I believe that pretty much zero of the organisations defunded should have been. But to defund Express, to rip out the support system that allows this 30-year organisation to function, will stifle a generation of writers. This cut now puts the future of the organisation at risk.
Express Media works with schools, libraries, councils and community groups to deliver writing-based outcomes to young people interested in the written word. It publishes Voiceworks - a quarterly publication of poetry, fiction, articles, comics and visual artwork by people under 25, a magazine that is widely recognised for its quality.
Its most important work, however, is less public. From the workshops for diverse and marginalised young writers to the Under Age program to train young journalists, Express Media is a huge part of the foundation of the writing and publishing industry. It employs several full-time and part-time staff, and pays many more for their work, their time, and their skills. All of this is at risk.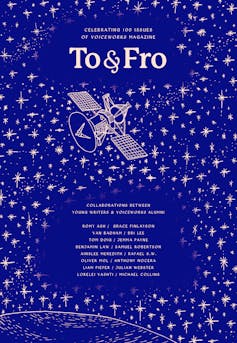 When I first learned about Voiceworks and Express Media in my early twenties (far later than most people do; it is teenagers who often gain the most from Express Media's presence) I submitted short fiction and was fortunate enough to have a couple of pieces published. This was one of the single-most important events in my life. It gave an under-confident, young (read: immature) person the opportunity to take himself seriously, and showed him that he could in fact live creatively when he hadn't yet known how.
More importantly, it showed him that he could spend his life receiving emotional and intellectual reward from the arts industry – and in return spend his days trying to give back – and that this would be the most spiritually satisfying pursuit of all.
Anwen Crawford, an alumnus of Voiceworks, wrote a wonderful quick-response piece for The Monthly's blog last week, one that concludes by arguing that
It takes a certain kind of young person to want to volunteer weeknights and half their weekends to the running of a literary magazine.
This description is of a person who was very much me, for like Anwen, I climbed eagerly up the Voiceworks ladder once I saw that first rung. I eventually joined the Voiceworks editorial committee and for a couple of years worked on making editions of the magazine, reading and assessing fiction and poetry, and editing non-fiction columnists.
Former editorial committee members who are now renowned writers include Romy Ash, whose 2013 novel Floundering was shortlisted for the Miles Franklin Award, Anna Krien and Tom Doig. Other writers who got an early start at Express Media include Christos Tsiolkas, Hannah Kent and Benjamin Law.
But the committee members from my time at Voiceworks are not just published authors; they are editors at Penguin, Affirm Press, and Metro, educators in the Northern Territory, journalists, human rights champions, thesis leaders, podcasters, cultural commentators, and sorely missed literary supernovas.
I am a writer, and am also publisher at The Lifted Brow, an editor, teacher and wannabe literary activist. I am all of these today because of Express Media. This is not hyperbole.
Every time I talk to a university class, the most important piece of information I can ever possibly give is: make sure you are involved with Express Media.
This is because Express Media as a literary institution (like Next Wave Festival and Arena Theatre Company, both of which also lost all Australia Council funding and are vital to their respective art forms and industry sectors) is the single most important entry point for young people interested in words.
It is words that allow us to tell stories, and it is stories that allow us to understand ourselves and each other.
Express Media is unique: an organisation focused on young writers, one that is both inclusive and elite. It provides desperately-needed skills training and then offers chances for writers to use these skills, and be paid for doing so. No other organisation does this.
Express Media is not simply an arts organisation or industry institution. It is a portal, a wormhole opening for young people to jump intrepidly into.
And what lies out the other side? A multitude of potential worlds, a garden of forking paths which all lead invariably to scenarios where these young people have been given the chance to make life better for us all.
If you would like to support Express Media, you can go to its website to become a member, subscribe to publications or make a tax-deductible donation.