Whenever a glimmer of chess talent is spotted in the United States, people often ask: "Is this the next Bobby Fischer?"
In the early 2000s, a diminutive, bespectacled young boy – who by age 9 was already battling seasoned competitors in top-level sections – had his name added to the roster of Fischer aspirants.
His name is Fabiano Caruana.
Fabiano, now 25, has finally earned the right to challenge reigning chess champion Magnus Carlsen for the world championship crown this November in London. On March 27, he won the 2018 Candidates Tournament in thrilling fashion.
If Fabiano defeats Magnus this fall, he will become the first American to hold the world title since Fischer beat the Soviet Union's Boris Spassky in their epic match. Fischer's victory set off a wave of interest known as the "Fischer Boom," attracting thousands of new chess enthusiasts. His achievement was celebrated as a symbolic victory for the U.S. since the world title had been held exclusively by Soviet players for the previous quarter century during the Cold War era.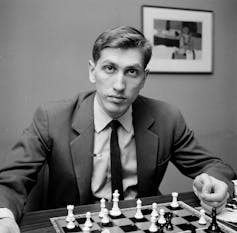 Will a Fabiano victory set off another "boom" the way Fischer's victory did in the 1970s? That remains to be seen. But what is certain is that Fabiano's progress as a chess player – which I have observed and followed for many years as a journalist for The Chess Drum – is more than just his rise to stardom. His evolution makes a good case study for homeschooling and other ways of learning that enable young people to break free from the static environment of formal education in order to pursue their passions. It also makes for a good case study of what talent looks like in its earliest stages.
Composed and Confident
Over the years, I have witnessed talented "juniors" in the chess world and studied their composure at the chess board. From the earliest times when I first saw Fabiano, I noticed something different about how the Miami-born, Brooklyn-bred boy of Italian ancestry approached the game. Attentive and engaged, Fabiano carried unmistakable energy, focus and determination.
After playing in the same tournament section with Fabiano in the early 2000s, I observed how he would set the plastic chess figurines perfectly on the checkered squares and sit in anticipation of his opponent. Despite his size, his sense of confidence was impressive. I continued to follow his progress.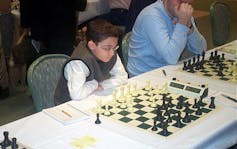 Magnus Carlsen's rise to stardom is well-known in chess circles and chronicled in the biography, "Wonder Boy." Fabiano's story has some similarities. Parents grapple with ideas to help their children realize their unique set of talents. Fabiano's parents – Lou and Santina Caruana– made a tough decision and decided to move to Spain to foster his chess development.
Maliq Matthew, a sociology professor at the University of Cincinnati, told me about Fabiano from his chess-playing days in New York. He recalled his concern on whether Lou was taking too big a risk in moving Fabiano to Europe to pursue a chess career when his talent trajectory for chess was still uncertain. "I remember when he was leaving, and we were wondering if (Fabiano's father) Lou was going too far in," Matthew said.
The elder Caruana told The New York Times about the decision to move to Europe in a 2007 interview. "It was hard to evaluate. It was more of a risk than what we had realized at the time," Lou Caruana said. "But it did work out." Bobby Fischer had also left school at age 16 to focus his energy solely on chess.
The making of a world-class player
Once inside European chess circles, Fabiano had access to world-class trainers and stronger competition. In retrospect, it appears that his experience abroad helped him to channel the toughness that he developed from the hardscrabble chess scene in New York. During his 10-year stint in Europe, he took a vaulted leap, won a number of strong tournaments and steadily increased in the world rankings.
In 2014, Fabiano climbed to the No. 2 spot in the world chess rankings and made history by starting the 2014 Sinquefield Cup with seven straight wins. This field included Magnus Carlsen, the reigning world champion, who hails from Norway. At the press conference, I asked Fabiano if he had ever thought he would become one of the world's top players. This was his response:
"When I was a kid, I didn't imagine that I would play chess professionally. I mean I always loved chess, but when I was a kid, it was just a hobby. After school I would go and play in the Marshall Chess Club and I would play game 30s (30 minutes per game). I thought at some point that I would move away from chess, that I would keep going to school. But it worked out this way. I'm very happy about it. But I didn't really have those thoughts when I was a kid."
Winning gold for the US
One can argue that Fabiano's experiences abroad were instrumental in the social maturation process and may have provided him with a very balanced perspective on life. In any case, the European stint charted a course for success.
In 2015, Fabiano switched back to the U.S. Chess Federation after deciding that it would provide him with a path to vie for the world championship. Unfortunately, he missed qualification in the 2016 World Candidates tournament after a heartbreaking loss to Russia's Sergey Karjakin. Not to be deterred, Caruana won the U.S. Championship in 2016 for the first time and later that year helped the U.S. win the gold medal at the Chess Olympiad in Baku, Azerbaijan.
After a challenging 2017 campaign, he managed to qualify for the 2018 Candidates Tournament given his world ranking. Giving himself no more than a 15 percent chance to win the tournament, he closed out the tournament with a last-round win, becoming the first American-born player since Bobby Fischer – and the second American since Gata Kamsky, a Soviet-born American grandmaster – to vie for the title. The storyline of Thor versus Captain America immediately appeared on social media sites.
Are there better learning models?
Some parents may seek to replicate the alternative methods of both Magnus and Fabiano, whose parents paved the way for their success. Top 10 player and four-time U.S. champion player Hikaru Nakamura was also home-schooled by his mother and Sri Lankan stepfather, Sunil Weeramantry. In the preeminent experiment of chess, Laszlo Polgar – a Hungarian chess teacher and author of "Bring Up Genius!" – home-schooled daughters Susan, Sofia and Judit into world-class chess players.
Laszlo Polgar argued in his book that "genius equals work and fortunate circumstances" and "geniuses are made, not born." If Fabiano defeats Magnus for the world title later this year, it will give further testimony in support of this idea of the power of parents to shape their children's future outside the world of formal education – and chess will be at the center of the discussion.