Around 9,000 people die prematurely each year in the UK because they cannot afford to heat their homes. That's more than the number killed on our roads, or through alcohol.
Caroline Lucas, Green Party candidate for Brighton Pavilion, speaking at the launch of the Green party manifesto.
The Green Party has pledged £45 billion to end the "cold homes crisis". In particular, Caroline Lucas has claimed that fuel poverty is blighting the lives of hundreds of thousands of people who are struggling to pay high fuel bills. The party has highlighted figures from Age UK which estimated that cold homes could have cost the NHS around £1.3 billion each year.
The Green Party indicates the numbers on deaths come from a recent report published by Association for the Conservation of Energy (ACE) in March 2015, in which researchers estimated that in the past five years, 46,700 people in the UK have died due to living in a cold home.
The average number of "excess winter deaths" in the five years since 2010 is 27,830, of which it says around 8,350 are due to cold homes. According to ACE, this analysis used official data from the Office for National Statistics, National Records of Scotland and Northern Ireland Statistics and Research Agency. The method defines the winter period as December to March, and compares the number of deaths that occurred in this winter period with the average number of deaths occurring in the preceding August to November and the following April to July. In other words, to calculate excess winter mortality, they have taken the number of winter deaths minus the average non-winter deaths.
As a comparison, ACE says that in the UK in 2013, 7,400 deaths were related to cold homes, 7,059 were related to alcohol and 1,575 were related to road or rail accidents.
In the same report, it also indicated that cold housing could contribute to roughly 30% of excess winter deaths based on the World Health Organisation's crude estimates in 2011, although there is little firm evidence for this.
Impact on health
The World Health Organisation has recommended a minimal indoor temperature of 18°C and a 2-3°C warmer minimal temperature for rooms occupied by sedentary elderly, young children and the handicapped. Below 16°C, resistance to respiratory infections may be diminished. There is also higher risk of high blood pressure for those living in cold homes.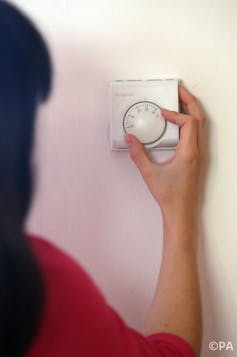 What does the current scientific evidence tell us about the health impact of living in a colder home? Using the national representative Health Survey for England in 1995-2007, it was observed that the body mass index (BMI) levels of English adults older than 16 residing in air temperature above 23°C were lower than those living in an ambient temperature of under 19°C. This shows that those living in colder houses have higher BMI.
In Scotland, indoor temperature below 18°C could account for 9% of the population risk for high blood pressure in Scottish adults aged 16 and above.
Both high BMI levels and hypertension are strong risk factors for many chronic, un-communicable diseases including cardiovascular disease (such as heart attack and stroke), metabolic disease such as diabetes, respiratory disease such as asthma and even cancer and dementia.
Premature deaths are avoidable. They are more common in Scotland than in England and Wales, although the number has been declining over years. In England, one in three deaths are before the age of 75, and the top five causes are cancer, heart disease, stroke, respiratory disease and liver disease. Hypertension plays an important role in these diseases too.
In the UK, since the 1980s, many homes did not or could not meet the recommended threshold, 18°C. Until today, population-based research in this area is limited, particularly for children. Monitoring the relationship of indoor temperature and health over the longer term needs more research to fill in this knowledge gap.
Verdict
Scientific evidence proves that cold homes are associated with hypertension, which can lead to diseases such as heart disease and other chronic illnesses. But the numbers for the real impact of this in the UK are difficult to pin down.
Therefore, the figures mentioned by Caroline Lucas and the Green party could be perceived as accurate, although not necessarily precise. There is a big knowledge gap in understanding the effect of low indoor temperature on human health, whether physically or mentally.
Review
This response vividly illustrates why and how poorly insulated and energy-inefficient cold homes link to livelihood and health. Cold homes due to fuel poverty, especially in deprived communities, are one of the most critical causes of excess winter deaths. Although initiatives such as ECO and Green Deal have helped dampen the effect, resulting in positive change in lives and communities, their direct and indirect effect on health implication has not been fully understood.
These premature deaths must be eliminated. With more research and if addressed correctly, this critical "silent killer" will alleviate significant pressure away from the NHS, and provide a sustainable, efficient and healthy society.
The Conversation is fact checking political statements in the lead-up to the May UK general election. Statements are checked by an academic with expertise in the area. A second academic expert reviews an anonymous copy of the article.
Click here to request a check
. Please include the statement you would like us to check, the date it was made, and a link if possible. You can also email factcheck@theconversation.com