Government figures show 590 fewer GP practices now able to offer patients appointments on weekday evenings, Saturdays or Sundays, compared with 2010.
Labour party press release
At the last election, [David Cameron] promised to open GP surgeries seven days a week but the reality is that millions more patients are unhappy with opening hours. It is now harder to get an appointment from Monday to Friday too.
Andy Burnham, Labour's shadow health secretary
The Labour Party's statement on how hard it is to see a GP was immediately disputed by the Conservative health secretary Jeremy Hunt. He said: "Labour's figures are wrong. The Prime Minister's Challenge Fund already covers 1,100 practices and helps 7.5 million patients see a GP in the evenings and at weekends." Who's right?
The argument centres on whether access to GPs has worsened, with Labour issuing its statement to accompany a poster showing a long line of people queuing to get into a GP surgery, and claiming that waiting times have increased and satisfaction with GP opening hours has fallen over the parliamentary term.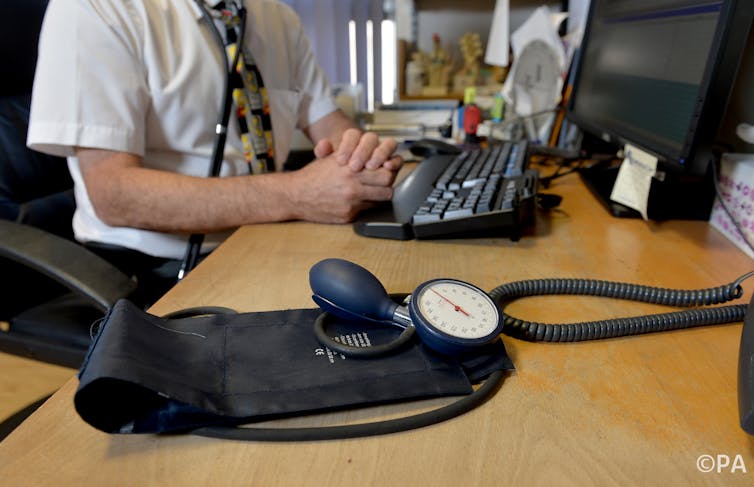 It is difficult to evaluate these claims directly because no national data are collected about how long people have to wait to see their GP or what each practice's opening hours are. Instead claims and counterclaims are based on how many practices there are and whether they are paid extra for staying open longer.
The number of practices has fallen from 8,279 in 2010 to 8,060 in 2014. This reflects the longer term trend toward larger practices, but does not necessarily mean that access has deteriorated.
Larger practices are able to offer a wider range of services, including longer opening hours, than single-handed practices, the number of which has halved since 2004. And despite there being fewer practices, there are more GPs, with the numbers increasing from 35,243 in 2010 to 36,920 in 2014.
A major reason why access to GPs is such an issue is because a new GP contract was implemented in 2004, when Labour was in government. Prior to this, their terms of service stipulated that GPs were "responsible for ensuring the provision for his patients of the services referred to … throughout each day during which his name is included in the … medical list."
The 2004 contract allowed GPs to opt out of providing out-of-hours care, passing responsibility over to Primary Care Trusts instead. Some 90% of GPs did opt out, and consequently it became more difficult to access care out-of-hours.
Labour tried to rectify the situation by implementing an "extended hours scheme" which was used to fund face-to-face appointments with a GP at times outside practices' normal opening hours. Labour claims that this "enabled GP evening and weekend opening at 77% of surgeries by July 2009", with 6,384 of the 8,279 practices receiving the additional money.
As Labour's statement highlighted, in April 2011 the scheme's funding was reduced from £3.01 to £1.90 for every registered patient and removed the 48-hour appointment guarantee from the NHS Constitution. By April 2014, the percentage of GP surgeries taking part in the scheme [had fallen to 72% of practices](http://www.hscic.gov.uk/catalogue/PUB16847](http://www.hscic.gov.uk/catalogue/PUB16847), some 5,794 out of 8,060. The data are not reported in the same way as they were in 2009 and are therefore not strictly comparable but seem to be what Labour used in making the calculation. Labour's calculation of 590 fewer practices open late and on weekends is simply the difference between those receiving extended hours payments in 2009 (6,384) and 2014 (5,794).
But the coalition government took action at the end of 2013, announcing the Prime Minister's Challenge Fund to "help improve access to general practice". Twenty geographical areas had access to this fund from April 2014, covering "1,100 practices and helping 7.5m patients see a GP in the evenings and at weekends." Funds from this source are not included among those allocated through the extended hours scheme cited by Labour.
Despite GPs receiving extra money for offering extended opening hours the evidence suggests that people are less satisfied with their access to GPs, as answers to the quarterly GP patient survey published in December 2010 and January 2015 reveal. Satisfaction with opening hours fell from 79% in 2010 to 76% according to the 2015 publication. Satisfaction with care received at the surgery also fell from 89% to 85% and from 88% to 85% for whether the GP gave them enough time.
Verdict
Neither party can claim the high ground in this argument. Labour complains that the Conservatives have abandoned its "extended hours" solution to the problem, which partly arose from the introduction of the 2004 GP contract. The Conservatives have countered by pointing out that alternative funding arrangements have been put in place. Meanwhile patient satisfaction with GP access has declined.
Wherever the blame lies, the next government will have to tackle the problem, and both parties have welcomed the Five Year Forward View for the NHS which states that:
Given the pressures they are under, we need a 'new deal' for GPs. Over the next five years the NHS will invest more in primary care, while stabilising core funding for general practice nationally.
Thrashing out a new deal will be a challenge for whichever party is in power, but may be the only way to improve access to GPs.
Review
This response uses up-to-date data from official sources. It explains the context of changing practice sizes and numbers, and the relevant policy history. I would add two comments:
Strictly speaking, it is also unknown (either from official figures or any recent research) whether extended opening hours actually do equate to greater access. If the time when patients want to access their GP, and have most difficulty in doing so, is during ordinary working hours, then extending GP opening hours will make little practical difference.
As the fact check says, patient satisfaction with opening hours and with time spent with the GP have both fallen and this is important for any verdict on Labour's over-arching claim. Labour was right about more patients being dissatisfied – although 85% do remain satisfied. So it is only regarding the actual availability of access to a GP that "neither party can claim the high ground".
This piece was updated on April 29 to include a line about the comparability of data.
The Conversation is fact checking political statements in the lead-up to the May UK general election. Statements are checked by an academic with expertise in the area. A second academic expert reviews an anonymous copy of the article.
Click here to request a check
. Please include the statement you would like us to check, the date it was made, and a link if possible. You can also email factcheck@theconversation.com