"At the moment, we've got international graduates who are getting preference over Australian doctors in some states." - Australian Medical Association president Steve Hambleton, National Press Club Address, 17 July.
Medical graduates need to do a year of training as an intern before they can practice independently. Recently, enrolments of domestic students and international fee-paying students in medical courses has been on the increase.
But graduations are now growing faster than intern positions available. This has created an employment-graduation imbalance in medicine for the first time.
Australia's position is not unique; the United States, too, has a similar mismatch.
But with more graduates than places, there's been an ongoing debate about the way that places are allocated, whether applications should be considered on the basis of merit or whether local graduates should receive preference.
Some are concerned that the current system is unconstitutional and there have also been calls for a national allocation system.
State by state
The process for selecting interns varies from state to state. Every state except the ACT discriminates against international graduates and in favour of domestic graduates. In every state (excluding the ACT), the first round of positions go to Australians (and New Zealanders) who have graduated in that state. Only then are international students who have studied and graduated locally considered.
In Victoria and Western Australia, this group – locally trained graduates from overseas – is considered before Australian citizens from interstate. In WA's case, graduates who went to high school in WA are still preferenced first.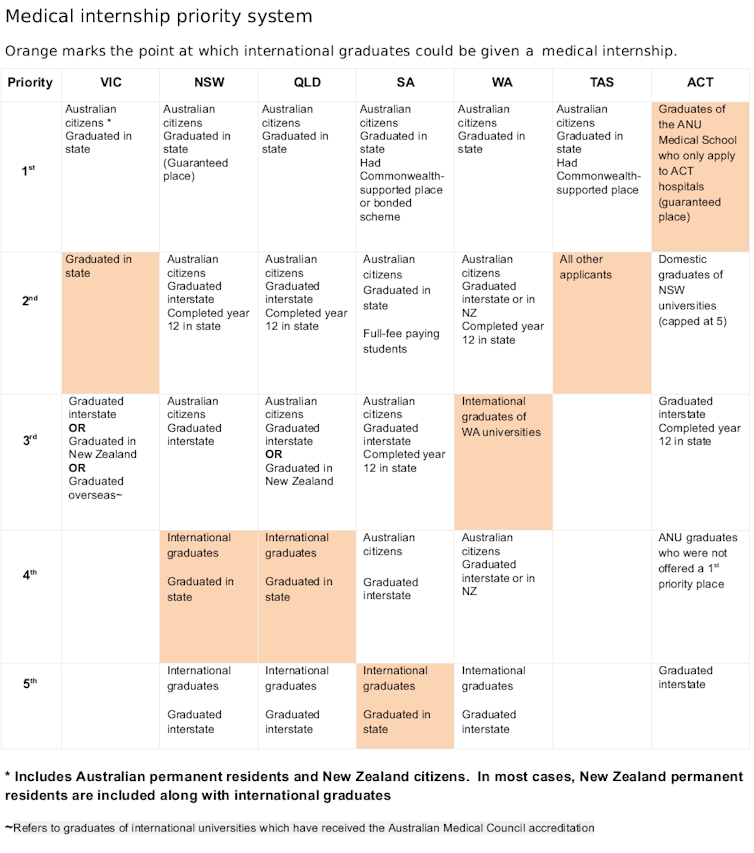 However in other states, interstate domestic graduates get the chance to be picked before international graduates who studied in that state. New South Wales, for example, guarantees internships to Australian citizens who have attended one of their medical schools. NSW, South Australia and Queensland put all domestic students ahead of all international students when allocating places.
The ACT does not discriminate in favour of domestic graduates, but does guarantee a place to those who only apply for internships in the ACT, regardless of their citizenship.
Except in the ACT, merit is over-ridden by prioritising Australian citizens, New Zealand citizens and Australian permanent residents who have completed their medical degree in that state.
Dr Steve Hambleton's recent comments – that international graduates are getting "preference" over Australian doctors in some states – are true. But they don't give us the full picture.
International students are never preferenced over domestic in-state graduates, which could be inferred. Only in Western Australia, Victoria and the ACT are in-state international graduates preferenced above some "Australian doctors" who studied interstate.
Verdict
Steve Hambleton is broadly correct. In some states, international students who graduated from local universities are considered before graduates from interstate universities.
---
Review
This is an accurate summary of current policies. The stated national policy of self-sufficiency for the medical workforce implies that domestic graduates from any state be given priority over international graduates from any state. The policies of the states do not currently reflect this aim.
The current system stands in contrast to a merit-based system where intern jobs would be given to the best graduates regardless of their country of origin. – Anthony Scott.
The Conversation is fact checking political statements in the lead-up to this year's federal election. Statements are checked by an academic with expertise in the area. A second academic expert reviews an anonymous copy of the article.Request a check at checkit@theconversation.edu.au. Please include the statement you would like us to check, the date it was made, and a link if possible.