Ridesharing. It's no safer than hitchhiking. – full page advertisement by the NSW Taxi Council.

Allowing illegal taxi services to operate unregulated puts the public at significant risk. – NSW Taxi Council CEO Roy Wakelin-King, interview, The Daily Telegraph, August 10, 2015.
In Australia, as in other countries, Uber and ridesharing apps like it are now posing a threat to the market dominance of traditional options such as taxis.
The threat to livelihood is taken so seriously that taxi drivers recently rioted in France with the aim of stopping Uber providers and users and eroding their trade. But traditional commercial transport groups have launched other, more subtle, attacks aimed at making people think twice before using these types of apps.
One such tactic is to claim ridesharing carries an increased risk of crime when compared to traditional transport methods. In other words: scare tactics.
The NSW Taxi Council's evidence
When asked for data to support the claim that ridesharing is no safer than hitchhiking, a NSW Taxi Council spokesman said:
Illegal ridesharing is provided by private drivers in private vehicles. The services are provided outside of the law and therefore none of the safety systems that are mandated for taxis exist in illegal ridesharing vehicles and ridesharing drivers.

Specifically, illegal ridesharing vehicles do not have:

Security cameras as mandated by the NSW Government
Alarm systems as required by the NSW Government
Vehicle tracking devices that are fixed to the vehicle
Distinctive livery and internationally recognised signage to identify the vehicle
Compulsory independent vehicle checks on a regular basis at a Government authorised inspection station
Roadside compliance operations which in the last 12 months have checked over 2000 vehicles

In addition to the above, illegal ridesharing drivers are not required by law to:

Undergo criminal background checks
Driver history checks
Medical checks to a national standard
Immigration checks
National based training and competency standards
Independent knowledge and English language testing

For taxis, all of these checks occur upon application and they are ongoing. Taxi drivers who fails to continuously meet these obligations can lose their authority to drive. It is clear that illegal ridesharing, in the absence of the government requirements above, is no safer than hitchhiking. There have been numerous examples both overseas and now emerging in Australia where passengers of illegal taxi services like ridesharing are being exposed to significant risk.
The spokesman referred The Conversation to several recent examples of risk to passengers.
In both the UK and the US, criminals convicted of sexual and violent crimes have successfully passed Uber background checks. All criminal background checks of Uber drivers are conducted via the Australian Federal Police's Crimtrac database, while driving history checks are conducted by the relevant transport authority in each state.
A factsheet provided to The Conversation by Uber says:
When a rider books a ride through the app they are provided with the name, photograph and vehicle plate number of the driver-partner and can track their route on a map. A rider can also share the details of their trip with others through the Share My ETA feature.
Uber also riders and drivers to rate each other out of five stars after each trip and to submit written feedback.
The Routine Activity Theory or "crime triangle" theory provides a relatively simple explanation as to why most crimes occur. The theory argues that a crime is more likely to occur when there is a lack of capable guardianship.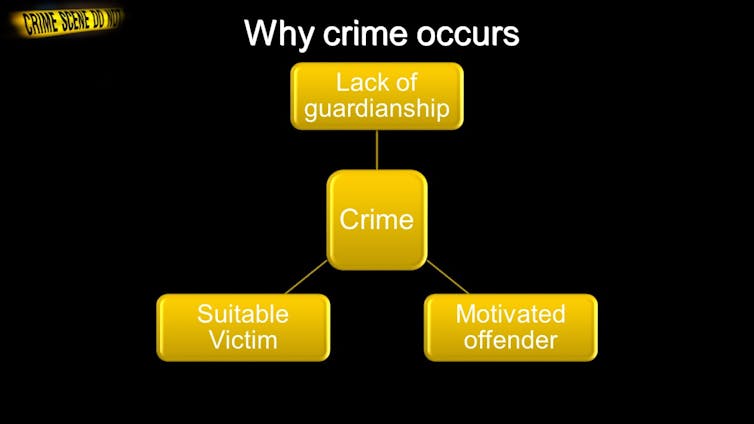 The NSW Taxi Council's claim that using an Uber service is as dangerous as hitchhiking is not well supported by evidence. Clearly, it is not as dangerous. Uber drivers do undergo some background checking; in the hitchhiking scenario there is none. Second, in using an Uber app, the passenger creates an electronic record of their interaction with the provider.
This is something that would be of crucial importance to investigators later, as it would allow the driver to be identified. The app and its electronic record provides guardianship and makes the offence less appealing to a potential offender. It may not stop the offence, but it will certainly aid in solving it. The same can be said for booking a taxi online, use of in-taxi cameras and GPS tracking for both taxis and Uber.
Violent crime is not unique to rideshare app users. In past years, a number of concerns have been raised in Australia and overseas about sexual offences committed by taxi drivers against passengers.
In some regards, Uber is more traceable due to it operating through technology. Compare that to a taxi fare picked up on the side of the road. Although most taxis now have GPS tracking and in-car cameras, these are only of use once the taxi used in the offence has been identified. It is for this reason that the Queensland Police Service advises people to book a taxi (electronically, via phone or SMS) in preference to hailing one. A record is kept by taxi companies of all bookings made.
Little – if any – empirical data
Much of the debate is relying on single cases or anecdotal evidence. There is little – if any – empirical data available to draw a valid comparison between Uber and taxis drivers and the crimes they may commit in the course of their employ.
In some jurisdictions, there is some limited data that has been made publicly available in relation to offences committed by taxis drivers.
Uber, however, is an unknown beast. One US news service did try to unsuccessfully compare data for Uber and taxi crime from government sources. The reporters asked police departments in five cities — Boston, San Francisco, Chicago, New York, and Washington, D.C. — for information about assaults against passengers of taxis or Uber cars, finding that:
None of them tracked violent crimes at that level. This is meaningful because it underscores how the narrative about ridesharing and public safety is largely anecdotal. It raises another question, too: If Uber is potentially unsafe for passengers, what about taxis?
To ensure safety, Uber relies on background checks, safe pickups, anonymous feedback, driver profiles and insurance and certain vehicle standards.
The taxi industry argues that this falls short of its requirements, but does not provide empirical data to show that ridesharing is no safer than hitchhiking.
Verdict
The claim that ridesharing is no safer than hitchhiking is not supported by empirical data. Much of the data used by critics of Uber rely on anecdotal data and media reports to support their view ridesharing puts passengers at personal risk.
In general terms, a Uber service is safer than hitchhiking due to the safeguards built into the Uber system. Is it as safe as catching a taxis? The answer to this remains unknown due to a lack of data and empirical research.
---
Review
I concur with this assessment. In order to sustain the claim made, there would need to a systematic comparison of the experiences of hitchhikers and Uber passengers. There is no study of this kind, it would appear, or those making the claim would presumably have referred to it.
Anecdotal accounts, while making good news copy at times, prove nothing; as noted, anecdotes can also be found to indicate dangers in the regulated taxi industry. It should be borne in mind that there is powerful negative symbolism associated with hitchhiking in New South Wales not least because of the Ivan Milat cases.
To invoke that association even implicitly or subconsciously in relation to the activities of one's competitors is a tactic likely to be effective in terms of raising public fears about the safety of alternatives to regulated taxis. – Andrew Goldsmith
---
Correction: An earlier version of this article included a comment from the NSW Taxi Council that there is no mandatory maximum age for ridesharing vehicles. In fact, Uber does have a mandatory maximum age for vehicles.
Have you ever seen a "fact" that doesn't look quite right? The Conversation's FactCheck asks academic experts to test claims and see how true they are. We then ask a second academic to review an anonymous copy of the article. You can request a check at checkit@theconversation.edu.au. Please include the statement you would like us to check, the date it was made, and a link if possible.