The Conversation is fact-checking claims made on Q&A, broadcast Mondays on the ABC at 9:35pm. Thank you to everyone who sent us quotes for checking via Twitter using hashtags #FactCheck and #QandA, on Facebook or by email.
---
KEN WYATT: When we came into government there were 2000 … There were 2000 children within Nauru. We now have it down to about 104.

LISA SINGH: But they were processed, Ken … They weren't left languishing for years.

KEN WYATT: Yes. Yes, they were.

LISA SINGH: No, they weren't. – Assistant Health Minister Ken Wyatt, speaking with ALP senator Lisa Singh on Q&A, October 12, 2015.
There are two assertions worth checking here:
Has the number of asylum seeking children in Nauru declined from 2000 to 104 since the Coalition took office?
Were children in detention "languishing" when the ALP was in power, or were they processed out of detention quickly?
The number of children
When the Coalition came into office in September 2013, there were around 1700 asylum seeker children in restricted forms of immigration detention in Australia and there were 87 children at regional processing centres such as Nauru.
The 1700 figure does not include children in community detention, which is when people live in the community while their immigration status is resolved.
At the peak of people arriving in Australia by boat, around June or July 2013 when Labor was in power, there were close to 2000 asylum seeker children in detention, as shown in the chart below: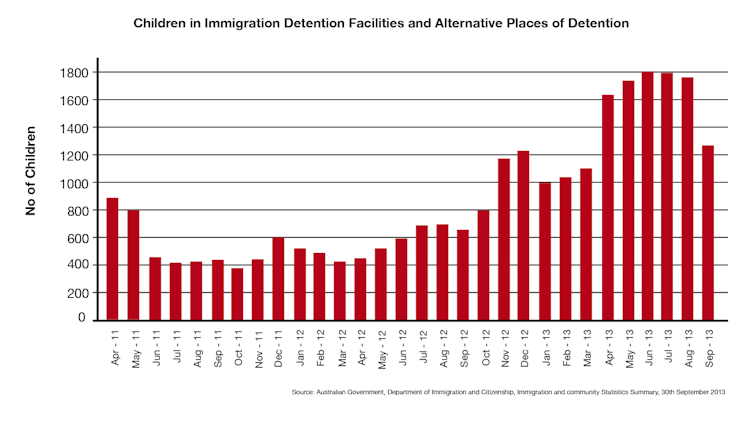 The NGO ChilOut, which campaigns for the release of asylum seekers in detention, reports that the government's latest statistics, dated August 31, 2015, reveal that:
104 children are held in immigration detention facilities within the Australian mainland;

93 children are held in detention facilities in Nauru.
So it is not technically accurate for Wyatt to say there were 2000 children "within Nauru" when the Coalition took office; he likely meant to say "in detention". The number of children in detention centres in Australia and Nauru combined is now around 197, not 104 as he said – all easy mistakes to make under the pressure of a live TV debate.
However, Wyatt is broadly correct. The overall number of asylum seeking children in detention has declined significantly since the Coalition took office.
Wyatt clarified his comments in a statement to The Conversation, which you can read here.
Length of detention
Under Australian law, children remain in detention until they are either sent to a regional processing country offshore, granted a visa (such as a bridging visa), or transferred into community detention.
When asked for evidence to support her statements on children "languishing", a spokesman for Singh referred The Conversation to a series of media reports and The Forgotten Children report. You can read her full reply here.
Singh is correct in that most children arriving by boat were moved out of detention within fairly short timeframes during 2013. The average time in detention for people was 81 days as at June 30, 2013.
However, this is an average time spent in detention; some children were detained much longer. For example, children whose parents had an adverse security assessment are effectively held in indefinite detention.
Being released from detention is only one step. Under both governments, there have been significant delays in processing refugee status claims in Australia and in the regional processing centres (Nauru and Manus Island).
In July and August 2013, the Rudd Labor government announced that any further boat arrivals would be processed at regional processing centres in Papua New Guinea and Nauru and would not be resettled in Australia. All children arriving after July 19, 2013, were to be taken with their families to Nauru.
The Coalition continued with this policy once it took office in September 2013. While the number of people arriving by boat dropped dramatically, the time people spent in detention increased.
Chart 10 in The Forgotten Children report by the Australian Human Rights Commission, released this year, shows that the number of children in detention dropped in the period July 2013 to January 2014 – but the length of detention increased.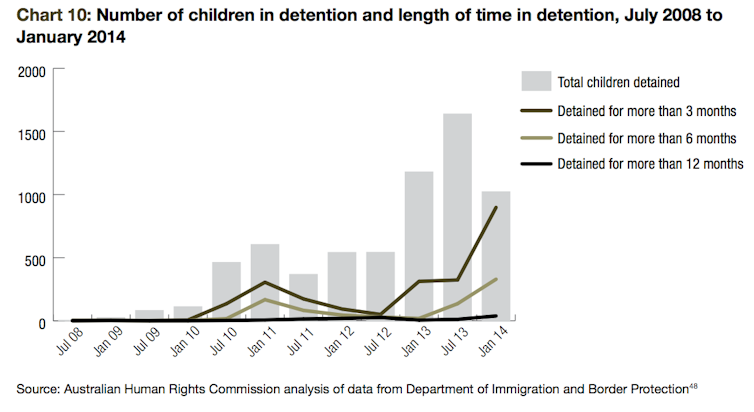 Statistics from the Department of Immigration show that the average length of detention for asylum seekers has increased dramatically since September 2013. The average length is now 412 days.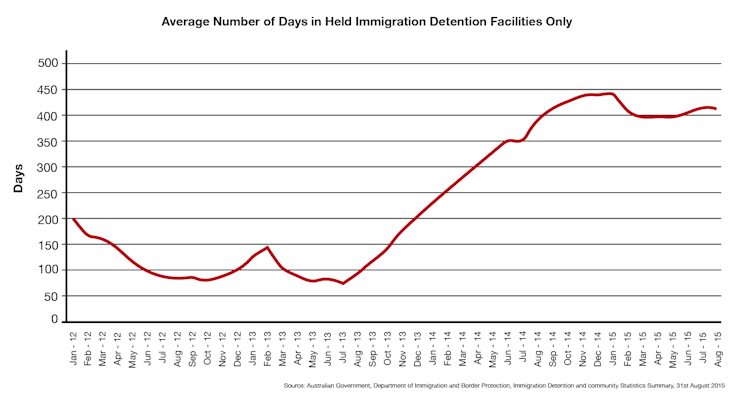 However, the statistics do not show the average length in detention for children.
There is clear evidence that detention – particularly prolonged detention – has a significant negative impact upon the mental health and well-being of children and their parents.
---
Verdict
To answer the questions posed at the beginning of this article:
Has the number of asylum seeking children in Nauru declined from 2000 to 104 since the Coalition took office?
This is close to being correct. There were approximately 1700 children in detention in mainland Australia and Christmas Island when the Coalition took government. There are now about 104 in detention in mainland Australia, but an additional 93 in the regional processing centre on Nauru.
Were kids in detention "languishing" when the ALP was in power, or were they processed out of detention quickly?
There were high numbers of children in detention under the ALP government due to the high number of boat arrivals. The average time in detention was around 81 days. However, some children were detained for longer than the average time. Under the Coalition government, while the number of children in detention has decreased, the average time in detention has significantly increased. – Mary Anne Kenny
---
Review
The author has presented a sensible analysis of the claims relating to the number of children detained and the duration of their detention period under different governments.
However, 608 children were released from detention between August 2013 and September 30, 2013. This was likely an outcome of existing standard procedure but it is also possible the Labor government released as many children as it could before likely electoral defeat. Whatever the reason, the Coalition would have had little impact on detention numbers within their first 12 days in office (they took office on September 18, 2013). For this reason, I refer to the September 30 figure to understand the size and composition of the detention population at the time the Coalition took office.
As the author shows, the number of children in detention on August 31, 2013 was 1773 (including 1743 on the mainland and 30 in offshore facilities). However, as of September 30, 2013, the number of asylum seeking children detained was 1165, including 1078 on the mainland and 87 in offshore facilities.
There are currently 205 children in detention. These are the Department's statistics from September 30, 2015. The author used the figures from August 31, 2015 which show 197 children in detention.
I agree with the author that there is evidence the length of detention for children has extended under the Coalition government. The Forgotten Children report states the average period children were held in detention in March 2014 was 231 days (7.5 months). While equivalent child-only data is not available for the Labor-led government, the average for all detainees on September 30, 2013 was 115 days. – Robyn Sampson
---
Have you ever seen a "fact" worth checking? The Conversation's FactCheck asks academic experts to test claims and see how true they are. We then ask a second academic to review an anonymous copy of the article. You can request a check at checkit@theconversation.edu.au. Please include the statement you would like us to check, the date it was made, and a link if possible.