"This legislation will target only criminal motorcycle gang members. Other law abiding motorbike riders have nothing to worry about," Queensland Attorney-General Jarrod Bleijie, press release, October 8.
As part of a statewide crackdown, the Queensland government last week passed new laws targeting outlaw bikie gangs.
Queensland is now one of a few states attempting to target and prevent crimes associated with motorcycle gangs. But there are concerns, particularly from civil liberties groups who see the law as impinging on personal freedoms.
Repeating the claim above by Jarrod Bleijie, state premier Campbell Newman said in a statement last week that "law-abiding motorcyclists have nothing to fear".
But the Australian Council for Civil Liberties says otherwise, claiming that inevitably innocent riders will be affected.
So who's right? And what do the new laws really do?
The new laws
The new Queensland legislation targets "participants" or "vicious lawless associates" of named associations. To date, the associations are 26 outlaw motorcycle gangs, which include gangs like the Bandidos, Finks and Mongols.
The "participants" are defined as anyone who declares or advertises their membership of an association, including those who wear gangs patches. But it would also include those who are "non-patched" members of the gangs and others who associate with the club. At this time, it is not clear who this might include.
"Vicious lawless associates" are those who commit one of the serious offences named in the bill.
Under these definitions, there are a couple of ways in which non-gang riders and others may be affected by the legislation.
They could either be targeted by police on the suspicion that they belong to or are associated with a named outlaw motorcycle gang. Or they could be an innocent person who meets the definition of "associating" with an outlaw motorcycle gangs.
Suspicious minds
Under these new laws the police are able to stop and search people on suspicion of being a member or associate of one of the named outlaw motorcycle gangs. But the main way to identify a gang member is by the credentials on their back – their "patch".
It's hard to see what suspicion the police can have that a group of riders belongs to an outlaw motorcycle gang other than their patch. But it is largely left open to police interpretation and has the potential for confusion.
This has already been demonstrated by recent reports that two police officers confused a man's Sons of Anarchy t-shirt, which featured a fictitious bikie gang symbol from the popular HBO series, with that of an outlaw motorcycle gang patch.
And we already have anecdotal evidence of non-outlaw motorcycle gangs groups attracting police attention and harassment.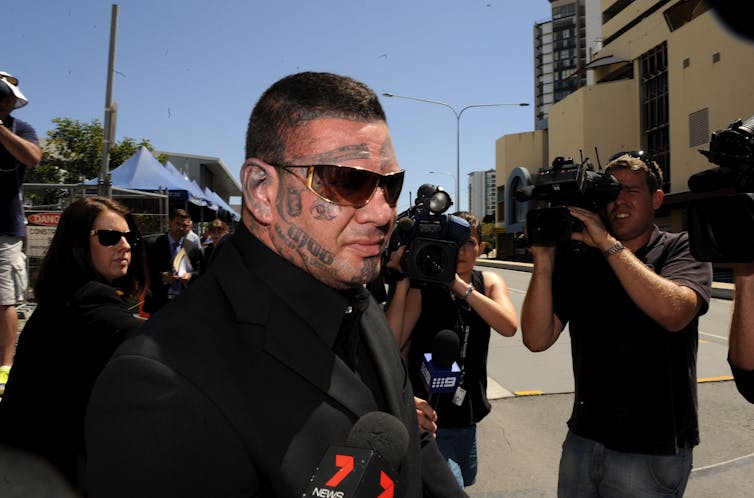 Regarding the second point, the definition of an "associate" is very broad and includes taking part "on any one or more occasions in the affairs of the association in any way".
We do not know how the courts will interpret this definition, but the potential for affecting innocent people is certainly there. For example, the courts could well see a person who conducts a legitimate business, like installing air conditioners into a clubhouse or even hiring out a van to be used by a club, as an "associate". This sees the potential for law-abiding people to get caught up in legal proceedings.
So while law-abiding people are not the target of the laws, they definitely have the potential to be collateral damage.
Verdict
The legislation specifically targets people who are associated with named outlaw motorcycle gangs. But its definition of this association is loose and allows opportunities for innocent people to be caught by the legislation.
In the end, the statement that law abiding motorbike riders have "nothing to worry about" cannot be claimed with any certainty.
---
Review
I agree with the author that the assertion that law-abiding motorbike riders have "nothing to worry about" is not entirely accurate. Without narrower definitions and measures in place to protect against overzealous policing, there is a real risk that the laws will be used expansively, as occurred with the NSW consorting laws passed last year.
The first person convicted under those laws was a mentally impaired young man who had no connection with bikie groups. He was sentenced to nine months in prison, although this was subsequently overturned.
There is a real concern about the potential impact of this kind of legislation on the general public. - Lorana Bartels.
Ever seen a "fact" that doesn't look quite right? The Conversation's FactCheck unit asks academic experts to test claims and see how true they really are. We then ask a second academic to review an anonymous copy of the article. You can request a check at checkit@theconversation.edu.au. Please include the statement you would like us to check, the date it was made, and a link if possible.