For Vladimir Putin, the abortive Wagner Group coup has been a humiliating affair that exposed his lack of control over military units ostensibly fighting for Russia. It was an episode that the Russian president is unlikely to forgive in a hurry.
But for the Belarusian dictator, Alexander Lukashenko, it has been a boon. With the rebels just 200km from Moscow, Minsk announced Lukashenko had brokered a deal with their leader Yevgeny Prigozhin, promising a safe passage and amnesty for Prigozhin's troops and a one-way ticket to Belarus for himself. Shortly after this announcement, Prigozhin aborted his march on the Russian capital and his soldiers began to withdraw from the two Russian cities they had occupied.
Lukashenko can now pose as someone whose intervention got the Russian president out of a tight spot and helped stave off a civil war in Russia. On the morning of June 24, the situation looked serious, as Putin spoke of treason and declared a state of emergency. But then, out of the blue, Lukashenko saved the day – or so the narrative goes.
---
Read more: Ukraine war: aborted Wagner Group rebellion shows how Putin's attempt to unify Russian forces has failed to quell factional rivalries
---
Some experts doubt that he played as big a role in Prigozhin's climb-down as has been claimed. But the Kremlin chose to confirm the story and it has dominated Russian and Belarusian media ever since.
Allowing Lukashenko to take credit for the deal elevates his standing in the very unequal relationship between Minsk and Moscow.
The Belarusian dictator was not always as much in Putin's pocket as he has been of late. There have been some bumps in the relationship between the two: contention over energy prices, for example. Or his public arrest of Wagner Group mercenaries in 2020, which was accompanied with loud accusations they were there to meddle in the upcoming elections.
Despite the "union state" relationship between the two countries, Lukashenko also fought for a measure of control over his country's foreign and economic policies, while also keeping channels open to the EU.
But all that changed after the 2020 election, thought by many to have been rigged. Widespread protests ensued, which prompted Putin to offer to send in Russian troops to help. Since then, Lukashenko's regime has been almost wholly economically and politically dependent on Putin.
Facilitating the deal with Prigozhin will not change that. But it is likely to boost Lukashenko's position as a loyal – and, more importantly, vital – Putin ally.
Lukashenko still on shaky ground
Lukashenko also had his own reasons to want the Wagner coup to fail. Its escalation would have forced Putin to concentrate his attention and resources on the trouble at home, leaving the Belarusian dictator vulnerable to a return of mass protests.
Certainly, the news of the apparent coup in Russia galvanised the exiled Belarusian opposition who saw it as a "historic chance" to succeed where the 2020 protest movement had failed.
Sviatlana Tsikhanouskaya, the head of the United Transitional Cabinet in exile and Lukashenko's main challenger in the 2020 presidential elections, held an emergency meeting of her advisers and called on other opposition groups to form a united front.
Addressing the Belarusian people in a video posted on Telegram, she said that "while Russia is preoccupied with its civil war, we might have a chance to free our country from dictatorship". In another video aimed at the military in Belarus, she said the events offered "the best chance to evict the Russian army from our country". Her calls were echoed by other opposition leaders.
The exiled opposition's weapon of choice so far has been diplomacy, but it is not entirely without military muscle. Days before the Wagner uprising, Tsikhanouskaya's adviser on national security, the former paratrooper Valery Sakhashchyk, revealed the existence of a Belarusian paratrooper detachment that is fighting as part of the Ukrainian army in the south-east of the country.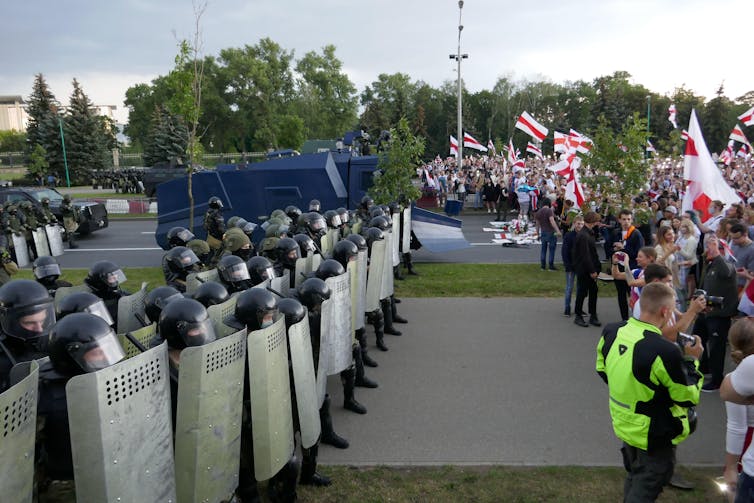 Another unit of Belarusian troops fighting in Ukraine is the Kalinoŭski Regiment, which is prepared to use military force to overthrow Lukashenko and bring democratic change to Belarus.
One of the largest foreign military units in Ukraine, the regiment is not affiliated with Tsikhanouskaya's office. But its members believe that a Russian defeat in Ukraine would pave the way for the fall of Lukashenko.
As Prigozhin and his troops marched towards Moscow, Kalinoŭski Regiment commander, Dzianis Kit Prokharau, declared in a video post on Telegram that "the time of freedom is approaching", adding that the regiment's "large reserve of supporters" at home should be ready for action.
Future uncertain
But not yet, it seems. The failure of the Wagner Group's attempt to cause havoc in Russia, and thereby create an opportunity for Belarusians to wrestle their country from Putin and Lukashenko's grip, must have left many disappointed. Tsikhanouskaya told Bloomberg in a video interview that she still considers Prigozhin a threat to Belarus, Ukraine and Russia.
In any case, his arrival in Belarus has yet to be reported. Russian sources claim that he remains under investigation, contrary to the guarantees given to him as part of the deal brokered by Lukashenko.
The whole episode reminds us that challenges to dictatorships can rise quickly and unexpectedly – and the long-term fallout for Putin is still uncertain. It might come to nothing, but public humiliation is generally bad news for dictators wanting to project themselves as strongmen.
For now, Lukashenko might be basking in the publicity of his part in the deal. But all this could change if – as is widely believed – Putin's credibility as a strong leader is irretrievably tarnished and he begins to find it increasingly difficult to control his elites.
No doubt the Belarusian opposition is readying itself for just this eventuality.