Since taking over as chief executive of the Football Federation Australia (FFA), Australian soccer's governing body, David Gallop would have "sold his arse" (to paraphrase Tony Abbott) to have the sport on the front pages of the major Australian daily newspapers. However, it seems that this type of publicity might be the exception rather than the rule of the old adage.
As the FFA sweats over the depth of the match-fixing scandal at the newly-promoted Southern Stars FC in the Victorian Premier League (VPL), they can at least bask in the unexpected international limelight. Ten people were arrested and six men, including the club's coach and goalkeeper, have so far been charged with various offences relating to the match-fixing ring. Club officials, meanwhile, have denied any knowledge of the wrongdoing.
So, at last, Australian soccer is recognised around the world - not for the quality, but for an unprecedented (at least in Australia) match-fixing scandal.
Infamy shines on Southern Stars
Southern Stars are currently bottom of the Victorian Premier League, with only one win under their belt. Incredibly, this came against Northcote, the league leaders. Their ladder position might not be particularly unusual for a team entering the next tier, whatever the sport. But on this occasion, Southern Stars had signed several experienced journeymen pros from overseas, a number of whom have been reportedly linked to the scandal.
The photo below from the club's website was taken at lunchtime on September 16. It is clear that having the Sportingbet logo beside the team's name was either ironic or startlingly prophetic.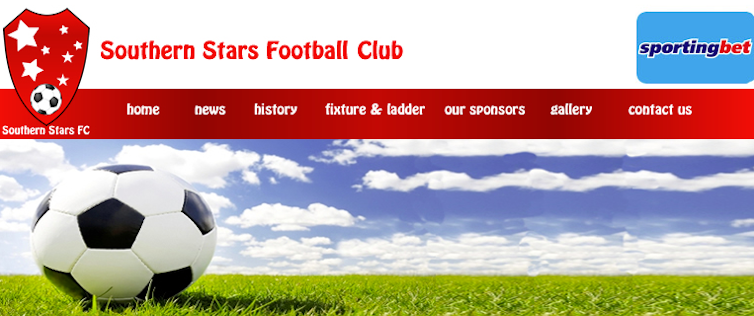 In the message to fans (below), Southern Stars wanted to announce their arrival into the VPL. Again, more irony, when they put "fair game" in inverted commas. The main aim was to play fair, but now the club has become fair game for the international media, Victoria Police and the FFA. The message also adds "we will add colour and vibe to the premier league".

Fixing a match
As a former soccer referee I have been accused of many things including questionable parentage, having changed my sexuality, and being a "cheat".
Any referee can let the the first two taunts spin off his or her back, but being called a cheat goes right to the core of what you are trying to do. It is the same for players - being accused of diving or faking an injury can hit you harder than a Kevin Muscat tackle. Anyone involved in soccer can take a bribe and attempt to throw a match in some way.
There are plenty of examples of this. In the 1990s, Liverpool goalkeeper Bruce Grobbelaar faced trial for match-fixing but was found not guilty. Watching clips of some of the "saves" he was accused of not making is the same as watching clips now. To prove beyond doubt that a player is deliberately throwing a match can be difficult - at least in a court of law.
Best fix
If you were wanting to definitively fix matches the optimum position would be to have both teams involved, which seemed to happen in two promotion deciders being played simultaneously in Nigeria earlier this year.
With the matches finishing at 67-0 and 79-0 respectively it looked suspicious. In the case of having both teams involved in match-fixing this gives you greater control in influencing the outcome.
Having a good number of players in your team involved means that you have effective control over two essential parts of the game - not scoring, and deliberately losing goals. This could be the angle that the accused Southern Stars players took, in that you can't cheat and score lots of goals (presuming the other team are fair dinkum) as there is the variable of the other team trying to stop you.
The influence lies in being able to not try to score, and then letting "soft" goals in at a time of your choosing.
International betting … on the VPL?
In this particularly sad situation for the VPL and FFA - not to mention Australian sport - it seems that the international betting syndicates have influenced and targeted a provincial competition. Being able to bet on virtually anything from anywhere means that the arms of temptation have a long reach.
It would be scandalous if we find out that some of these new overseas players were invited to Southern Stars as part of a premeditated plan to throw matches, as has been suggested. These are the questions which may prove very interesting when the court case eventually comes around.
Early warning system
What is clear from this betting scandal is that it must have been apparent within the club - at least to some extent. With ten arrests and six people charged so far, it is not stretching the truth to suggest that others outside the ring may have been aware of it.
Players who are substitutes or on the fringes and not getting called up could have had some idea that there was foul play. Players know when other players are not trying. It might be harder for other teams to notice as they are only playing them once and therefore cannot judge as well.
Anonymous reporting
Of course, this is an isolated incident in Australia - at least according to the FFA.
However, as with any major scandal, questions must be asked as to whether this could have been dealt with at an earlier stage. If a Sports Integrity Commissioner existed for every code, it may go some way to the creation of an early warning system. Any player, club official or match official - amongst others - should be able to report this anonymously to the commissioner, who would have powers of investigation.
Having this type of post within - but independent of - the governing body will assist with greater accountability and ensure a stricter enforcement of the sport's ethical codes.
This is a dark day for soccer in this country, but the FFA should take a reasonable amount of credit for dealing with this in an upfront way.