Anxiety is growing among Roma people from elsewhere in the EU about their lives in the UK after Brexit. The British government has announced a registration scheme for all EU citizens who arrive in the UK before December 31, 2020 to apply for a pathway to a new "settled status". Although the government's plan aims for simplicity, many Roma who I've spoken to as part of my research fear that limited literacy and the inability to independently complete the application will prevent them from securing their right to reside in the UK.
It's telling that Roma who arrived in the UK prior to the EU accession of Eastern European countries such as Poland and Hungary in 2004 and Bulgaria and Romania in 2007, primarily claimed asylum upon entry. Discrimination and abuse against this much maligned ethnic group runs rampant in Eastern Europe, taking the form of segregation in schools, exclusion from employment and physical violence.
Those Roma who have come to the UK with EU free movement rights have reported that the diversity of UK society allows them to blend in and escape the stigmatisation of their identity that is so common in their countries of origin. Yet this sense of security has been put under strain with the Brexit vote.
My wider PhD research among grassroots Roma organisations focuses on their experiences of using health services, yet in the years since the Brexit vote the migrant identity of UK Roma communities and its impact on their personal well-being has become inseparable from my overall focus on their interactions with the NHS. A set of extra focus groups I organised in July 2018 to discuss Roma community members' concerns about the settlement process for EU citizens revealed a picture of fear and uncertainty.
---
Read more: EU citizens: what settled status after Brexit really means – a legal expert explains
---
A sense of desperation
The application for settled status consists of an online form, which requires applicants to supply proof of identity and residence. The Roma I spoke to were overwhelmingly doubtful of their ability to independently complete the application. For a community with low levels of educational attainment and high rates of functional and digital illiteracy, even the simplest of online forms can be completely inaccessible.
It's still unclear what level of assistance the Home Office will afford applicants facing language and literacy barriers. Members of the Roma community foresee dire personal consequences arising from this potential lack of support. One Roma man from Poland told me many will hope to get help from trusted voluntary organisations to complete the application. But the Home Office hasn't clarified the extent of accreditation that will be necessary for organisations to assist with settlement applications, and organisations without accreditation as providers of immigration advice could be excluded from offering assistance.
From the perspective of the Roma, this raises the fundamental issue of trust. A Roma woman, also from Poland, told me:
Probably, because it's the Home Office, people will be scared to do anything.
Roma in Eastern Europe have long been disadvantaged at the hands of bureaucratic processes, and many still fear that engagement with government officials will result in challenges to their basic rights. They are unlikely to engage with formal Home Office advice mechanisms, and without access to support from a trusted source, there is a danger that many Roma will choose to forego the settlement application altogether. This could plunge them into a state of unauthorised immigration.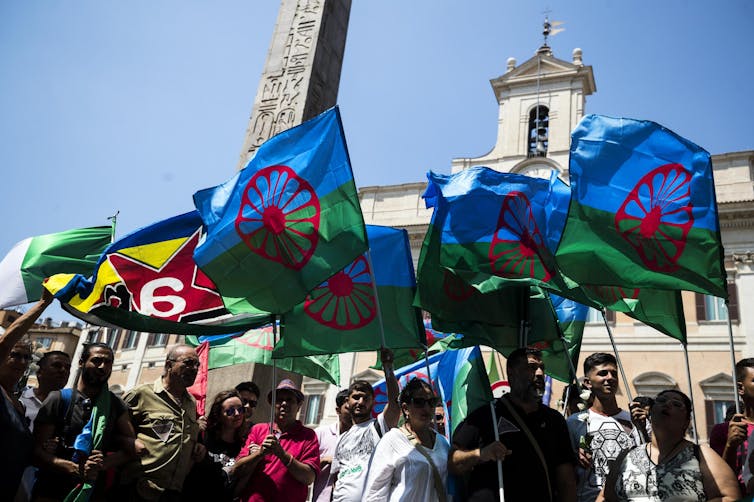 Proving 'suitability'
There is pervasive fear among the Roma that extreme marginalisation in their countries of origin will impact negatively on the Home Office's assessment of their applications for settlement. The prospect of overseas criminal records checks crystallises this concern. Roma in Eastern Europe are often subject to routine and unjust criminalisation, yet it is unlikely that Home Office assessments of criminality will take into account the social context of Roma applicants' criminal records. In this vein, one Roma man from Romania said:
Roma have been like slaves, and Roma inherited what their parents and grandparents had, then communists took everything off them. So the social environment forced people to do some things so that they could survive. Now, here, they've had the opportunity to do something better, and they've done, and the Home Office shouldn't look at what's happening in those countries.
The stakes are high. It's not clear yet what will happen to those who miss the June 30, 2021 application deadline for settled status. Other grounds for refusal remain unclear. Many Roma who I've spoken to said that they fear deportation back to discriminatory and abusive conditions in their countries of origin.
---
Read more: The EU citizens at risk of failing to secure 'settled status' after Brexit
---
The Home Office must urgently consider the potential human rights implications of its settled status scheme for vulnerable migrant groups, and offer greater transparency about the mechanisms of how immigration advice is provided and the criteria on which applications will be assessed.