Feral cats are estimated to eat tens of millions of native animals each night in Australia. But what kinds of wildlife are they eating? In research published today in the Journal of Biogeography, my colleagues and I show that cats kill hundreds of different kinds of animals, including at least 16 species considered globally threatened.
Feral cats are a serious threat to wildlife globally, contributing to the extinction of numerous birds, mammals and reptiles worldwide. In Australia, cats have been implicated in the extinction of at least 20 mammal species and sub-species, including the lesser bilby and desert bandicoot.
Cats are widespread across the country, so it's likely that their diet varies according to the local environment and fauna community – which might be affected by many factors, such as the amount of rainfall that an area receives or the native plant life.
Knowing what cats eat can help us decide how best to manage them.
Feline feast
What we found supports earlier research – the feral cat is an opportunistic predator - a generalist carnivore that eats a wide range of wildlife across Australia.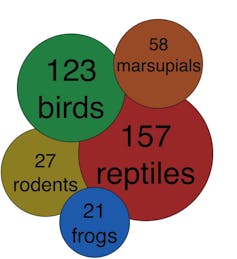 Feral cats help themselves to a phenomenal number of species in Australia – 400 different vertebrates. This includes 123 bird species, 157 reptiles, 58 marsupials, 27 rodents, 21 frogs and nine exotic medium- and large-sized mammals. This is more than double the 179 species of animals that cats have been recorded eating on other islands worldwide.
However, this list only includes those species that have been recorded in diet studies, so it's likely that there are many other species of native animals that cats kill and eat, that we just don't know about yet.
Feral cats also eat many threatened species in Australia, and have been implicated in the decline of many species including the bilby, numbat, and western ground parrot.
We found that cats kill at least 16 globally threatened species and 12 others classed as near-threatened. This include mammals like the critically endangered mountain pygmy-possum and the brush-tailed bettong (woylie); the endangered northern quoll; as well as the critically endangered Christmas Island whiptail-skink and the vulnerable malleefowl.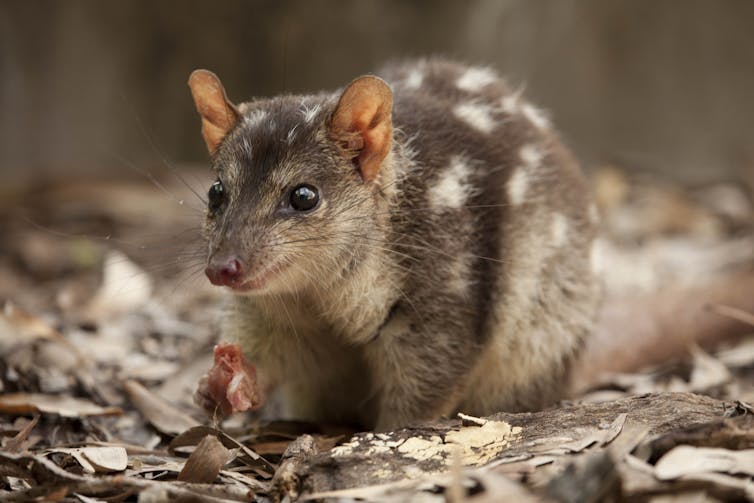 Desert desserts
What feral cats eat varies depending on where they are.
In our study, cats ate rodents most often in Australia's tropical north. They ate medium-sized mammals, such as possums and bandicoots, most frequently in the south-east of the country. Still, cats ate rodents three times more often than other small, carnivorous mammals known as dasyurids (like dunnarts for example).
Cats also ate many mammals from a group that has suffered severe declines and extinctions over the past 200 years. These are known as "critical weight range" mammals, and weigh between 0.35 and 5.5 kilograms. Unfortunately, these mammals make suitable sized prey for many predatory species such as the feral cat and the introduced red fox.
What cats eat also depends on the amount of rainfall an area receives. Cats fed on reptiles most frequently in the central deserts, where rainfall is lowest. These deserts are also the most reptile-rich part of Australia (and the world).
Cats commonly feed on another widespread pest species: rabbits. Where cats ate fewer rabbits, the frequency of small mammals (rodents and dasyurids) in their diet increased. In Australia's tropical north where rabbits are mostly absent, cats ate the highest frequency of rodents and dasyurids of anywhere in the country.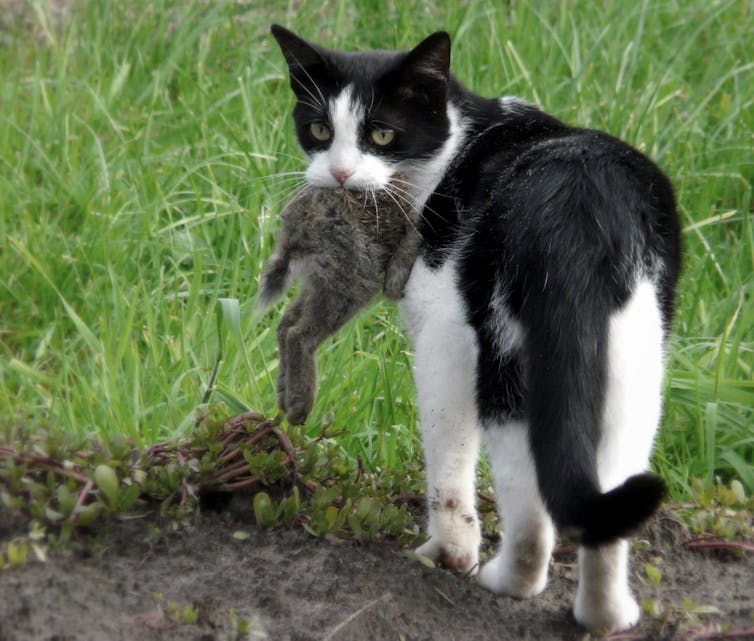 This has important implications for how we manage pest animals. If rabbits are culled from an area, but cats aren't controlled at the same time, then cats might switch prey and eat more small native mammals.
Past experience tells us how these programs can go awry. For example, when feral cats were eradicated from Macquarie Island in 2000, rabbit numbers exploded because the cats had kept the rabbits in check. Rabbits caused severe damage to the island's native vegetation before being eradicated themselves in 2014. This suggests that a multi-species approach should be adopted for pest animal control.
Cat control
Large-scale control of feral cats is very difficult, particularly on the mainland, although some programs have been successful on islands. The use of poison baits can reduce cat density, but even low levels of cat predation can exterminate threatened mammal populations, such as when cats killed at least seven bilbies reintroduced outside the Arid Recovery reserve in South Australia.
Predator-free islands and fenced reserves on the mainland are the most effective short-term protection for our threatened mammals. However, fences that exclude predators are very expensive to build, and they require constant monitoring, maintenance and funding.
Non-lethal methods have traditionally been overlooked in the fight against invasive predators, such as the feral cat. However, new research suggests that smart fire and grazing management can help preserve the natural shelters that provide native animals with refuge from predators.
Reducing the impact of feral cats on our native animals is a challenging endeavour, but it is essential in the fight to conserve our unique fauna.