Fifty years ago today, American sprinters Tommie Smith and John Carlos raised their black-gloved fists in the Black Power salute on the medal podium at the 1968 Mexico City Olympics to protest against racial inequality.
The protest became one of the most indelible sporting moments of the 20th century. Much less known, for a long time at least, was the silver medallist, Peter Norman, a white runner from Australia, who stood in solidarity with Smith and Carlos.
You may wonder why Smith raised his right hand while Carlos raised his left. Carlos forgot to bring his gloves to the ceremony. It was Norman who suggested they share the only pair they had, leaving an even stronger impact on the viewer.
Norman didn't raise his fist, but he did wear an "Olympic Project for Human Rights" badge on his chest. After the games, he said:
I believe that every man is born equal and should be treated that way.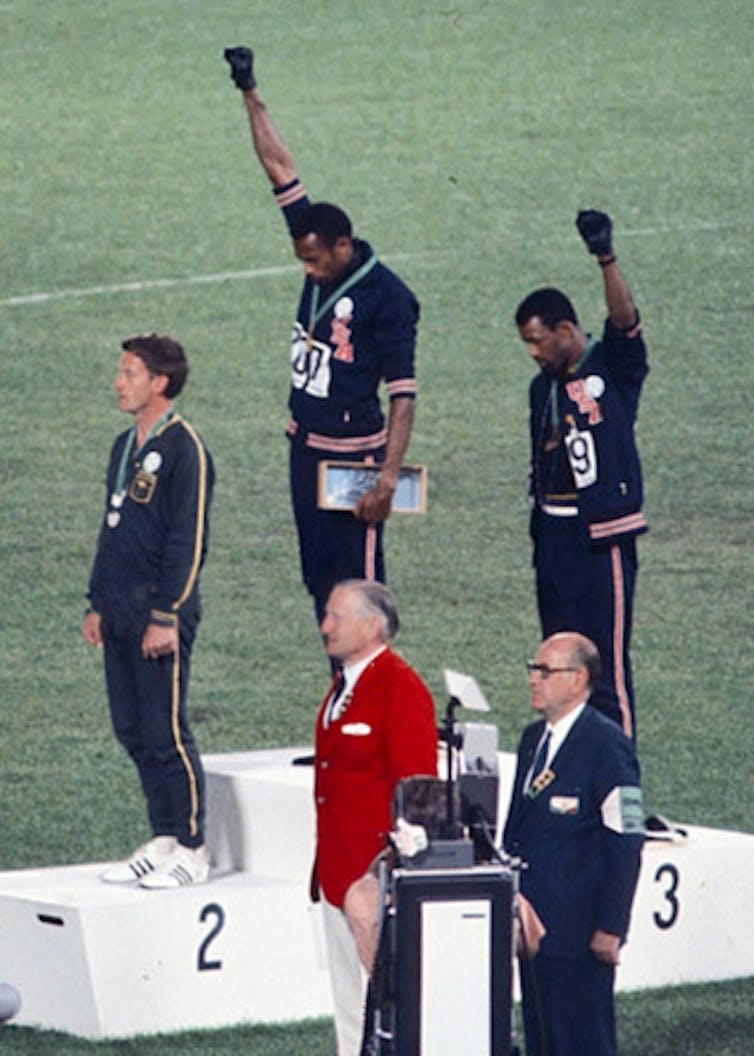 Different ways of remembering someone
Whether a person is remembered, and how a person is remembered, can vary by time and space. Individual memory may not be consequential for society. However, collective memory by a group of people, especially the people of a nation, can be very influential. But collective memory is also selective, as French sociologist Maurice Halbwachs noted, as different groups of people can have different collective memories of the same person or event.
French historian Pierre Nora distinguished between what he refers to as lieux de mémoire (sites of memory) and milieux de mémoire (real environments of memory).
Examples of lieux de mémoire include monuments, memorials, museums, anniversaries and treaties. These are partially preserved memories of a person and are often fragmented. In contrast, milieux de mémoire attempt to completely preserve a person's memory through historical depictions of their lives and accomplishments – biographies, documentaries and the like.
---
Read more: 'I will stand with you': finally, an apology to Peter Norman
---
When it comes to Norman, two countries have experienced different collective memories of him. He has been celebrated for his contributions to civil rights in the US, while Australia, a country that pursued a whites-only immigration policy for decades, chose to selectively forget him until recently.
The US has produced both lieux de mémoire and milieux de mémoire of Norman. Despite the initial outcry over the salute by Smith and Carlos, Norman became gradually integrated into the history of the civil rights movement in the US.
At the 2000 Sydney Olympic Games, Norman was invited as a guest, not by the Australian Olympic Committee, but by the USA Track and Field Federation.
And when he died in 2006, the federation declared October 9, the day of his funeral, as Peter Norman Day. Then, in 2012, CNN aired a documentary, The Third Man: The Forgotten Black Power Hero, about Norman's life story.
There are also two monuments remembering the 1968 black power salute in the US. One of them is at the new National Museum of African American History and Culture in Washington DC. It includes a statue of Norman, gazing stoically from the medal stand in front of the American sprinters.
The other monument was erected in 2005 on the campus of Smith's and Carlos's alma mater, San Jose State University in California. For this piece, the second-place podium was left empty. Norman had declined to be depicted, to allow visitors to stand in his place in solidarity with the two Americans instead.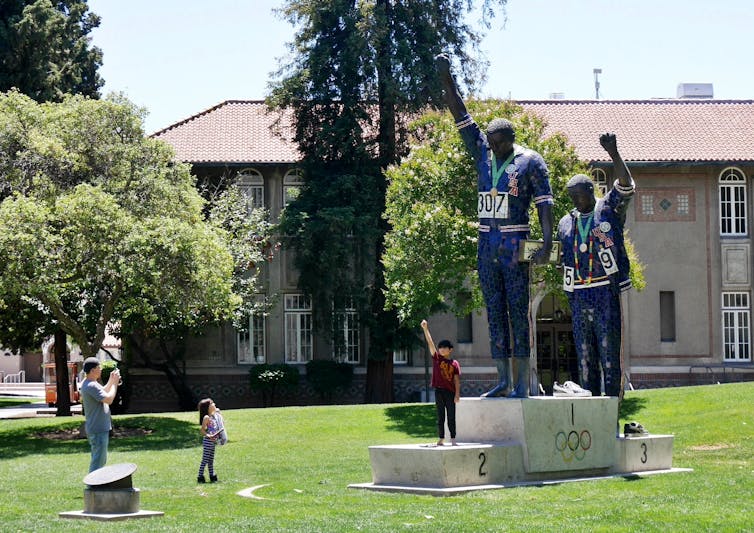 ---
Read more: Human rights and the Olympics: games of freedom or oppression?
---
Australia's slow acceptance of Norman's place in history
Australia, by contrast, has only belatedly made efforts to remember Norman and his achievements in athletics and contributions to racial equality.
When Norman returned to Australia following the 1968 Olympics, he faced intense criticism from the public and media. He was also ostracised by the Australian Olympic Committee, who decided not to send him to the 1972 Munich Olympics, even though he had met the qualifying time on numerous occasions. (The AOC maintains he was injured at the national Olympics trials and didn't qualify.)
Norman retired soon after.
After his death in 2006, some Australians began recasting Norman's actions in a more positive light.
In 2008, Norman's nephew, Matt Norman, produced a documentary, Salute, retelling the sprinter's story. It was nominated for best documentary in the Film Critics Circle of Australia Awards.
---
Read more: History shows Sidney Crosby could have stood up to racial injustice
---
But it was not until 2012 when the Australian parliament issued an official state apology to Norman. And this April, the Australian Olympic Committee bestowed an Order of Merit posthumously to Norman. It was a significant gesture, given the AOC has consistently denied blacklisting Norman after his return from Mexico.
A statue of Norman will also finally be erected outside a stadium in his hometown, Melbourne, which is due to be completed in 2019. And October 9 will also be recognised in Australia as Peter Norman Day, too.
This recognition through both lieux de mémoire and milieux de mémoire is long overdue. Remarkably, Norman's time in the 200m from the 1968 games still stands as an Australian record today. But his contributions to society should be remembered for far longer than what he achieved on the track.