Review: Finke: There & Back, directed by Dylan River
The Finke Desert Race takes place in the harsh desert environment near Alice Springs. Scores of motorbikes and cars are raced over two days along an off-road track that stretches approximately 229 kilometres each way.
The race was first envisioned as a motorbike race to test the skills of a small group of local enthusiasts in 1976. Cars were introduced 1988, and the race has developed into a heavily sponsored and lucrative international spectacle. Narrated by actor Eric Bana, Finke: There & Back follows the high-speed journey of those in a quest to be named King of the Desert.
As we watch the highs and lows of the competitors featured in this film – directed by 25-year-old Finke racer Dylan River – we learn about competition, risks and rewards.
Thrill of the chase
For the racers and supporters, "Finke fever" – the energy that surrounds the event including all the accompanying celebrations – comes in hot every year on the Queen's birthday long weekend, when it takes place.
Winning is determined by completion time, so speed (over 160 kilometres per hour) is the focus. Many of the race vehicles are specifically designed for the event and cost around $500,000 to produce.
The Finke race is dangerous. As such, it seems similar to extreme sports such as Proximity Flying and Big Wave surfing. But extreme sports are mostly undertaken in unconstrained environments, are non-competitive, and free from competition rules and external regulations.
Participation in extreme sports is also not determined by preset time limits. Effective participation is about surviving to participate another day.
More akin to endurance competitions, the modern Finke Desert Race is tightly planned with organisers working in crack teams to prepare and set out the track, manage risk, keep track of competitors and plan for disasters such as injury or death. In a sense, the goal of winning on competition day – rather than surviving – might make Finke more dangerous.
The desert environment adds uncertainty and excitement. Accordingly, the film's imagery takes in the grand aerial scale reminiscent of Warren Miller's jaw dropping snow sport and skating blockbusters, but also gets up-close and dusty as we get to know the personalities taking part. It was nominated for Best Cinematography in a Documentary in the recent AACTA film awards.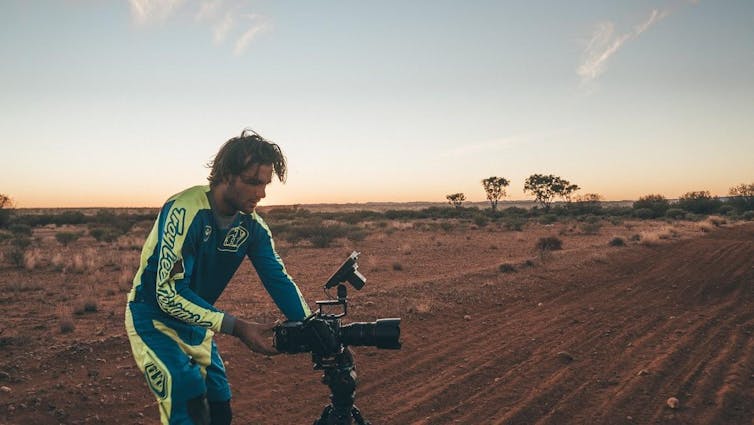 Need for speed
The film introduces us to a group of athletes and briefly explores their motivations and experiences.
"Once in your veins," narrator Bana tells us, "the race is an incomprehensible addiction."
Initially, the classic reasons for such endeavours – a "search for adrenaline" and adventure, a lifelong love of speed – are given. But we soon realise there is more to the impulses that drive these racers. One competitor calls it "escapism in its purest form".
Isaac Elliot, now in a wheelchair having suffered a traumatic accident ten years earlier, is keen to describe the event as an "adrenaline rush", but he has a bigger point to prove. His personal quest to finish what he started.
Not all competitors consider winning the main reason to race. Though a five-time winner, Randall Gregory calls the Finke challenge "just a race". It affords him personal growth and opportunities to test his physical and mental capacities.
Even though the Finke race is more akin to a sporting competition, these experiences are reflected in what we know about extreme sports athletes. Participation facilitates a deeper understanding of personal limits, values and beliefs about what is possible.
---
Read more: Adrenaline zen: what 'normal people' can learn from extreme sports
---
Highs and tragic lows
Extreme sports participants recognise the need to assess the challenges ahead and also accept the seriousness of the activity they are about to undertake. This can lead to a decision to walk away if the assessment is unfavourable. Bound by time, the Finke race does not allow those risk assessments to take place.
The film tells us that just over 70 motorbike riders out of a field of over 500 bikes fail to finish. The impact on the riders' body is reported by the racers themselves. "I've fractured six vertebrae, fractured my sternum and my collar bone," says one, adding that with a new family he'll "touch wood" in the hope of avoiding further injury. We also see competitors dig deep for the mental strength required to stay in the race.
In a sad post-script, rider Daymon Stokie, who is featured in the film, died in another race six months after production.
The film is an incredible insight into what it takes to prepare and compete as well as the implications of the competition for personal development and the riders' families.
Finke: There & Back is a must-see for those interested in motorbikes and especially those interested in off-road motorbiking. Viewers who've never been exposed to this world will likely be struck by the intensity of the race and the interaction between the riders' skill, daring and the harshness of the environment.
Special event screenings across Australia from December 5